Intracellular mechanisms regulating cell growth and metabolism

Kinase Suppressor of Ras 1 and 2 (KSR1 and 2)
Our laboratory focus is the molecular scaffold Kinase Suppressor of Ras 1 (KSR1). KSR1 was first identified in 1995 in genetic screens of Drosophila and C. elegans. These genetic screens identified mutated alleles that reversed the abnormal phenotype caused by activated Ras in both species. In Drosophila, loss of function ksr alleles were found to reverse the rough-eye phenotype caused by activated Ras but not activated Raf. In C. elegans, mutated ksr alleles were found to reverse the abnormal multivulval phenotype caused by activated let-60 Ras, the ras homolog in C. elegans. On the other hand, mutant ksr alleles had no effect on the phenotype of activated Raf in either Drosophila or C. elegans. These genetic studies led to the preliminary suggestion that KSR interacted in the MAP kinase pathway above or parallel to Raf signaling in the worm and the fly. Studies with mammalian KSR1 defines the function of the protein as a molecular scaffold for the Raf/MEK/ERK MAP kinase cascade. Our laboratory has shown that KSR1 regulates the duration and intensity of ERK1/2 activation and it is required for H-RasV12-induced transformation, H-RasV12-induced senescence, and for proper activation of the adipogenic differentiation program. Moreover, we have shown the KSR1-dependent, but ERK-independent, regulation of PGC1α and ERRα to mediate H-RasV12-induced transformation and maximize the overall capacity of oxidative phosphorylation and aerobic glycolysis.
A related gene, KSR2, has been identified in C. elegans, mouse, and humans. KSR2 in C. elegans is required for Ras-mediated signaling during germline meiotic progression and functions redundantly with KSR1 in excretion, vulva development, and spicule formation. Mammalian KSR2 mediates calcium-induced Ras-to-ERK1/2 signaling and it is regulated by the phosphatase Calcineurin. Our laboratory has identified KSR2 as a regulator of AMPK signaling, as KSR2-/- mice show premature obesity and are metabolically efficient.

Our projects focus on further understanding the role of KSR proteins in cellular proliferation, transformation, differentiation, and metabolism. Using genomics, proteomics, in vivo and in vitro models, we are seeking to identify downstream effectors of KSR proteins that are regulated dependently or independently of the Raf/MEK/ERK kinase cascade. The identification of novel KSR1/2-dependent regulatory networks could provide new therapeutic targets in pathological diseases such as cancer and obesity.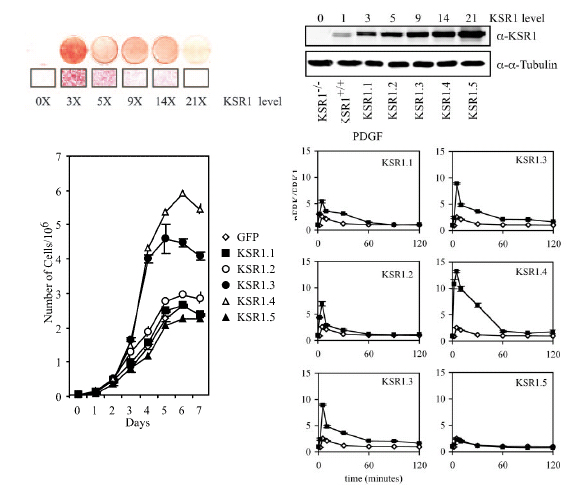 KSR1 dictates cell fate by modulating the duration and intensity of ERK signaling.
Low levels of KSR1 (3-fold endogenous levels) is optimal for adipogenesis,
whereas higher levels of KSR1 (14-fold endogenous levels) is optimal
for cell proliferation and ERK activation. This data shows how a scaffold protein, such as
KSR1, can modulate ERK signaling to mediate a cell fate