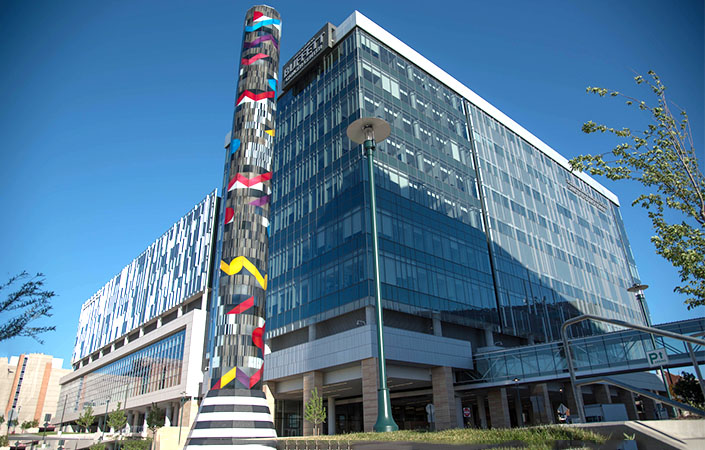 Search for Director, Fred & Pamela Buffett Cancer Center
The University of Nebraska Medical Center and its clinical partner Nebraska Medicine are currently searching for a director for the Fred & Pamela Buffett Cancer Center. 
The Fred & Pamela Buffett Cancer Center has been a leader in the fight against cancer for over 40 years, offering patients the most current and innovative treatment options available through the integration of cutting-edge research into state-of-the-art care. Cancer Center physicians and scientists work together to quickly translate discoveries made in the laboratory into innovative treatments for patients in a caring and compassionate manner. The Fred & Pamela Buffett Cancer Center is the only cancer center in Nebraska with the National Cancer Institute (NCI) designation. It is one of 69 NCI-designated centers in the country, earning this designation based on scientific excellence and the capability to integrate diverse research programs focused on cancer. It is also a founding member of the National Comprehensive Cancer Network, an alliance of 19 of the world's top cancer centers that develop standards and set guidelines for treating patients.
The translational research conducted at the Fred & Pamela Buffett Cancer Center provides those with a cancer diagnosis and their loved ones with the best weapon there is for fighting cancer: Hope.
The primary Cancer Center location is in a $323 million facility with 615,000 square feet that opened in June 2017. Within the facility are a eight-story, 108-bed inpatient treatment center and a 10-story, 98-laboratory research tower. 
Search firm  
Jeff Schroetlin 
Witt/Kieffer 
2015 Spring Road, Suite 510 
Oak Brook, Illinois 60523 
Phone: 630-575-6972 
Karen E. Otto
2015 Spring Road
Suite 510
Oak Brook, IL 60523
Phone: 630-575-6119
Search Committee Members  
Bradley Britigan, MD | co-chair
Dean of the UNMC College of Medicine
Michael Yanney | co-chair
Chairman emeritus of Burlington Capital and longtime supporter of UNMC
Michael Ash, MD, vice president and chief transformation officer for Nebraska Medicine and vice chancellor for information & technology for UNMC
Vimla Band, PhD, chair of the UNMC Department of Genetics, Cell Biology and Anatomy
Bob Bartee, vice chancellor for external affairs, UNMC
Surinder Batra, PhD, chair of the UNMC Department of Biochemistry and Molecular Biology
Dele Davies, MD, senior vice chancellor for academic affairs and dean of graduate studies
Charles Enke, MD, chair of the UNMC Department of Radiation Oncology
Doug Ewald, vice chancellor for business and finance, UNMC/UNO
Theresa Franco, vice president-operations, executive offices, Nebraska Medicine
Harris Frankel, MD, chief medical officer for Nebraska Medicine
Krysten Vance, graduate student fellow at the Eppley Institute
Jennifer Larsen, MD, vice chancellor for research, UNMC
Deborah Levy, PhD, chair, UNMC College of Public Health Department of Epidemiology
Karoly Mirnics, MD, PhD, director of the Munroe-Meyer Institute, UNMC
Juliann Sebastian, PhD, dean of the UNMC College of Nursing
Carl Smith, MD, chair of the UNMC Department of Obstetrics and Gynecology and chief academic officer for Nebraska Medicine
Sarah Thayer, MD, PhD, associate director for clinical affairs and physician-in-chief, Fred & Pamela Buffett Cancer Center; Merle M. Musselman Centennial Professor of Surgery; and chief of the UNMC Division of Surgical Oncology
Julie Vose, MD, Neumann M. and Mildred E. Harris Professor, chief, UNMC Division of Hematology/Oncology
Aileen Warren, assistant vice chancellor for human resources, UNMC
Amy Volk, senior vice president for UNMC development and chief development officer for Nebraska Medicine
Corrine Hanson, PhD, associate professor, medical nutritional education, UNMC
Donald Durden, MD, PhD, professor, UNMC Division of Pediatric Hematology/Oncology; chief of the division of computational chemistry and innovative therapeutics; associate director for pediatric oncology research at the Fred & Pamela Buffett Cancer Center
Tony Hollingsworth, PhD, professor, Eppley Institute, UNMC
I. David Goldman, MD, director, Albert Einstein Cancer Center, Bronx, NY
Stephen Nimer, MD, director, Sylvester Comprehensive Cancer Center, University of Miami Health System
Douglas Yee, MD, director, Masonic Cancer Care, University of Minnesota
Kae Pavlik, founder of the Cattlemen's Ball and member of the cancer center's Advocates Board of Directors
Robert Krohn, funds the Robert & Myrna Krohn Chair in the Eppley Institute, an endowed position currently held by Dr. Cowan
Ashli Brehm, breast cancer survivor
Anne Bowen, senior assistant to the chancellor, UNMC
Brad Hall, MD, house officer, surgery, UNMC
Jim McClurg, PhD, Nebraska Medicine Board of Directors
Keith Olsen, PharMD, dean, College of Pharmacy, UNMC
Janet Guthmiller, DDS, PhD, dean, College of Dentistry, UNMC