Vice Chancellor for Strategic Initiatives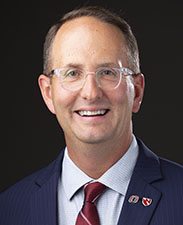 Daniel J. Shipp serves as vice chancellor for strategic initiatives and associate to the chancellor at UNMC. He previously served UNMC and the University of Nebraska at Omaha as vice chancellor of student success. He joined UNO in 2012 as vice chancellor for Student Affairs and Enrollment Management and Dean of Students, then was named to the joint role for UNMC and UNO in 2017. Dr. Shipp continues to oversee student success and enrollment programs/services. He also aids in the coordination of campus strategic planning; support of campus wellness programs, including the Center for Healthy Living; facilitation and growth of the iEXCEL Learning Academy; and expansion of UNMC's rural campus educational programs, specifically outreach with K-12 school districts and community colleges.
Dr. Shipp is a nationally recognized higher education leader and innovator of student educational and support programs, services, and facilities at several universities. He has brought planning and project leadership to $200 million worth of capital projects over the past 20 years.
The vice chancellor received a Bachelor of Science degree in education from the University of Nebraska-Lincoln and holds a Master of Arts degree in recreation administration from UNO. He earned his EdD in educational leadership and administration from the University of the Pacific in Stockton, California.
Dr. Shipp was the associate vice president of Student Life at the University of the Pacific, where he led the campus effort to design and build a $40 million University Center. He also provided leadership for the development of a series of award-winning student educational and success initiatives that brought significant gains in overall student retention and degree completion. He is a founding member of the Center for Social and Emotional Competence and has served on the Center's advisory board.
As a senior staff member at the University of Missouri, Dr. Shipp provided project leadership for the design, development and implementation of what is widely recognized as one of the nation's finest wellness and recreation facilities, the $50 million Mizzou Student Recreation Complex.
Dr. Shipp received the University of Missouri's Barbara Uehling award for outstanding service and support to students.