Background
In early 2016, the UNMC Department of Anesthesiology was asked to participate in a month-long research endeavor to Mount Everest Base Camp (18,500 ft.), by the world-renowned group Xtreme Everest. Xtreme Everest has performed research at Mount Everest for over a decade and generated dozens of publications in some of the most highly regarded scientific journals.
The Trip
The traveling group consisted of three physicians (Drs. Brad Fremming, Dan Kalin, and Tim Rush), one nurse anesthetist (Michael Hamilton), one nurse (Eric Harvester), and one cardiac sonographer (Walker Thomas). Harvester and Thomas also served as ambassadors for the Inter-Professional Academy of Educators from UNMC. Instrumental in making this trip a reality were Dr. Andrew Patterson, a Nebraska Medicine anesthesiologist and executive vice chairman of the UNMC Department of Anesthesiology; along with Julia Hoffman, a clinical research nurse in the department. The many months of forward planning included team meetings, international phone conferences with our UK colleagues, development and IRB approval of study protocols, acquisition of equipment and physical fitness training.
Their mission was to evaluate the effects of high altitude and low oxygen levels on right-side heart function using non-invasive chest-based ultrasound referred to as transthoracic echocardiogram. They also measured lung edema and the detection of blood enzymes associated with cardiac muscle injury and stretch. These tests were performed at 3 altitudes; 4,600 ft., 11,300 ft. and 14,000 ft.
Upon arrival in Kathmandu (4,593 ft.) on March 30, 2017, they set up a basic lab. Over a two-day period, approximately 50 study participants were consented and the initial testing performed. Following Kathmandu, they flew to Lukla (9,317 ft.); the beginning of the long, uphill trek base camp. All of the research supplies were carried on the back of a person (called a Porter) or a Yak. The trail started out wide and generally well-groomed. As they gained elevation, it became more narrow and arduous. 
Their second session of testing was conducted at Namche Bazaar (11,283 ft.), complicated by cold temperatures and high altitude. These two factors impacted the function of the blood analysis machines. The lab lacked most modern conveniences but they were still able to carry out the research. The third testing site was in Pheriche (14,010 ft.), located high in the Himalayas on a windswept valley floor. The challenges of testing in Pheriche were similar to the challenges in Namche Bazaar: cold and altitude. To keep the machines warm they had to improvise a heating system using boiling water in Nalgene bottles. Using these bottles as makeshift radiators and a small yak-feces burning stove, they made it through the two days of testing.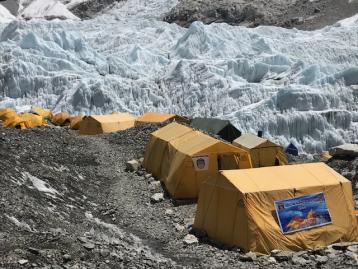 This expedition presented challenges beyond performing research in extreme environments. The team battled progressively lower oxygen - 50 percent the amount of oxygen in the air as compared to Omaha. Freezing cold temperatures and a complete lack of modern conveniences were standard for the majority of the trek. They ascended to heights that the majority of people will never attain in their lifetimes and battled the very real danger of acute mountain sickness in order to conduct research near the top of the world. This was certainly not easy - however, it was successful.
The team returned to Omaha on April 24, 2017, exhausted but proud of the important work that they had accomplished.