CHRI member David Dzewaltowski, PhD, recently received a grant for community-engaged research to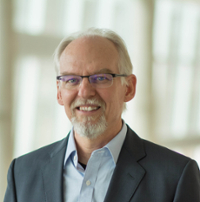 reduce health disparities from the Department of Health Promotion and the Center for Reducing Health Disparities. This award will fund a study titled, "Coordinating Whole-of-Community Systems for Early Life Cancer Prevention in the Great Plains: All Sports for All Kids Project." 
Dr. Dzewaltowski is the Professor and Endowed Community Chair for Physical Activity, Nutrition, and Obesity, the UNMC College of Public Health Department of Health Promotion. (Community Chair was created and is funded by Buffett Early Childhood Institute.) In this Q&A, he discusses All Sports for All Kids and how it fits into an ongoing collaborative research program. 
Your team published a study in April on demographic disparities in sports participation and physical activity levels in children of rural communities. There seem to be common themes between that and your newly funded project. What have you been discovering about community influence on children's physical activity and health? 
We are funded by a National Cancer Institute R01 to examine the impact of a whole-of-community system intervention on rural community population physical activity of children. As part of that project and our larger program of research, we are also examining the community system drivers of children's physical activity in school, after school program, youth club and youth sport settings. Across our studies, our method of using video observation paired with accelerometers provides objective data showing that the social structure of settings varies widely, and this structure drives youth physical activity or inactivity and sedentary behavior. 
One setting with the potential to provide children with high levels of physical activity is youth sport. Results from the recent paper showed approximately 80% of children in grades three through six, living in the Nebraska communities under study, participated in youth sport. Children who participated in youth sport had greater daily minutes of moderate and vigorous intensity physical activity than those who did not participate. And, children from families participating in the free-and-reduced lunch program (lower household incomes) were four times less likely to participate in youth sport. The end result is that these inequalities in sport opportunities may be due to social structural disadvantages that create preventable health inequities in physical activity, and these childhood patterns impact lifetime cancer risk.  
However, the story gets more complicated because the community landscape of youth sport settings is patchy. Some settings provide children opportunity for a lot of physical activity to children, where other settings do not. And, characteristics of children, like gender, grade and household socioeconomic status, all play a role in whether the child is in a youth sport setting or not. The data, however, are clear that if a child is in an organized setting, and the setting is structured to provide physical activity (regardless of being a school classroom, out-of-school club, after-school program or youth sport), they will be more active. So, participating in settings that promote physical activity will place a child on a developmental pathway toward lifelong physical activity and reduced cancer risk. 
We coined the term "community wellness landscape" to describe that communities vary in their social structure, Some communities have physical activity promoting settings, and the population of children living within these communities are more active than children living in other communities. 
How much is currently known, if anything, about potential connections between kids' physical activity and future cancer risks? 
The USDHHS 2018 Physical Activity Guidelines Advisory Committee Scientific report concluded that there is strong evidence that higher levels of physical activity are linked to lower risk of several types of cancer. Much of the case for physical activity in childhood for cancer prevention has focused on the developmental pathway showing that physical activity in childhood tracks into adulthood. There is emerging evidence linking physical activity in childhood, specifically ages 5-19 years, as a critical window, for example, in reducing the risk for breast cancer. And, the importance of physical activity in children cancer survivors is an area of ongoing study. 
What are your overall goals with the new health disparities research grant? 
This project focuses on the early childhood years and builds on our collaborations with communities, child care centers and child care homes, and the Cooperative Extension System to examine the impact of early childhood youth sport on cancer prevention behaviors. The U.S. system of youth sport is extending its impact down to the early years, and our team is one of the first to examine this community social system change impact on child health and development. We are beginning with an examination of the Nebraska system and have two specific aims: 
1) Determine the feasibility of a generalizable investigation process for mapping community social system structures.
2) Evaluate local stakeholders' perceived utility of information on equitable community practices, provided by a Community Wellness Landscape Report, for data-driven decision making. 
Who are the co-investigators and community partners who will be teaming up to bring the project to fruition? 
I am building on our existing early childhood research team that currently includes Dipti Dev, PhD, at UNL, Michaela Schenkelberg, PhD, at UNO and Marisa Rosen, PhD, at UNMC to investigate cancer prevention through physical activity and healthful eating in children 3 to 8 years of age. With this funding, we will continue our collaboration with Cooperative Extension, communities, childcare center directors and link this collaboration to organizational leaders of youth sport groups and other stakeholders.