We are thrilled to introduce you to our newest CHRI Scholar. This program is a principal part of our strategy to grow CHRI capabilities in child health research by offering intensive training for physician scientists who are willing to devote significant amounts of time to their research careers and work toward extramural funding as a primary investigator by excelling in mentored grants, such as NIH career development awards.
Jeffrey Salomon, MD, assistant professor of Pediatric Critical Care, has been selected as our third CHRI Scholar. This competitive award recognizes early-career physician-scientists at Children's Hospital & Medical Center and University of Nebraska Medical Center (UNMC) who lead promising research programs in pediatric medicine. The CHRI Scholar award will support Dr. Salomon's research supplies and protected research time salary for up to three years, while providing a structured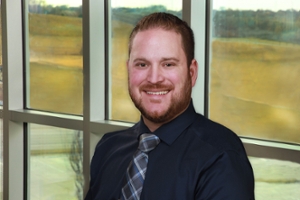 program of mentoring and career development training. In the upcoming months, he plans to use this as a springboard to apply for a Centers of Biomedical Research Excellence (COBRE) grant from the National Institute of General Medical Sciences. Dr. Salomon kindly took time to respond to the following Q&A for the Research Bulletin.
Q. Is there a story behind your interest in biomedical research and becoming a clinician-scientist?

A. When I started my fellowship, I really had very little interest in research. I recognized its importance but was not interested in pursuing it. During the Society of Critical Care Medicine conference in 2017, I listened to a fascinating lecture on the microbiome in sepsis. Following this, I asked my attendings about the microbiome in cardiac patients after bypass, considering bypass and sepsis share many qualities (despite the infectious etiology of sepsis). My program director told me to discuss this with one of the GI physicians. Together, we developed a project from scratch to evaluate the microbiome in CHD patients before and after cardiopulmonary bypass.

Development of this project from the ground up and seeing it through completion changed my career direction 180 degrees, and I started pursuing physician-scientist positions and ended up coming to UNMC/Children's due to the support being offered to help me get my scientist career started.
Q. What research interests are currently at the top of your list?
A. My research interests involve changes to the microbiome in critical illness, with a focus on congenital heart disease, due to the fragile nature of this patient population. We understand significant factors regarding metabolites and byproducts of the gut, both the intestines and the microbiota, in the adult population. However, we understand very little in pediatric heart disease.

I am also interested in intestinal diseases and animal modeling related to evaluating manipulations of the microbiome and how this influences systemic inflammation. My goal is to understand the factors contributing to activation of the inflammatory response following cardiac surgery and cardiopulmonary bypass.
Q. Who are your mentors for this career development award?
A. I have two mentors currently. My primary mentor is Amar B. Singh, PhD, professor in the department of Biochemistry and Molecular Biology, who specializes in the microbiome and intestinal barrier dysfunction in colorectal cancer and inflammatory bowel diseases. Dr. Singh has already provided valuable insight into the microbiome and intestinal barrier dysfunction, improving my understanding and knowledge in this field as well as training in lab techniques and skills. My other mentor is Merry Lindsey, PhD, a Stokes-Shackleford Professor and chair of the department of Cellular and Integrative Physiology and Director of the Center for Heart and Vascular Research. Her research focuses on the inflammatory response and wound healing following myocardial infarction. Dr. Lindsey was instrumental in working to procure my lab space in the department of Cellular and Integrative Physiology. She is also administrative PI on a COBRE grant that I am a project lead on and is helping to improving my leadership and lab management skills.
Q. Could you briefly describe your research proposal associated with the CHRI Scholar award?
A. My research project evaluates changes to the microbiome in CHD following cardiopulmonary bypass and how this influences systemic inflammation related to clinical outcomes. Our mediation variable is intestinal barrier dysfunction, which serves to influence the spread of the pro-inflammatory effects of the dysbiosis in CHD and cardiopulmonary bypass.

I have a lab in DRC I with Dan Feng, MD, PhD, as my research technologist and lab manager. I'm grateful for the support of my research mentoring team for guidance and for the members of Dr. Singh's and Dr. Lindsey's lab for helping and providing tools for analysis of the data while I build my lab.

One of the unique challenges for clinical application will involve successful development of an animal model to evaluate manipulations to the microbiome. Eventually, we hope the methods and data obtained from animals will help us correct the dysbiosis in CHD patients and improve outcomes and quality of life before, during and after cardiac surgical repair.
Q. Where do you see your research going in the future, especially with this project as a springboard?
A. My eventual goal would be to develop a disease-specific synbiotic to give patients prior to surgical intervention aimed to reduce inflammation and speed up recovery.

I would also like to evaluate metabolomic and genomic data and how these may relate to induction of dysbiosis and inflammation. This kind of information may point the way to additional methods to reduce the inflammation that places many of these patients in precarious situations following cardiac surgery. 
Q. Aside from the grant, are there any specific impacts CHRI has had in your scientific pursuits?
A. CHRI has been amazing in helping me get my research off the ground. This includes a pilot grant last year to build preliminary data for the Scholars Award, support for a research technologist in my lab, and facilitating a courtesy appointment in the Department of Cellular and Integrative Physiology. It is not common to find the overwhelming support, both financially and collaboratively, in a junior investigator. This shows the dedication and effort UNMC, Children's Hospital & Medical Center, and CHRI are willing to invest into their junior investigators and give them an opportunity to become successful.

December 15, 2020