Salary and Benefits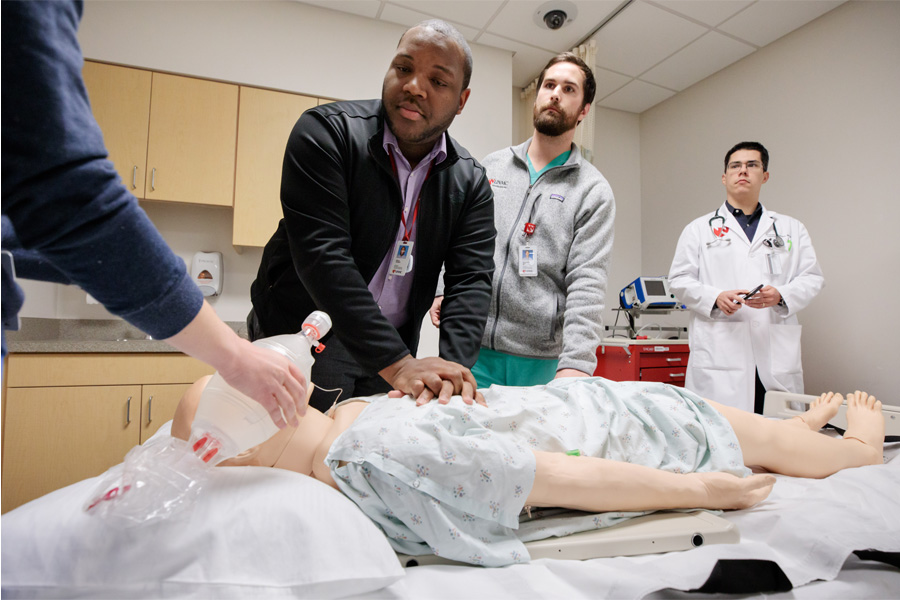 Paid vacation and professional leave, health insurance and on-call meal allowances are just a few of the benefits residents receive in addition to their yearly salary, which increases each year.
House Officer Benefits 2022-2023
Twenty working days paid vacation.
Professional leave with pay for approved meetings.
Sick leave – six months accrual after two years of employment.
Paid parental, medical or caregiver leave.
Comprehensive group health coverage.
Low-rate automatic eligibility disability coverage available.
Lab coats provided at university expense at the beginning of residency.
Laundering of lab coats provided.
$300/house officer appropriation to department for house officer education.
Travel money for residents investigating practice locations in Nebraska.
Reimbursement for travel to and from required training sites more than 75 miles from the Medical Center.
Preferential eligibility for parking.
Meal allowance while on call at the Nebraska Medical Center at the discretion of the program.
$8.00 meal card per day provided by the Nebraska Medical Center.
Liability coverage for moonlighting with advance approval from Program Director and Office of Graduate Medical Education.
Tuition credit of 15 credit hours/year for employee and immediate family to UNO, UNL, UNK and UNMC
Free workout options, Clarkson Wellness Center, Lied Exercise Room and Bellevue Medical Center (excludes Student Life Center)
Full-time House Officer Assistance Program (contact Susan Smith, RN, BS, CEAP).
House Officer Wellness Lounge with complimentary food on weekends (room 2510 in Medical Science Building).
House Officer Salaries 2022-2023
| Position | Annual Salary |
| --- | --- |
| House Officer I | $61,358 |
| House Officer II | $63,629 |
| House Officer III | $66,222 |
| House Officer IV | $68,583 |
| House Officer V | $70,984 |
| House Officer VI | $73,275 |
| House Officer VII | $76,977 |
| House Officer VIII | $80,827 |