Featured Stories | 2018
---
UNMC enrollment sets record for 18th straight year
The College of Dentistry's total student enrollment is 280, including 36 post-graduate students. [read more]
---
2018 Dental Museum Open House
Event ran Aug. 29 through Sept. 8 at UNMC College of Dentistry in Lincoln. [read more]
---
Dentistry's Dr. Wallen shares expertise on CNN
Dr. Wallen's CNN segment on dental trauma was viewed in more than 166 markets across the country. [read more]
---
Dentistry faculty and staff tour iEXCEL, cancer center
Administrators, faculty and staff's traveled to Omaha to see educational technology available at UNMC. [read more]
---
UNMC's $135 million in research funding sets record, again
College of Dentistry sees 32.2 percent increase in research funding during fiscal year 2018. [read more]
---
Dentistry's Dr. Wallen graduates from Leadership Omaha class
Jillian Wallen, B.D.S., M.S., is one of 49 members to graduate from this year's class of Leadership Omaha. [read more]
---
Medicine, dentistry shift to pass/fail for some courses
The UNMC College of Dentistry is now grading some courses as pass/fail, following a national grading trend. [read more]
---
Dentistry heads west for Panhandle Dental Day
More than 70 UNMC College of Dentistry students, residents, faculty and staff traveled to Western Nebraska. [read more]
---
UNMC announces dean's list for spring 2018 semester
Fifteen dental students and four dental hygiene students were named to the spring 2018 dean's list. [read more]
---
First China Scholarship Council student graduates
Xiaoxi (Sophie) Cui is a member of the dental class of 2018 and graduated May 3 with high distinction. [read more]
---
Baker named Nebraska Dental Hygienist of the Year
Nebraska Dental Hygiene Association recognizes Baker, College of Dentistry West Division Dental Hygiene Program clinical instructor. [read more]
---
Professionals Day promotes research, academics
Daniel Shipp, Ed.D., vice chancellor for student success at both UNO and UNMC, spoke at the event. [read more]
---
Class of 2018 dentistry graduates
UNMC College of Dentistry spring commencement ceremonies took place May 3. [read more]
---
Coaching the focus of leadership retreats
More than 100 UNMC leaders received training and development in coaching. [read more]
---
E-learning innovations honored at event
E-modules showcase UNMC faculty and student collaborations advancing e-learning. [read more]
---
SHARING Clinic provides free dental care
College delivered about $20,000 in free services to patients from Lincoln, Omaha and surrounding areas. [read more]
---
Dr. Reinhardt shares UNMC memories
Several dentistry faculty members celebrated service milestones of 40, 30, 20, 10 or five years this year. Dr. Richard Reinhardt shares his favorite UNMC memories. [read more]
---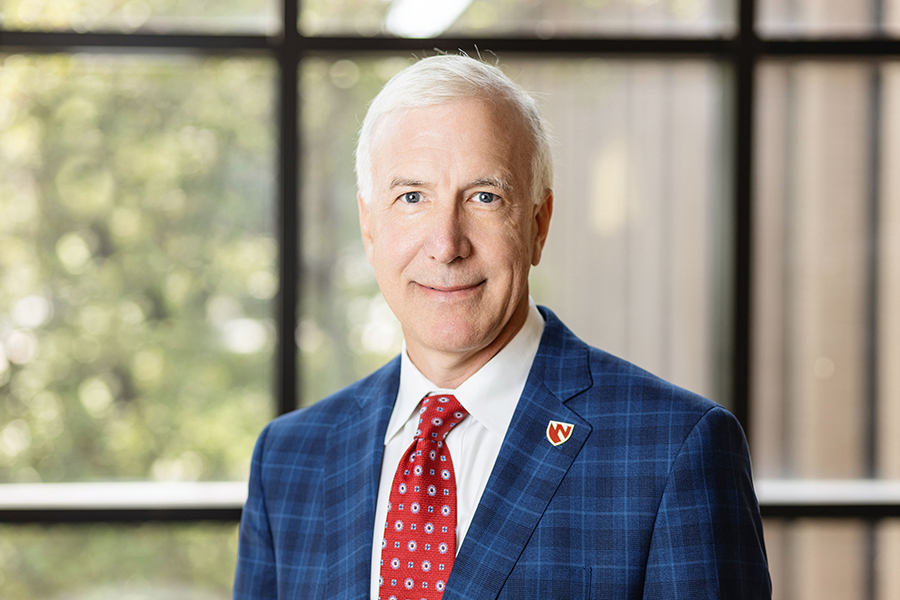 Dr. Bavitz shares UNMC memories
Several dentistry faculty members celebrated service milestones of 40, 30, 20, 10 or five years this year. Dr. J. Bruce Bavitz shares his favorite UNMC memories. [read more]
---
Military scholarships offer students a chance to serve
Dental student latest at UNMC to receive Armed Forces Health Professions Scholarship. [read more]
---
UNMC for the record
Nursing, dentistry students volunteer for World Oral Health Day. [read more]
---
UNMC's impact: Students provide dental care
At the People's City Mission Medical Clinic in west Lincoln, College of Dentistry students offer services. [read more]
---
UNMC's impact: Western Division Dental Hygiene Program
More than 80 percent of the program's recent graduates have remained in rural communities to start their career. [read more]
---
New faculty spotlight: Jay Hansen, D.D.S.
Dr. Hansen is the new co-director of the General Practice Residency Program, located at the Durham Outpatient Center in Omaha. [read more]
---
Dental students shine in regional clinical exam
A record 100 percent of senior dental students at the UNMC College of Dentistry passed the patient-based clinical portions of the CRDTS examination on their first attempt. [read more]
---
Dental simulation clinic open to high school, college students
ASDA will hold its annual simulation clinic on April 7 at the UNMC College of Dentistry in Lincoln. [read more]
---
Dental alum named director of University Dental Associates
UNMC graduate David G. Berkheim, D.D.S, returns to guide college's private faculty dental practice. [read more]
---
UNMC's impact: Children's Dental Day delivers
Volunteers serve 134 Nebraska children. [read more]
---
Dr. Saksena named an ELAM outstanding alumna
Faculty member highlighted as an "Alumnae Success Stories" at the 2018 ELAM Professional Development Program. [read more]
---
Dentistry to hold Children's Dental Day
On Friday, Feb. 2, approximately 175 Nebraska children will receive free dental care. [read more]
---
New faculty spotlight: Yun Saksena, D.M.D.
Dr. Saksena is the new associate dean for education in the UNMC College of Dentistry. [read more]
---
Applications now open for Summer Health Professions Education Program
Program provides learning opportunities for students interested in careers in dentistry, other health professions. [read more]
---
Sacrifice, hard work, family key to success
Three Peterson siblings take different health profession paths, but all lead through UNMC. [read more]
---
Dentistry welcomes associate dean for clinical affairs
Steven Haas, D.M.D., J.D., joined the UNMC College of Dentistry's leadership team as the new associate dean for clinical affairs. [read more]
---