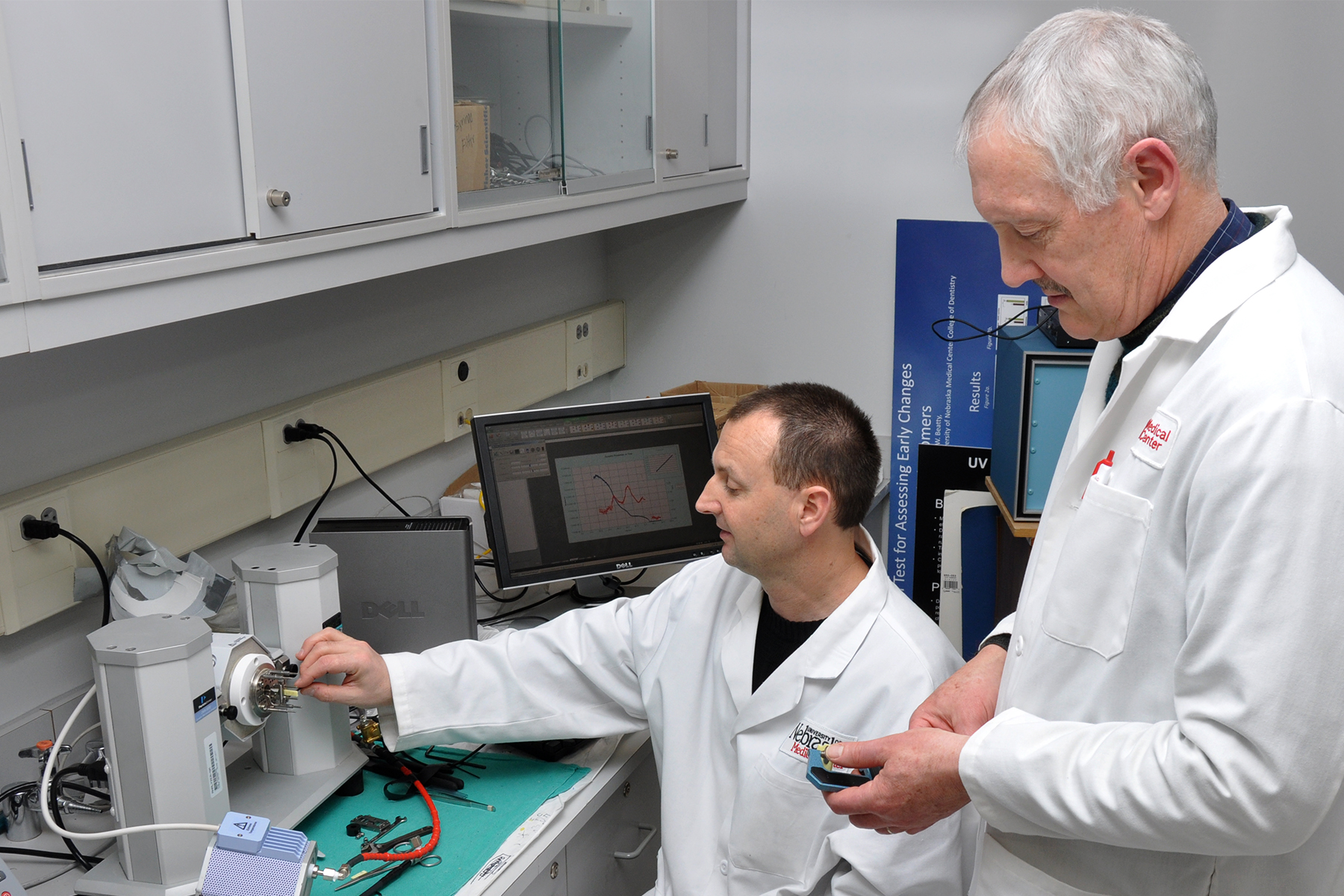 The following equipment is available for biomaterials research.
Specialty Equipment for Measurement of Root Sensitivity
Gingival recession that is common during middle-age causes root exposure and sensitivity to cold. Evaluation of treatments to reduce this sensitivity requires instrumentation capable of delivering a focused stimulus of controlled temperature along with a protocol to access the painful response. Clinical scientists at the Cruzan Center for Dental Research have refined several novel instruments to test changes in cold sensitivity.
Specialty Equipment for Dental Materials Testing
In addition to having a fully equipped machine shop where special testing equipment can be fabricated, the following equipment is available for dental materials testing:
Minolta Spectrometer CM 2002 - Measures spectral reflectance; handheld for clinical and laboratory uses
Constant Environmental Chamber - Equipped with UVB lights; 30-80% humidity; 10° C to 55° C
Shimadsu Microhardness Tester - Knoop and Vickers indenters; scales; measures surface hardness
Thermocycler - Simulates thermal temperature changes
Leco V550 Diamond Precision Saw
Isoment 1000 Diamond Precision Saw
Instron Servohydraulic 8511+ Testing Machine
Instron 5500 Retrofit (formerly 1123) - Oven attachment
Nikon Measurescope MM-11U - Digital translational stage microscope capable of measuring to nearest 1 µm
CSC Scientific Shaker Sieve
SPI-Tribotester 500-D - Friction and wear testing
Mettler Toledo Analytical Scale
AG Balance Scale
Shore-A Durameter - Tests hardness of elastomers with constant load operating stand
Ross Mixer ME 100L
Profilometer
Gloss Meter
LECO Surface Finishing and Polishing Machine
Welch Director Vacuum Pump 8920
Isotemp Oven, 0-120° C
Cellstar cell incubator with CO2