Lightboard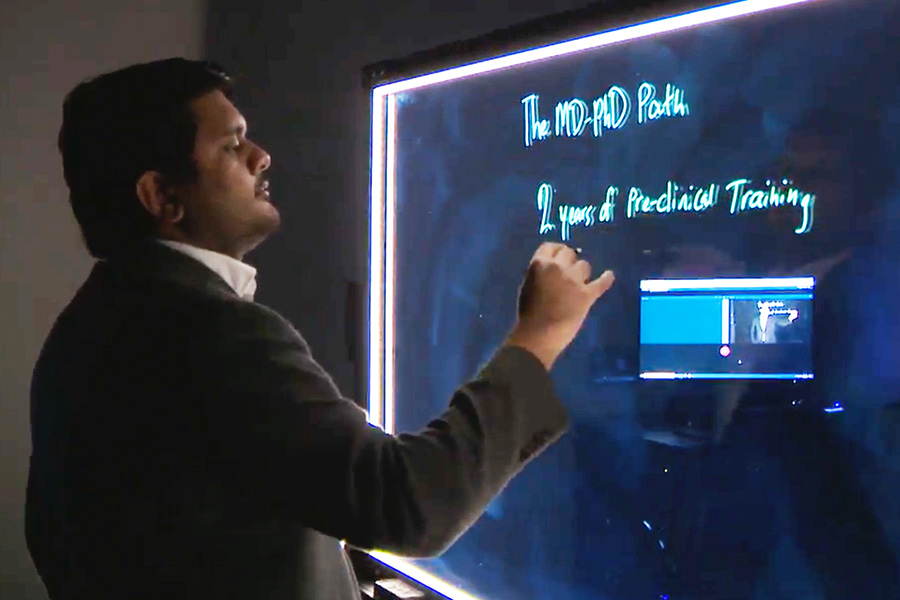 A modern take on the traditional whiteboard, the lightboard helps you add interactivity to your lectures.
The lightboard is a clear glass board that uses LED lights and markers to make a face-to-face interactive presentation. It is similar to a classroom whiteboard, but the image is digitally flipped so the writing does not appear reversed.
Lightboards can be used to:
Illustrate complex ideas
Create engaging video content
Customize presentations or lectures
Lightboard videos should focus on a single topic and, if you have too much content, it won't fit on the board. 
TIP: Practice on a whiteboard before using the lightboard. Spacing can be an issue, so it's a good idea to practice laying out any drawings or text.
Best practices for using a lightboard
Stand close to the board to remain visible (not in shadow) and in focus (not blurry).

Step to the side after you write on the board, so your face isn't covered by text. This makes it easier to see you as well as to read the board.

When pointing at content to draw attention to it, point from the side (not the back) to make it easier for the audience to see at what you are pointing.
Look at the EZStudio camera when you are not drawing or writing.

Pay attention to the space. The lightboard is only so big, so think about how much room you'll need to write and/or draw your content.

Use a light touch so the markers don't squeak when you draw.
What to wear
Wear dark colors, like gray or blue, that will blend into the background but not disappear. Lighter shades make the neon markers hard to read.
Avoid wearing black because it will be too dark, and you will end up with a video of a floating head and no body. 
Avoid text or logos on your clothes (this includes a UNMC/Nebraska Med emblem pin). Your lightboard video is automatically flipped horizontally (this is to allow the text and drawings on the light board to appear correctly) so any text or graphics on your clothing will show up backwards.
Read additional clothing tips for recording a video.