Choose the recording style that fits your needs
There are three main recording setups in the EZStudio: presentation style, light board style, and green screen style.
1. Presentation Style
With monitor background
If you are recording a lecture, use the large monitor in the background to display your PowerPoint. There is also a clicker you can use to move through the presentation.
With gray curtain background
This works if you are doing a stand-up presentation with no visuals (such as a speech or interview). Simply pull the gray curtain background until it covers the back wall and presentation monitor.
(Note: The wall presentation monitor cannot be used in conjunction with the gray background or green screen.)
---
2. Light Board Style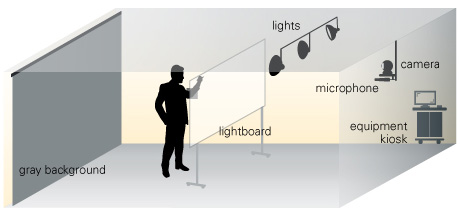 The light board is a clear glass board that uses lights and markers to make a face-to-face interactive presentation. It is similar to a classroom whiteboard, but the image is digitally flipped so the writing does not appear reversed.
The light board works best if you want to write terms and/or illustrate a concept (such as a chemical diagram or flow chart).
  Learn more about the EZStudio light board.
---
3. Green Screen Style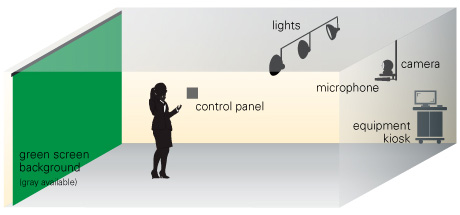 Use the green screen if you plan on having a virtual background. People typically use a green screen if they are doing a presentation or interview and want a unique or specific background, such as a clinical or lab setting.
Use your own image or select one of the EZStudio virtual backgrounds. Be sure to consult with E-Learning prior to recording your video.
  Learn more about the EZStudio green screen.
---