Notable Alumni - Dr. John Bookhardt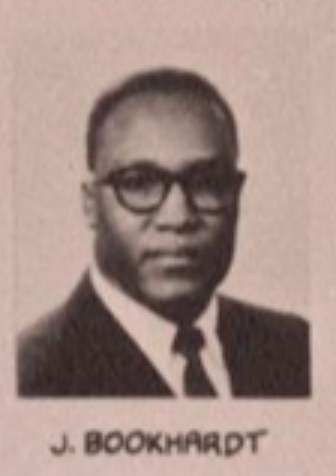 University of Nebraska of Medical Center
McGoogan Health Sciences Library
Special Collection and Archives
Conversation with Dawn Bookhardt, daughter of Dr. John Frank Bookhardt
Interviewer: Emily Brush
Interview Date: April 16, 2021 
The following article on Dr. John F. Bookhardt is drawn from an April 2021 interview Ms. Brush, on behalf of the Leon S. McGoogan Health Sciences Library, conducted with Dawn Bookhardt, JD, the daughter of Dr. John Frank Bookhardt (1959). Ms. Bookhardt is a corporate attorney practicing in Denver. The information below is based on Ms. Bookhardt's recollections of her father and his family. 
Dr. John F. Bookhardt 
Dr. John F. Bookhardt was a 1959 graduate of the University of Nebraska College of Medicine. He was the only African American student to graduate that year. He passed away in 2011.   According to Dr. Bookhardt's daughter, Dawn Bookhardt, her father was born on July 4, 1927, in Wilmington, North Carolina, to Maude Dickson, an heiress, and Reverend John Anderson Bookhardt, a Seventh Day Adventist minister. Rev. And Mrs. Bookhardt, helped to plant Seventh-day Adventist churches. Dr. Bookhardt and his two siblings were well-educated. He was musically talented and played several instruments. His brother, Dr. LeRoy Bookhardt, a surgeon, attended medical school at Howard University. His sister, Lois, was a graduate of Juilliard. Ms. Bookhardt said, "The family was committed to freedom and the African American cause."  
Dr. Bookhardt began college at his mother's alma mater, Oakwood University, but finished his education at Union College, a private, Seventh-day Adventist College in Lincoln, NE. Ms. Burkhardt stated, "At that time, Union College had a pipeline to the University of Nebraska College of Medicine."  
After college, Dr. Bookhardt married Patricia Goines. Dr. Bookhardt continued his education; he received two masters' degrees and then a medical degree. Ms. Bookhardt said, "It is very important to know my father had two masters, one in cellular biology and the other in pharmacology." She added, "He got into two medical schools. He was accepted to Loma Linda in California (a Seventh-day Adventist school), but he chose to attend UNMC." By the time he completed medical school, Dr. Bookhardt and his wife had five children. To support his family, he always worked two or three jobs during medical school. He had a job with the Nebraska Health Department. He also sang tenor with an acapella singing group, the Hub of Harmony, the precursor of Take Six. "He performed in concerts all over the place and would make money performing."  
Dr. Bookhardt's Experience as an African American Medical Student 
"He was always so concerned about others African Americans coming into UNMC," Dawn recalled. 
Dr. Bookhardt's experience at the College of Medicine was, for the most part, positive. He had a study group with white students that was very close knit. Dr. Bookhardt was also involved in an African American medical group consisting of both Creighton and UNMC students.
Reflecting on medical school, Dr. Bookhardt would tell Ms. Bookhardt the story of how as a student he believed he was failing medical school because he would get "very negative feedback" from his teachers. "The feedback would make him so sad," she said. As a result, he never checked his grades. Then, when the year ended, he learned he had a very high GPA and was able to maintain his scholarship. When Dr. Bookhardt confronted the instructors about the difference between his high grades and his in-class feedback, the instructor said, "We needed to see what you were made of. During medical school, the Bookhardt family lived in an affordable housing project in North Omaha, a historically African American neighborhood. Dawn couldn't recall the name of the housing project, but remembers it was on a hill and has since been torn down. Dr. Bookhardt's family and faith sustained him during medical school. Ms. Bookhardt said, "He developed a close relationship with God during medical school." He attended a tightly knit church in Omaha, the Sharon Seventh-day Adventist Church.  
Residency  
Dr. Bookhardt took his residency in Family Medicine at UNMC. Dr. Bookhardt was the only African American in his residency program. He immersed himself in the practice of medicine. His patient population was primarily white. Dr. Bookhardt later talked with his family about a specific opportunity he had as a resident to provide care to an African American patient. The patient developed scarlet fever, but he was so dark it was hard to see the tell-tale rash of scarlet fever. Dr. Bookhardt thought to look at the inside of the patient's eyelids and could see the fever there. This was an important diagnostic development for treating African Americans.  
Life after UNMC 
Dr. Bookhardt completed his residency at UNMC and moved to Denver, Colorado to set up a practice. Colorado was attractive because it brought the Bookhardt family closer to his wife's family. Additionally, he was recruited by an African American physician practicing in Colorado. Dr. Bookhardt sought out an African American patient population. He practiced in Northeast Denver, an African American neighborhood. The Bookhardt family's first house was on Forest Street in Denver, next to Dr. Bernard Gibson, a Black surgeon. Ms. Bookhardt said, "Dad felt mostly welcomed into the medical community in Denver. He had a lot of compassion for his patients and provided them great treatment. He delivered something like 3,000 babies!" Dr. Bookhardt started the Mile High Medical Society, for African American physicians. "The Society would come together, review medical advances, assist medical students and recruit black doctors to Denver. The Society also did charitable work," she recalled.  
Dr. Bookhardt passed away in 2011.  
-Article by Emily Brush, JD