Obesity is a national health issue in this country with more than one third of all U.S. adults considered to be overweight. Bariatric surgery has become a growing solution for obese individuals.
"For many obese individuals, surgery provides the most effective long-term solution for weight loss when other methods have failed," says Vishal Kothari, MD, bariatric surgeon at Nebraska Medicine's Bariatrics Center. The Bariatrics Center is the most comprehensive program in the region offering medical weight loss, placement of a weight loss balloon, bariatric surgery and a meal replacement plan all in one location. The program is designed and directed by physicians who are fellowship-trained in medical weight management and bariatric surgery and are supported by a multidisciplinary team of specialists.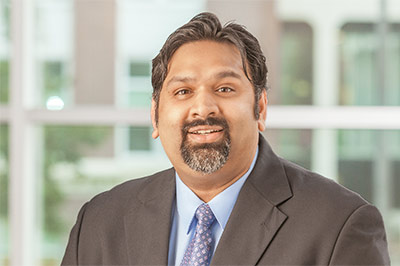 "Approximately 80 to 90 percent of our patients have kept their weight off after five years," says Dr. Kothari. "On average, people can expect to lose 60 to 70 percent of excess body weight, which can be 100 pounds or more." Like any weight loss plan, patients have to make lifestyle changes to make it work including exercise and adopting healthy eating habits.
"One of the key aspects of the program that makes it different from many others is that we take a holistic approach to our care and follow our patients for life," says Dr. Kothari. "After surgery, we follow them closely for the first 18 months and then annually to help keep them healthy and motivated. We work closely with their primary care doctor to check weight and nutrition, recommend labs and address any issues such as nutritional deficits, medical issues and any excess weight gain so we can help our patients stay on track."
We also understand that a successful transition to lifelong healthy living requires more than just losing the weight and may require the support of other specialists, notes Dr. Kothari. As a result, the Bariatrics Center also includes medical nutritionists, an exercise specialist and a clinical psychologist to support a patient's medical, physical and mental health throughout the process.
In addition to weight loss and improved quality of life, there are other reasons a patient and his or her physician may want to think about weight loss surgery. "Increasing evidence shows that it can help reduce a person's risk for a number of serious diseases like diabetes, heart disease, arthritis and cancer," notes Dr. Kothari.
Depending on the type of surgery and the amount of weight loss, bariatric surgery has been shown to improve or resolve diabetes in 50 to 85 percent of patients; reduce sleep apnea by 90 percent; lower high blood pressure by 60 percent; decrease joint pain by 60 to 70 percent; and drop high cholesterol by 60 percent. Bariatric surgery patients also have been shown to live longer than their obese counterparts.
A person may be considered for surgery with a BMI over 35 with other obesity-related health conditions, or a BMI over 40 and has tried various weight loss plans with no results.
The most commonly performed bariatric surgeries at the Bariatric Center include laparoscopic adjustable gastric band, laparoscopic sleeve gastrectomy and laparoscopic roux-y-gastric bypass. All of the surgeries are performed laparoscopically, which means they involve making several small incisions that are closed with only a few stitches, resulting in fewer complications and a much quicker recovery time for patients.
The Bariatrics Center at Nebraska Medicine also offers a newer, noninvasive bariatric procedure that can be performed endoscopically and is an alternative to traditional bariatric surgery. Orbera® gastric balloon is a reversible, nonsurgical weight loss procedure providing obese patients with another option to achieve significant weight loss when regular methods of diet and exercise have not worked, and traditional bariatric surgery isn't a fit for them, says Dr. Kothari. "The procedure is very safe, can be performed as an outpatient and requires minimal recovery time," he says.
"The health and quality of life benefits these patients receive from bariatric surgery and other weight loss methods are tremendous," says Dr. Kothari. "They are more mobile, feel better about themselves, have less depression and have better family, social and work lives."
The Bariatrics Center at Nebraska Medicine is nationally accredited by the Metabolic and Bariatric Surgery Accreditation and Quality Improvement Program (MBSAQIP), a combined program of the American College of Surgeons (ACS) and American Society for Metabolic and Bariatric Surgery (ASMBS). The designation recognizes surgical programs with a demonstrated track record of favorable outcomes in bariatric surgery. Clinical research shows that the most experienced and comprehensive bariatric surgery programs have much lower rates of complication.