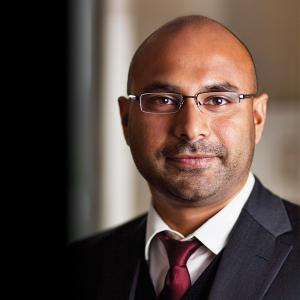 The Nebraska Medicine Epilepsy Program is expanding. The program will be adding three new neurologists who are fellowship-trained in epilepsy care in July, and will soon be opening a new clinic in the Bellevue community.
It is estimated that more than 20,000 people in Nebraska have epilepsy and approximately 6,000 of these people have intractable epilepsy, which means they need specialized care beyond medications to control their seizures.
We don't have enough epilepsy specialists in the state to handle the volume of patients in Nebraska and the surrounding area. This expansion will allow us to see more patients in a more timely fashion.
Timelier Appointments Now Available
The recent expansion of our staff is allowing us to make timelier appointments for you. To schedule an appointment with one of our epilepsy specialists, please call us at 800.922.0000.
The Nebraska Medicine Epilepsy Program is the largest and most comprehensive epilepsy program in the state and region, and follows more than 3,000 patients. Nebraska Medical Center was designated as a Level 4 Epilepsy Center by the National Association of Epilepsy Centers, providing the highest level of care to patients with seizures and epilepsy. Level 4 centers use a multidisciplinary approach and offer intense neurodiagnostic monitoring and treatment methods including medications and surgical options.
Patients who come here have access to specialty medications, social work, nurse case management, neuropsychology, neurosurgery, registered dietitian-provided diet options and community resources.
We have always been at the forefront of offering the newest and most advanced technology as well as clinical trials with the goal of helping our patients become seizure-free and improve their quality of life.
Approximately 55 percent of patients can become seizure-free with the proper medications.  Approximately 35 percent will need surgery combined with medications, and the remaining 10 percent will see significant improvement but may still experience some seizures. In addition to expanding its staff, the program will also be adding additional services and technology to help the most difficult-to-treat cases.
The epilepsy monitoring unit at Nebraska Medical Center, which uses EEG monitoring to diagnose epilepsy patients, will be expanding the number of available beds from six to eight and will be offering more high-level diagnostic procedures.
The epilepsy program currently offers an implantable responsive neurostimulator for people with intractable epilepsy that works similar to a heart pacemaker. The stimulator monitors brain waves at the focal point of where the seizure begins. When it senses unusual electrical activity that can lead to a seizure, it emits small pulses of stimulation that help interrupt the activity before it becomes a seizure.
Responsive neurostimulation has been shown to reduce the incidence of seizures by 50 percent in the first year and by as much as 75 percent in the fourth and fifth years.
The technologies and treatment methods we offer provide much promise for people with the most severe cases of epilepsy. Our goal is to achieve freedom of seizures for everyone.
About the Author