At the age of 12, John Steinke started his first full-time job.
"Fighting cancer," the now 22-year-old says.
On March 1, 2008, Steinke was diagnosed with acute lymphoblastic leukemia (ALL) and went through more than three years of treatment, which included chemotherapy. Six years later, he relapsed in April 2017, followed by another relapse in January 2018.
"We tried more chemotherapy and some alternative therapies, but he kept relapsing," says Steinke's dad, John. "We knew about CAR T-cell therapy, but at the time, it wasn't commercially available yet."
In February, Nebraska Medicine publicly announced chimeric antigen receptor (CAR) T-cell therapy was available for commercial use for patients with recurring non-Hodgkin lymphoma and pediatric/young adult acute lymphoblastic leukemia. Nebraska Medicine is one of the first health networks in the Midwest and the only one in Nebraska to offer the therapy, which harnesses the body's own immune system to attack a tumor.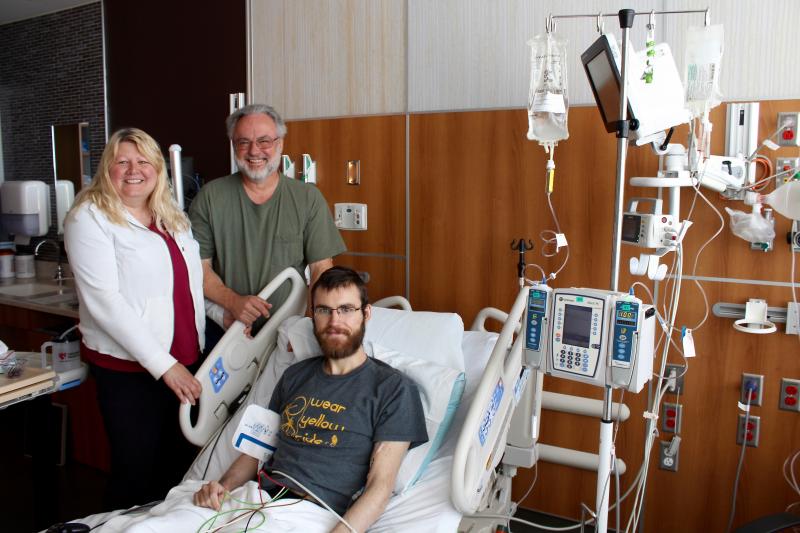 "T cells are white blood cells that help our bodies fight infection and cancer," explains Julie Vose, MD, chief of Hematology/Oncology at Nebraska Medicine. "In some patients with lymphomas and leukemias, their T cells don't recognize the cancer as being abnormal and this allows the cancers to grow. This new therapy allows us to take the patient's own T cells outside the body and re-stimulate them to fight their own cancer."
On Aug. 1, Steinke became the first leukemia patient to receive commercial CAR T-cell therapy at Nebraska Medicine.
"I'm really hopeful that this will work," Steinke said, as his modified T cells were placed back into his blood stream – just a few weeks shy of his 23rd birthday.
"John has been so brave and strong throughout his cancer journey," says his mom, Anna. "Living here in Omaha, we're so grateful to have Nebraska Medicine in our own backyard."
"In my opinion, there's no need to travel anywhere else for cancer care," adds Steinke's dad. "The entire team has been amazing."