After suffering five strokes in a matter of months, Tom Keeling and his wife Sandy began to wonder if life would ever be normal again.
The 65-year-old Keeling suffered from a type of irregular heartbeat called atrial fibrillation. Atrial fibrillation can lead to the formation of dangerous clots that increase your risk for stroke. Keeling's condition was doubly serious because doctors were also having difficulty regulating his blood thinners, which are critical to helping reduce clot formation.
Keeling recently became one of the first handful of people at Nebraska Medical Center to receive an implant device called the WATCHMAN™, an alternative to long-term blood thinners for people with atrial fibrillation. Since having the device implanted several months ago, Keeling's strokes have come to a screeching halt.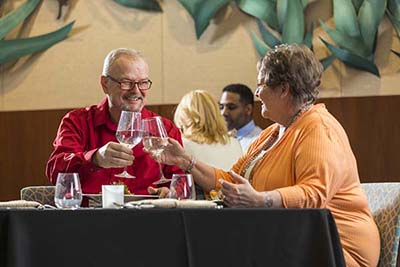 The Nebraska Medical Center is the first hospital in Omaha to offer patients the WATCHMAN implant. The device reduces the risk of stroke by closing off an area of the heart called the left atrial appendage. This helps keeps harmful blood clots from forming here, entering the bloodstream and potentially causing a stroke. Over time, patients should also be able to stop taking blood thinners.
"This new device provides doctors with a breakthrough stroke risk reduction option for patients," said Andrew Goldsweig, MD, interventional cardiologist at Nebraska Medicine. "Blood thinners are one of the biggest challenges for managing people with atrial fibrillation. Although patients need blood thinners to help prevent clot formation, blood thinners can cause bleeding as well as other adverse reactions or interactions with other medications. Forty-five days after the WATCHMAN is implanted, patients should be able to stop taking blood thinners while receiving stroke protection from the device that is equivalent to a full-dose thinner."
Atrial fibrillation is the most common type of arrhythmia. It increases with age and occurs in as many as one in 10 people over 80. As the disease progresses, it can significantly increase your risk for stroke and congestive heart failure. In fact, people with atrial fibrillation are five times more likely to have a stroke than the general population.
To implant the device, the doctor inserts a small needle in the upper leg, followed by a narrow tube, similar to a standard stent procedure. The doctor then guides the device into the left atrial appendage of the heart. Patients commonly stay in the hospital overnight and leave the next day.
Nebraska Medicine has a specialized clinic established to evaluate if WATCHMAN is the right course of treatment.
"This gives us another tool to elevate our already high level of cardiac care," says Jessica Delaney, MD, Nebraska Medicine cardiac electrophysiologist.
"We are both looking forward to getting back to a life of normalcy again," says Sandy. "We're still young. I thought we still had a lot of time to do things in our lives." Since Tom's surgery, Sandy says planning a cruise is back on the bucket list. "We are so grateful for all of the care we've received at Nebraska Medicine. Everyone was so nice and put us at ease. The care was wonderful."
This article was first featured in Advancing Health, a quarterly magazine from Nebraska Medicine with information about innovative treatment options, prevention tips and making better choices for a long healthy life. Sign up below to join our mailing list and receive the next edition of Advancing Health straight to your mailbox.
To schedule an appointment with a specialist at Nebraska Medicine, call +1-402-559-3090 or OIHS@nebraskamed.com.