Katie O'Callaghan was working the checkout line at her parents' grocery store in Hastings, Nebraska, when a customer noticed a lump on O'Callaghan's neck. The 24 year old, who was four months pregnant with her first child, brought it up at her next OBGYN appointment. A biopsy later revealed she had thyroid cancer.
"I couldn't believe it," says O'Callaghan. "Being pregnant with my first child was intimidating enough, let alone discovering I had cancer."
Wanting a second opinion, O'Callaghan was referred to Estelle Chang, MD, a former Otolaryngology Head and Neck surgeon at Nebraska Medicine, who completed a six-month Advanced Robotic Head and Neck Endocrine Surgery Fellowship at Severance Hospital of the Yonsei University Health System in Seoul, South Korea. During her fellowship, Dr. Chang studied the latest, minimally invasive, thyroid and parathyroid surgery techniques.
"Traditionally, thyroidectomy has been performed using a 4 to 8 cm incision in the front of the neck, which can leave a visible scar," explains Dr. Chang. "Robotic thyroidectomy is a minimally invasive surgical technique that is used to remove all or part of a thyroid gland without leaving a visible scar. This is the future and we should be at the forefront."
At Nebraska Medicine, three robotic thyroidectomy approaches are offered for patients:
Underarm

Facelift (behind the earlobe)

If the patient wants a complete facelift at the end of the procedure, that's a possibility

Through the mouth
"We can tailor to the patient, depending on the size of the tumor and the patient's physical characteristics," explains Dr. Chang. "This type of surgery is a great option for Caucasians who tan easily, African Americans and Asians. They all tend to have a difficult time with scarring."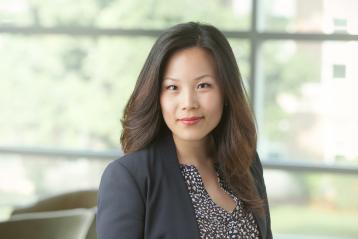 Not wanting a scar on her neck, O'Callaghan opted for Dr. Chang to perform the facelift approach. For the safety of the baby, surgery was put on hold until after O'Callaghan gave birth to her son. On May 22, O'Callaghan became the first patient to undergo a robotic thyroidectomy at Nebraska Medicine. Dr. Chang made the incision behind O'Callaghan's earlobe and surgery took approximately three hours. O'Callaghan was kept overnight for observation and released the next day.
"I knew I was in good hands at Nebraska Medicine," says O'Callaghan. "Currently, I have no cancer in my body and I feel great. By looking at me, you'd never know I had thyroid surgery. I'm really happy with the outcome."
Thyroid nodules are very common and occur in approximately 30 percent of all people in the United States. By the age of 60, more than half of women will have a thyroid nodule. The vast majority of the nodules are benign, with about 5-10 percent being cancerous. Symptoms of thyroid cancer can involve swollen lymph nodes in the neck, difficulty swallowing or breathing – but most patients don't experience any symptoms.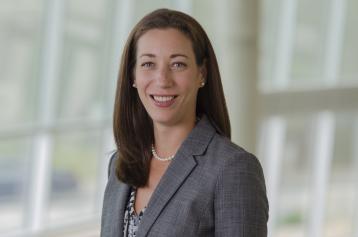 "While thyroid cancer can be seen in people of any background, age or gender, most cases occur in women, people less than 55 years old, and those with Caucasian or Asian backgrounds," says Nebraska Medicine surgical oncologist Abbey Fingeret, MD. "Fortunately, in most cases, it can be completely cured with surgery."
Dr. Fingeret is currently the only Endocrine Surgery Fellowship trained surgeon in the state of Nebraska. She completed her fellowship at Harvard University and Massachusetts General Hospital, performing more than 500 thyroid operations. Dr. Fingeret also finished a three-month Advanced Robotic Endocrine Surgery Fellowship in South Korea. This summer, she looks to perform her first robotic thyroidectomy at Nebraska Medicine.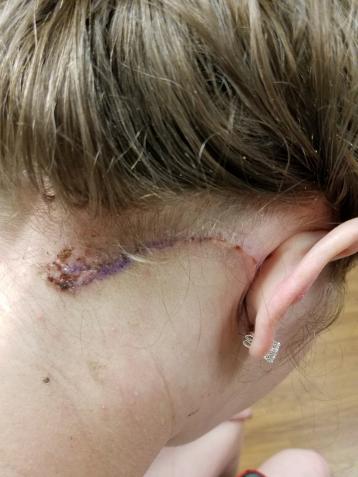 "I truly believe in the mission of Nebraska Medicine," says Dr. Fingeret. "We are here to offer state-of-the-art care, where the patient always comes first. It's my honor and privilege to be part of this exceptional team of ancillary staff, clinicians and researchers."
"Nebraska Medicine treats all aspects of thyroid ailments and endocrine-related disorders," adds Harris Frankel, MD, chief medical officer at Nebraska Medicine. "We have a large and experienced multidisciplinary team, which includes physicians from ENT, Endocrinology, General Surgery and Cancer Services. When you walk in the door, you can be seen by an endocrinologist and thyroid surgeon on the same day."
Nebraska Medicine is one of a few academic medical centers in the country offering robotic thyroidectomies. Patients with multiple medical problems who shouldn't be under anesthesia for extended periods of time are not ideal candidates. Robotic surgery can also be used to remove other benign masses of the neck, such as lipomas and thyroglossal duct cysts.
To schedule an appointment with a specialist at Nebraska Medicine, call +1-402-559-3090 or OIHS@nebraskamed.com.