On July 9, 2014, my family's life changed. My sister, Mickey Holthe, was diagnosed with breast cancer. She did the genetic testing and was positive for the BRCA1 gene. Her wish for our siblings was for each one of us to be tested. I was very against it but did it for her. The day the call came in that I was also positive for the BRCA1 gene my life changed completely.
Mickey introduced me to Brandi Preston who became a huge activist for hereditary cancer after losing her mother to breast cancer. She also had a preventive double mastectomy at a very young age. Brandi is also the founder of Hereditary Cancer Foundation, as well as the creator of a private Facebook page for support. This page has been so helpful and generous. Brandi is very passionate about being proactive and travels across the country to share facts about the gene and risks associated with it.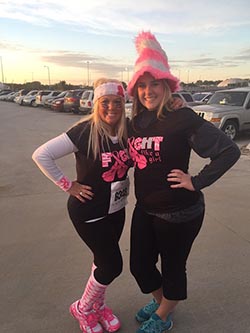 My first step was a hysterectomy. I knew we were done having children and the gene also increases risk for ovarian cancer. This surgery was done within several months of my diagnosis.
The mastectomy on the other hand was a more difficult decision. I was not in a great state of mind and felt like I was living with a black cloud over my head! After four years of mammograms and MRIs every six months, the fear of getting that call saying they found a lump became too much, I knew it was time to be proactive.
Watching my sister go through chemo and losing her hair was the most devastating process for our family. She kept telling me, "You are in the driver's seat." Brandi also was a huge advocate for me to get the ball rolling. I met with several plastic surgeons to find the right one for me. Brandi and Mickey suggested Janet Grange, M.D. who specializes in breast surgery, for the mastectomy and Perry Johnson, M.D., who practices at Village Pointe Aesthetic Surgery, as my plastic surgeon. After my consultations, I knew instantly they would be my surgeons.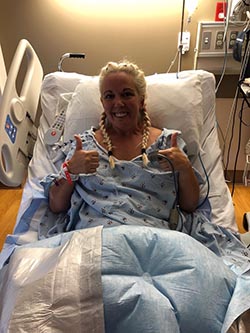 My surgery was scheduled for Aug. 20, 2018. Two months prior the anxiety started. No appetite. Couldn't sleep. My doctor had to put me on Xanax for nighttime. I was most worried about the drains. And I mean SCARED! The thought of four drains coming out of me really freaked me out!
But the weekend before my surgery, I suddenly felt like all my anxiety was gone. I was in complete shock, I was ready to put this chapter behind me. Even the morning of the surgery I was in a great state of mind and was ready. I will admit, I had a moment when I was wheeled into the surgery room. Luckily, Dr. Grange was at the end of my bed and reassured me it was the right decision. She even came over and grabbed my hand until I was under. I will be forever grateful for that moment!!
To be honest, the drains really were not nearly as scary as I thought they would be. Maintaining them was not nearly as difficult as I thought, thanks to my wonderful hubby, Dustin!
I now have expanders, which need to be filled weekly.  Expanders are temporary implants that stretch the skin. Stacey Sanders is the nurse practitioner at Village Pointe Aesthetic Surgery. Stacey has shown me so much support and kindness through this process. I consider her a friend now. Dr. Johnson and his office have been AMAZING during this process! The "exchange" surgery was scheduled for Nov. 19, 2018. The expanders will be replaced with permanent implants.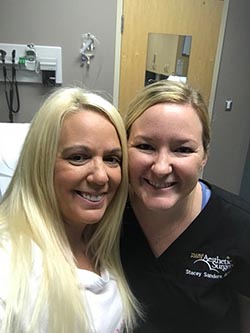 My family and friends have been so supportive and amazing through all of this! My husband and daughters, Abby, Sammi and Daisy, stepdaughter Megan and son-in-law Anthony, who is serving our country overseas, have been my rocks! Also, my best friend of almost 40 years, Denise Bowers, has always been by my side to support me through all of this – including flying in from North Carolina to participate in the Race for the Cure here in Omaha.
I'm forever grateful to Mickey who motivated me to have the genetic testing completed. Mickey's cancer diagnosis opened my eyes to the risks associated with carrying BRCA1. Without her victory in defeating cancer, it could have easily been me who received the diagnosis, which could have been too late.
The journey has been difficult, but with the support I've received and with my husband by my side, I was able to get through all of the ups and downs of this adventure.
I don't regret surgery at all, even though recovery has been painful. It's the best decision I ever made! My chances of getting breast cancer went from 87 percent to 3 percent. My gene is from my dad's side of the family. He died from prostate cancer. One of my cousins was the only one diagnosed with breast cancer before my sister. My advice to anyone else in this situation: Be proactive! Get checked!
About the Author