On a brisk Sunday morning in September, Eric Horpedahl woke early to do something he once thought was impossible – go for a two-mile walk. The 32-year-old joined more than 5,000 walkers and runners in Omaha for the city's annual Fight for Air Corporate Cup event. The race marked a yet another milestone for Eric who underwent a double-lung transplant at Nebraska Medicine only eight months earlier.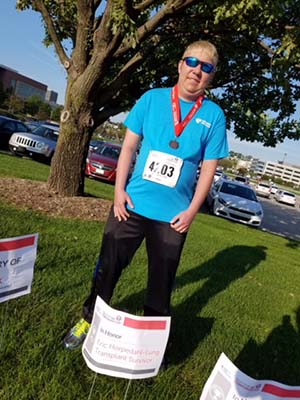 As a child, Eric was diagnosed with cystic fibrosis, an incurable disease that causes extensive lung and breathing problems. For most of his life, Eric was largely unaffected by his condition. But in July 2017, his health quickly began to decline. He found it difficult to walk even a few feet without struggling for air.
Eric traveled from his home in Sioux Falls, South Dakota, to Nebraska Medicine where he sought the help of Aleem Siddique, MBBS, and the lung transplant team. In January 2018, the team put Eric's name on the transplant waiting list. A short three weeks later, a donor was found and Eric underwent surgery to receive two new lungs.
After being discharged from the hospital, Eric remained in Omaha to begin rehabilitation. He worked with physical therapists at Nebraska Medicine to rebuild his lung strength and improve his overall fitness. Once he was ready to go home, the physical therapists recommended that he continue an exercise program to keep his health in check.
And he listened. Eric joined a gym and began a new routine that now includes five workouts a week consisting of cardio and strength training. Eric says he wasn't active before his lung transplant, but he has new motivation to go the gym.
Eric is also motivated to spread the word about organ donation. His participation in this year's Corporate Cup wasn't just about exercise. Although exercise is now key to his life, Eric's walk was about the opportunity to raise awareness of organ donation. Organ donation is a cause that is near and dear to his heart – and lungs – and he hopes to use his story to inspire others to give.