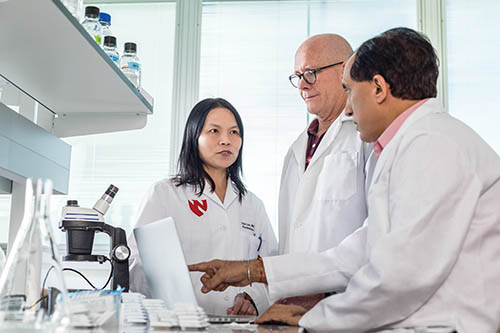 One of the differentiators of the Fred & Pamela Buffett Cancer Center is the integration of scientists and clinicians, which allows them to collaborate in the evaluation of our cancer patients to design new treatments.
One example of this bench-to-bedside research coming to fruition can be seen through the collaboration of Chi Lin, MD, PhD, a radiation oncologist and researcher Surinder Batra, PhD, associate director for education and training at the Fred & Pamela Buffett Cancer Center. Through Dr. Batra's basic science research lab, a pathway was discovered in which cholesterol is converted into other compounds in pancreatic cells that contributes to radiation therapy resistance. Dr. Batra's lab then found another drug that is effective in inhibiting this cholesterol synthesis pathway, thereby increasing radiosensitivity in tumor cells.
This laboratory discovery is now available to patients through a clinical trial that combines chemotherapy with this drug to sensitize pancreatic tumors to radiation. "This is very important because current protocols for radiation therapy are very limited in their effectiveness on pancreatic tumors," says Michael Hollingsworth, PhD, associate director for Basic Research at the Fred & Pamela Buffett Cancer Center.
"While pancreatic cancer is still extremely difficult to treat, we are making huge progress in understanding the disease," says Dr. Hollingsworth.
"Our goal is to turn these discoveries into improved diagnostics, new therapies and other ways to improve survival and quality of life for these patients."