Raymond C. Bergan, MD
Professor, UNMC Department of Internal Medicine
Deputy Director, Fred and Pamela Buffett Cancer Center
Research focus: Genitourinary Oncology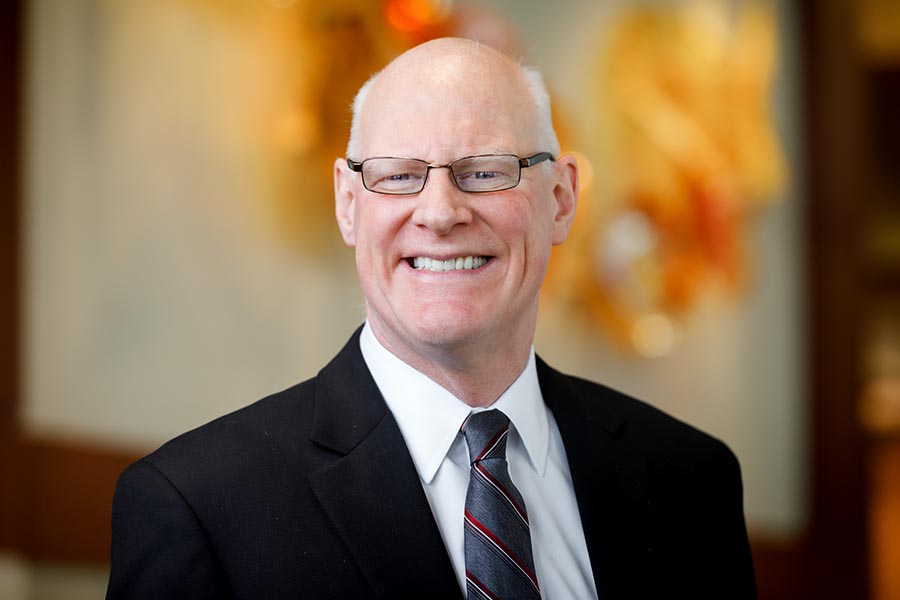 Dr. Bergan is a physician/scientist and an internationally regarded cancer researcher known for leading breakthrough studies on how cancer cells spread and developing preventive treatments for high-risk patients. 
After completing fellowships in medical oncology and drug discovery at the National Cancer Institute, Dr. Bergan joined Northwestern University, serving as the Director of Experimental Therapeutics and Leader of the Prevention Program for the Lurie Comprehensive Cancer Center. He founded and served as Director of one of only five NCI-funded Early Phase Cancer Chemoprevention Programs, expanding it to 19 leading research institutions. Under his leadership, this program has made major findings that are beginning to transform the field. These breakthroughs include demonstrating that localized delivery of drugs allows for organ-specific targeting, maintenance of efficacy, and negation of systemic toxicity. They also include proving that the impact of preventive treatment can be measured in intact epithelium, in at-risk organs, using light-based technology. This work, in turn, showed the technology's potential to measure the effectiveness of prevention therapy in real-time at the individual patient level.
At Oregon Health & Science University, Dr. Bergan expanded the division by more than 50% to 103 faculty, increasing new patient referrals, increasing therapeutic trials accrual by 50%, helped design two new buildings -- one basic and one clinical-focused -- and through these roles contributed to attaining NCI-designated Comprehensive Cancer Center status for the first time. Dr. Bergan designed and implemented the SMMART trials program, funded by an initial $15 million donation. This program uses multi-omic characterization of tumors to deliver combinations of targeted therapy tailored to the biology of each individual patient. The program is designed to change how we treat cancer.
Dr. Bergan's basic and translational research group has expanded the understanding of how cancer cells transform to travel throughout the body and how this process can be therapeutically inhibited. His group was the first to target this form of disease progression in humans. Recent work in this area by his group was cited by WIRED magazine as a "monumental achievement." Understanding the changes that enable the spread of the disease is essential to saving lives; metastasis is a leading cause of death in cancer patients.
Education
Medical School: 

Suny Health Science Center, 1987
Residency: Internal Medicine, Upstate Medical University Hospital, 1990

Fellowship: 

Hematology/Oncology, National Cancer Institute-Navy Medical Oncology, 1993
Research
Basic and translational research expanding the understanding of how cancer cells transform to travel throughout the body and how this process can be therapeutically inhibited.
Division of Oncology and Hematology
University of Nebraska Medical Center
Department of Internal Medicine
Eppley Institute for Research in Cancer and Allied Diseases
985950 Nebraska Medical Center
Omaha, NE 68198-5950