The library provides spaces for reflection, relaxation, and rest for students, faculty, staff, patients, and visitors.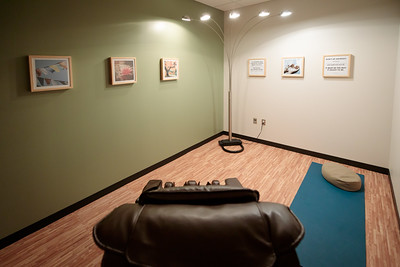 Three Reflection Rooms are located on the 7th floor of the library. In the rooms are a rotating display of art, soft lighting, and comfortable cushions and mats for relaxation or meditation. Two massage chairs are also available.
Students may reserve the rooms through the University of Nebraska Space Reservations and Events system, using the "UNMC Reserve Library Student Study Space (Omaha)" template.
Discover other resources available on the UNMC and Nebraska Medicine campus to support wellness. 
If you have suggestions for wellness at the library, please let us know.