Instructor 
983255 Nebraska Medical Center
Omaha, NE 68198-3255
Office: 402-559-8627
e-mail
Graduate Training
PhD in Biological Education, University of Northern Colorado, Colorado
Post-Doctoral Fellowship
Reproductive Biology and Biochemistry
The Signal Transduction Laboratory, Department of Obstetrics and Gynecology
University of Nebraska Medical Center, College of Medicine, Omaha, Nebraska
Research Interests
Sex steroid synthesis; signal transduction; mitochondria; woman's Health
Mitochondrial research is on the rise across the biomedical sciences, impacting nearly all areas of cell biology and medicine. Mitochondria influence cellular physiology by undergoing functional and morphological changes in response to genetic, metabolic, endocrine, and paracrine signals, all of which contribute to disease complexity. This uniquely places mitochondria as key cellular gateway to the intersection of the cell and its environment. Understanding the basic physiological processes that regulate sex steroid synthesis is my current scientific passion and focus, particularly exploring how hormones induce changes to mitochondria and cholesterol mobilization for optimal progesterone and testosterone biosynthesis.
Project 1: Hormonal regulation of mitochondria and cholesterol mobilization
The fertility of humans and domestic animals is steadily decreasing. Mitochondria are central regulators of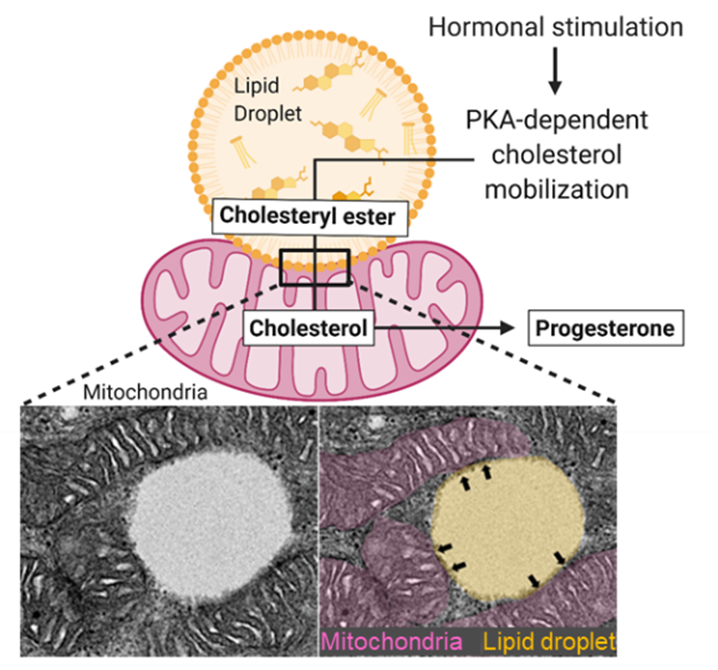 female reproductive processes. Understanding mitochondrial dynamics and dysfunction is of prime importance for the development of therapeutics for improving a woman's reproductive health.
The corpus luteum is an ovarian gland that produced the sex steroid progesterone, a hormone essential for the establishment and maintenance of pregnancy. Failure to regulate optimal progesterone concentrations leads to miscarriage in 35% of women suffering from repeated or habitual early pregnancy loss. Ongoing studies supported by the U.S Department of Veterans Affairs are designed to delineate how hormones differentially influence luteal function (progesterone production) and lifespan (cell death) by regulating mitochondrial activity, particularly revealing how hormones induce intracellular changes to mobilize cholesterol to the mitochondria for optimal steroid production. These studies are anticipated to provide strategies to improve fertility, prevent early pregnancy losses, and develop more effective contraceptives.
Project 2: Mitochondrial function and advanced reproductive age
Infertility is a common health issue affecting 1 in every 6 couples of reproductive age, worldwide. Female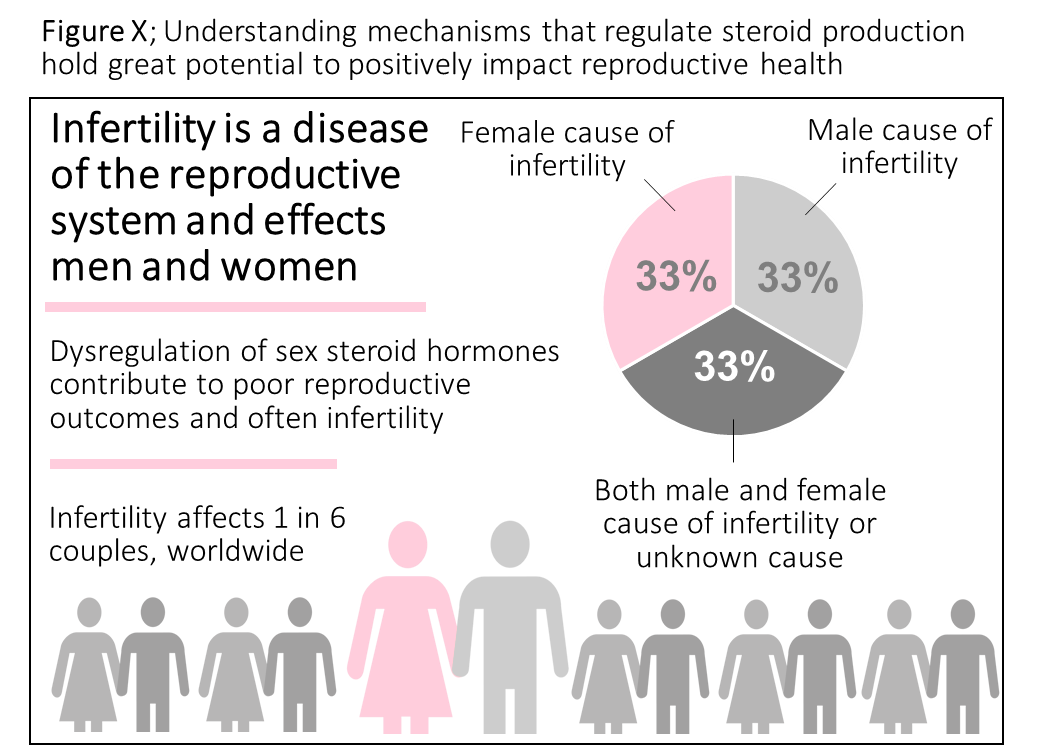 fecundity begins to decline at age 32, with a noticeable reduction in ovarian egg quality and quantity after the age of 35. Ironically, the current U.S maternal age of first birth has increased 25.7% from 1970. This raises many new challenges for women of advancing reproductive age. Apart from oocyte donation, there is no known intervention to improve pregnancy outcomes in older patients. During the aging process, the number of oocytes in the ovaries decreases naturally and progressively through the process of atresia. The mechanism by which apoptosis occurs in granulosa cells in women of advanced reproductive age remains largely unknown. Recently, this increase in granulosa cell apoptosis has been associated with an increase in mitochondrial DNA (mtDNA) deletions, which have been shown to be a major cause of cellular aging resulting in a decline in mitochondrial oxidative phosphorylation. Ongoing studies are designed to delineate the relationship between mitochondrial function and reproductive success in women of advanced reproductive age. These studies are anticipated to provide new strategies to improve fertility and prevent early pregnancy losses in older women undergoing assisted reproductive technology.