Aditya Bade, PhD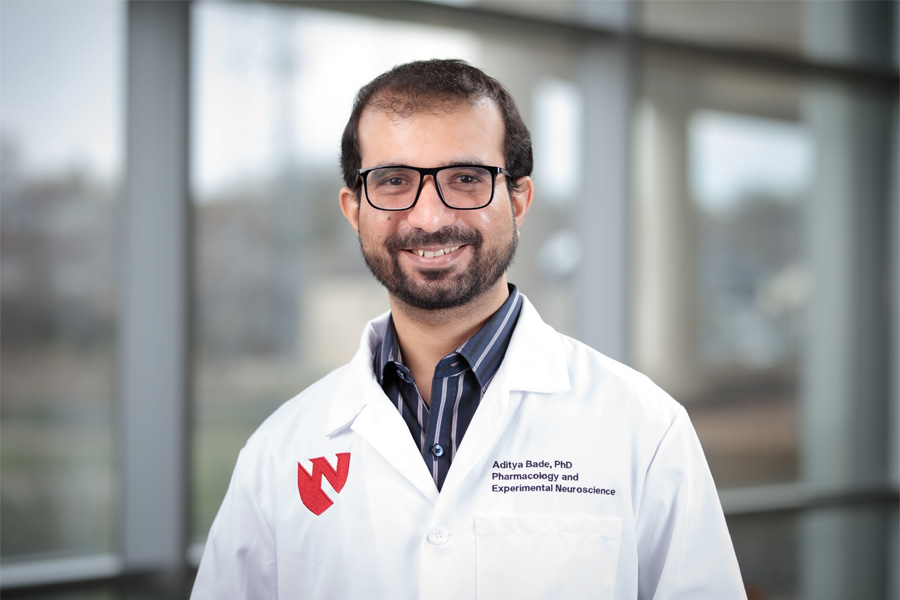 Research Interests
Studies of HIV pathogenesis, antiretroviral therapy (ART) and ART associated toxicity using murine and in vitro models are my focal areas of research. I have been extensively involved in development of long acting anti-retroviral injectables, and have investigated mechanisms underlying ART, specifically dolutegravir (DTG), associated toxicity on the brain. My research is also focused on utilizing bioimaging modality (MRI) to study neuropathology associated with neurodegenerative disorders and drugs of abuse and to determine the outcome of treatments.
Ongoing Projects
Development of long acting nanoformulations of antiretroviral prodrugs
In one of the ongoing project, our group is focused on transforming currently available anti-retroviral therapy (ART) into long acting slow effective release ART (LASER ART). Such a long-acting ART regimens will allow monthly injections with an ability to maintain consistent drug levels at effective concentrations in plasma and in tissues, This strategy would improve treatment outcomes. I am, particularly, involved in investigating efficacy and toxicity of ART and LASER ART in different in vitro systems (T-cells and Macrophages) and rodents (in vivo). I have evaluated detailed pharmacokinetic profiles of native anti-retroviral drugs and respective long-acting nanoformulations in rodents (mice and rats) with both sexes (male and female). In addition, I have examined anti-retroviral profiles of these nanoformulations as a pre-exposure prophylaxis or as a treatment regimens by using HIV- infected humanized mice [NOD/scid-IL-2Rγcnull (NSG) and human adult peripheral blood lymphocytes (hu-PBL) mice].
Examine links between in utero exposure to integrase strand transfer inhibitors (INSTIs) and fetal neurodevelopment
In another project, my research is focused on examining potential mechanisms underlying adverse effects on the fetal brain development that follows in utero exposure to integrase strand transfer inhibitors, and potential therapies to attenuate such adverse effects. The research employs cross-validating approaches including histopathological, immunochemical, transcriptomic, metabolomics, bioimaging and behavioral tests. The overall objective of this project is to improve birth outcomes of children born to women receiving antiretroviral drugs (ARVs) at the time of conception.
Completed Projects
I developed and implemented the applications of Manganese (Mn2+)-enhanced magnetic resonance imaging (MEMRI) in understanding the pathology underlying neurodegenerative diseases and in determining treatment outcomes in murine models. Moreover, in collaboration, we developed rodent 3D brain atlases (mice and rats), and made these atlases available to researchers worldwide through Neuroimaging Informatics Tools and Resources Clearinghouse (NITRC). Herein, we identified 41 brain structures for mice brain atlas and 40 brain structures for rat brain atlas. These atlases provide a unique opportunity for longitudinal unbiased region specific examination.
Education
PhD, University of Nebraska Medical Center, 2015
Recognition
2015–16: Nebraska University Presidential Graduate Fellow: University of Nebraska President, Hank Bounds, NE, USA
2015: Norman Harris Award for Best Poster: Pharmacology and Experimental Neuroscience Dept., University of Nebraska Medical Center, Omaha, NE, USA
2015: Young Investigator Scholarship: Conference on Retroviruses and Opportunistic Infections (CROI), Seattle, Washington, USA
2014–15: Davies Funding Graduate Fellowship Award: University of Nebraska Medical Center, Omaha, NE, USA
2014: Trainee (Educational) Stipend Award: International Society for Magnetic Resonance in Medicine (ISMRM) 22nd Annual Meeting & Exhibition Milan, Italy
2014: Oral Presentation to represent UNMC: International Student Research Forum, University of Southern Denmark, Odense, Denmark
2013–14: Davies Funding Graduate Fellowship Award: University of Nebraska Medical Center, Omaha, NE, USA
2013: Trainee (Educational) Stipend Award: International Society for Magnetic Resonance in Medicine (ISMRM) 21st Annual Meeting & Exhibition, Salt Lake City, UT, USA
2013: Oral Presentation to represent UNMC: International Student Research Forum Griffith University, Brisbane, Australia
2010: Registered Pharmacist, State of Maharashtra, India
Funding
NanoART Manufacture, Delivery and Pharmacokinetics for Optimizing Drug Adherence
3 P01 DA028555-09S1 (PI: Gendelman)
DHHS/NIH/NIDA
This is an integrative cross approach translational and multi-investigator program grant seeking to develop nanoformulated antiretroviral drug therapy from the bench to the patient.
Role: Co-I Project 2
Department of Pharmacology and Experimental Neuroscience
Durham Research Center I 3066
985800 Nebraska Medical Center
Omaha, NE 68198-5800