Katherine Olson, PhD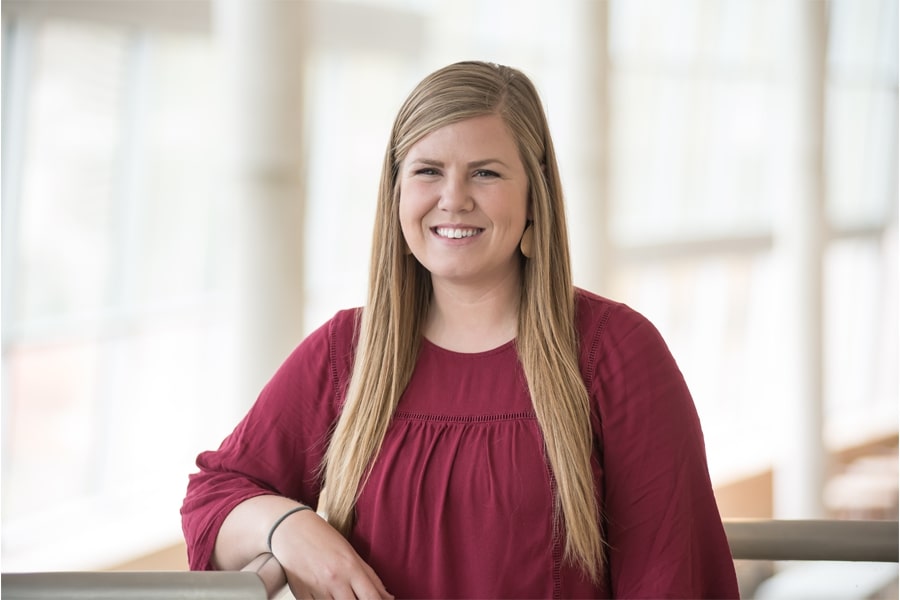 Research Interests
The focus of my research is to investigate the interplay between the innate and adaptive immune system, and its role in neurodegeneration and neuroprotection. I am currently working to develop neurotherapeutic approaches for a broad spectrum of neurodegenerative disorders such as Alzheimer's disease (AD) and Parkinson's disease (PD). AD and PD are the two most common forms of neurodegenerative disease, and they have few effective therapeutic treatments. Genetic factors, environmental cues, increased age, and aberrant immune responses have all been associated with their progression and enhanced neurodegeneration. To date, there is little known about the etiology of the diseases, treatments only address symptoms, and there is no known cure or therapy available to halt disease progression. Therefore, it remains imperative that therapies are developed focusing on combating the cause of neurodegeneration rather than simply alleviating symptoms. A major contributor to disease progression is abnormal innate and adaptive immune responses that affect the tempo of disease and lead to enhanced neuronal loss resulting in an overactive inflammatory response in the brain that leads to observable clinical manifestations. Previously, our laboratory has investigated the role of effector T cell and regulatory T cell subsets within the adaptive immune system eliciting either degenerative or protective roles depending on their phenotype. Therefore, our main focus is on the role of regulatory T cell-mediated immunosuppression and its ability to modulate the brain microenvironment either directly or indirectly.
Ongoing Projects
Clinical evaluation of sargramostim (GMCSF) in Parkinson's disease patients.
GM-CSF has been safely used in the clinical setting to repopulate myeloid cell populations following chemotherapy, but it has also been realized that GM-CSF has the potential to act in both the CNS and on the peripheral immune system. Using an animal system, we were able to display the immune modulating capabilities of GM-CSF by eliciting a neuroprotective response in MPTP-induced nigrostriatal injury. We also found that GM-CSF acts by modulating the innate and adaptive immune response by increasing Treg-mediated control of neuroinflammation. Due to these promising findings, we utilized GM-CSF as a therapeutic strategy for targeting Treg function in humans suffering from PD. With GM-CSF treatment, we observed an increased frequency of Treg within the peripheral blood population, coinciding with an increase in functional Treg response, as well as Unified Parkinson's Disease Rating Scale Part III (UPDRS III) score improvements. As a whole, treatment has the ability to induce an immune transformation from a neurotoxic response to a protective regulatory response, suggesting that targeting the neuroinflammatory immune response associated with PD progression is a beneficial therapeutic strategy. We are currently evaluating modified dosing and administration schemes to enhance efficacy and reduce untoward side effects.
Development and pre-clinical assessment of immunotherapies in rodent models of Parkinson's disease.
In order to continue developing highly effective and clinically-appealing therapies, we have started assessing the potential of using other immune-modulating agents, as well as continuing assessments of GM-CSF within in our rodent models of PD and AD. We utilize 1-Methyl-4-Phenyl-1,2,3,6-Tetrahydropyridine (MPTP) and alpha-synuclein overexpression in mice and rats to assess immune phenotypes, disease progression, inflammatory responses, and neuroprotective capacity following treatment with various drugs.
Education
PhD in Pharmacology and Experimental Neuroscience, University of Nebraska Medical Center, 2017
Recognition
2009: Summer Undergraduate Research Program Award, UNI
2014: Norman Harris Prize for Excellence in Neuroscience and Neurodegenerative Research, UNMC
2015: Norman Harris Prize for Lewy Body and Alzheimer's Research, UNMC
2015-2017: Awarded Graduate Student Fellowship, UNMC
2018: Nancy and Ronald Reagan Alzheimer's Scholarship Fund Award, UNMC
2019: ACTRIMS Young Scientist Travel Award, Savannah, Georgia
2019: Outstanding Poster Presentation, PEN Department Retreat, UNMC
Department of Pharmacology and Experimental Neuroscience
Durham Research Center 3013
985800 Nebraska Medical Center
Omaha, NE 68198-5800