Ming-yang Hung, MD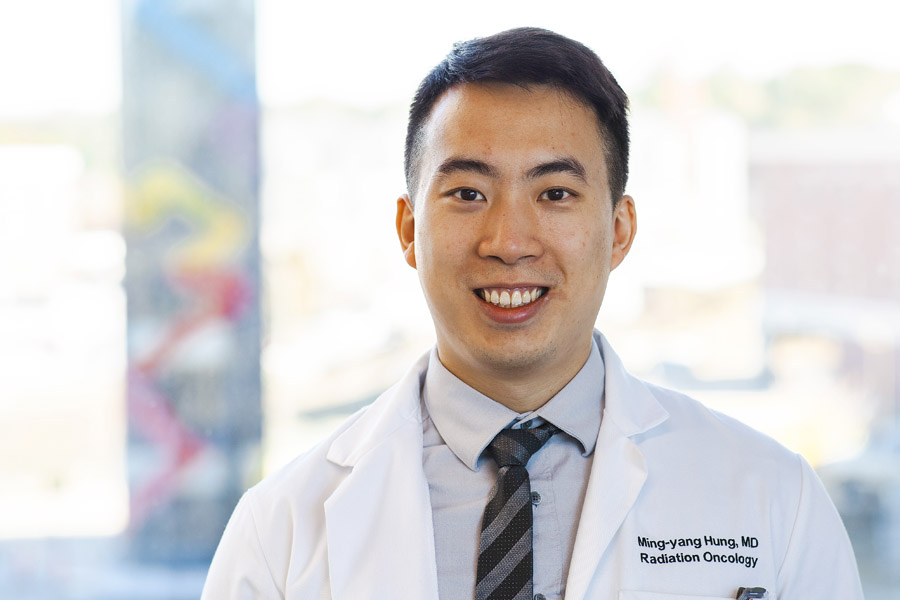 Why did you choose to come to UNMC?
When looking for a residency program three things were important for me: excellent mentorship, a collegial atmosphere, and a diverse clinical experience. On interview day I was really impressed with the program. Since being a resident here I can confirm that my first impressions are accurate.
Moreover, I was uncertain what career path I would take after residency, whether it will be academic vs private practice. I learned that our graduated residents had all been successful in going into the career path they desired with the training and support from UNMC.
Location-wise, Omaha was perfect since my girlfriend lived nearby. During the COVID pandemic, I was able to visit her regularly. I am also from the Midwest and intend to stay in the region in the future.
Favorite part of the residency, favorite rotation, or favorite thing about UNMC?
My favorite part of residency is my fellow residents and attendings. They are both my friends and mentors. From conferences to taking a boat out to Carter Lake, we enjoy spending time together both inside and outside of work.

Favorite things to do in Omaha?
Going for brunch
Getting ice cream at Coneflower Creamery
Eating barbecue at Elliot's house
Checking out Nebraska Reptile Breeders Expo
Visiting the Komodo dragon at the Henry Doorly Zoo

Fun fact about yourself or things you like to do for fun?
I am a herpetology enthusiast and I have a lace monitor (varanus varius). Less than 200 of them exist in the U.S.
Education
BS: Mechanical Engineering at Carnegie Mellon University
Medical School: Georgetown University School of Medicine
Selected Publications/Presentations
Zhou, N., Hung, M.-Y., Zhang, C., Wang, S., Wang, F., Wang, T., Lin, C., Zhang, C., "The Prognostic Significance of Androgen Receptor Expression in Gliomas", Journal of Neuro-Oncology, submitted.
Hung, M.-Y., Xu, P., Coutu, B., Zhang, C., "The Prognostic Significance of Systemic Immune Inflammation Index in Patients with Glioblastoma", American Society for Radiation Oncology (ASTRO) – 2021 Annual Meeting. Chicago, Illinois, October 24-27, 2021
Hung, M.-Y., Zhou, N., Zhang, C., "The Prognostic Significance of Androgen Receptor Expression in Malignant Gliomas", American College of Radiation Oncology (ACRO) – 2021 Annual Meeting. Virtual summit, February 24 - 27, 2021
Danner, M., Hung, M.-Y. (Co-first Author), Ayoob, M., Yung, T., Lei, S., Collins, B. T., Suy, S., & Collins, S.P., "Utilization of Patient-Reported Outcomes to Guide Symptom Management During Stereotactic Body Radiation Therapy for Clinically Localized Prostate Cancer," Frontiers in Oncology, 7 (2017).