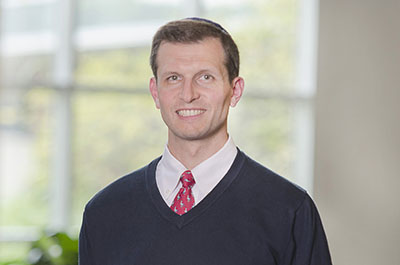 At Nebraska Medicine, we are serious about heart health. With state-of-the art cardiovascular care, we lead the state with outstanding results and the latest in minimally-invasive surgical techniques. For patients undergoing Transcatheter Aortic Valve Replacement (TAVR), we are the first and only hospital in the region to offer the Sentinel Cerebral Protection System to reduce the risk of stroke during the TAVR procedure. Improving Quality of Life with TAVR
For patients with severe aortic stenosis, TAVR offers a minimally-invasive way to replace the diseased aortic valve through a pencil-sized tube inserted into a blood vessel in the leg, avoiding open-heart surgery. TAVR improves quality of life by making people both feel better and live longer. Patients who have aortic stenosis may have shortness of breath, chest pain, lightheadedness, and leg swelling. Replacing the valve alleviates these symptoms and improves cardiac function. In addition, patients with severe, symptomatic aortic stenosis have a life expectancy of only 2-5 years, but valve replacement returns their life expectancy to normal.
TAVR is currently approved for patients with severe aortic stenosis who are at intermediate or high risk for surgical aortic valve replacement (SAVR) due to their age or other medical issues. However, the indications are rapidly expanding. In March 2019, two major national trials of TAVR in patients at low risk for SAVR will present results, and these trials are expected to result in expansion of TAVR to low-risk patients. Also, Nebraska Medicine is participating in a major national trial called TAVR UNLOAD for patients with moderate aortic stenosis and heart failure who remain symptomatic despite maximal medical therapy. Through this trial, we are currently the only hospital in the region able to offer TAVR to such patients. When the trial results are published in 2-3 years, TAVR may become generally available for such patients at other hospitals.
TAVR is performed under conscious sedation with local anesthesia, similar to a colonoscopy. Patients are sleepy but do not require breathing tubes or machines. The prosthetic valve is crimped onto a catheter and delivered through a 0.2 inch (5 mm) tube inserted into a leg artery. The procedure usually takes less than 2 hours. Patients are up walking the next morning and typically spend between 24 and 72 hours in the hospital.
Risk of Brain Injury or Stroke During TAVR
Patients with severe aortic stenosis have aortic valve leaflets that are thickened and calcified. Most patients also have significant atherosclerotic plaque on the walls of the aorta. During TAVR, as a prosthetic valve is advanced through the aorta and into the calcified native valve, debris from the aorta and native valve leaflets may break off and travel with the blood stream up the arteries that feed the brain. When debris blocks blood flow to the brain, this causes a stroke.
The rate of any stroke during TAVR is less than 2%, and the rate of severe or disabling stroke is far less than 1%. However, these events are devastating when they occur, so we want to do everything we can to prevent them.
How the Sentinel Device Reduces Stroke Risk
The Sentinel Cerebral Protection System filters the blood passing through the arteries that supply the brain. It captures any debris that may otherwise make their way to branches of the brain arteries, preventing a stroke. The device is delivered at the beginning of the TAVR procedure with a small tube inserted through into a blood vessel in the right wrist. Using a tiny catheter, two filters are placed in the two main arteries feeding the brain. After the procedure, the filters are recaptured into the catheter and removed from the patient.
Adopting the use of the Sentinel for TAVR in October 2018, we were the first and remain the only hospital in the state offering cerebral embolic protection for TAVR. To date, we have performed approximately 25 Sentinel-protected TAVR procedures.
Patient Eligibility and Effectiveness of Sentinel Device
All patients undergoing TAVR are candidates for protection with the Sentinel device. In practice however, Sentinel can be used in approximately 90% of patients. In the remaining 10% of candidates, diseased and tortuous carotid arteries prevent its use. In randomized trials, TAVR patients with the Sentinel device experienced a 63% lower stroke rate than patients without Sentinel as well as a reduction in severe or fatal stroke.
The Benefits
When Sentinel is removed at the conclusion of each TAVR procedure, there is significant debris caught in the filters 99% of the time. This debris could have caused a stroke had it not been captured by the Sentinel device. Patients and families are particularly impressed when they see a photograph of the captured debris after the procedure.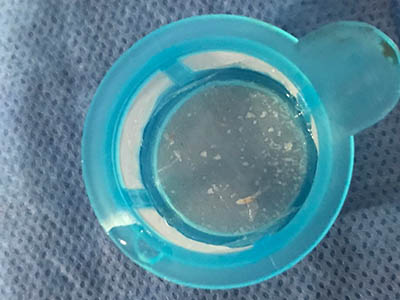 Here is a photograph of the debris captured in our very first use of the Sentinel device: Potential Risks It's important to remember that any medical procedure caries some risk of bleeding or infection. However, Sentinel is a very small device at insertion (0.08 inches or 2 mm in diameter), so the risks are very low. In theory, the Sentinel could scrape plaque from the carotid arteries and cause a stroke with deployment; therefore, we are very careful to image the carotid arteries with both a CT scan and an angiogram prior to deploying the device. At Nebraska Medicine, we care about your heart health. Learn more about TAVR and heart care highlights at Nebraska Medicine, as well as news coverage of our use of the Sentinel device. Also, see our video interview that offers new hope for patients with valve disease.