Allison Cushman-Vokoun, MD, PhD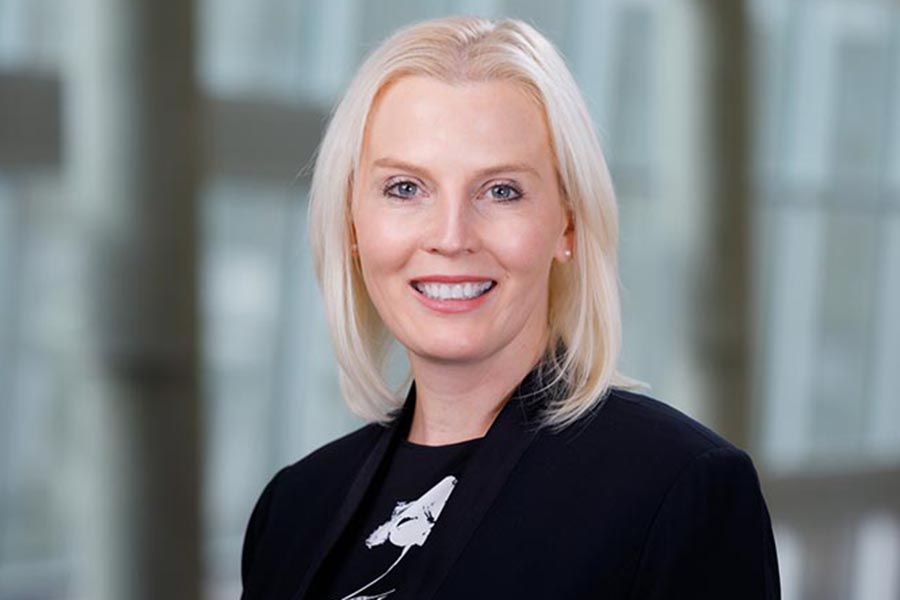 I grew up in Omaha, Nebraska and attended Washington University in St. Louis for my undergraduate years, where I was able to do basic work study tasks for laboratories mapping the X chromosome for the Human Genome Project. Although the tasks were basic, the experience assisted me in being selected for two summers of undergraduate research at UNMC. It was through these experiences that I became initially interested in molecular genetics and eventually matriculated into the UNMC MD/PhD Scholars program, where I earned my PhD in molecular cellular research. I thoroughly enjoyed my pathology-based 2nd year of medical school and decided that pathology was the career choice for me. I completed my AP/CP pathology residency at UNMC and my interest in molecular genetics led me to complete an ACGME Molecular Genetic Pathology Fellowship at Vanderbilt University.

I consider myself to be fortunate that I trained at a time when Precision Medicine was just starting to grow at an exponential pace. I was hired back to UNMC in 2009 by Steve Hinrichs, MD, Chair of Pathology and Microbiology, upon completion of my fellowship, as molecular pathology was just becoming a full-time subspecialty. My charge was to grow molecular pathology, especially in the area of solid tumors. I was made Medical Director of the CLIA-certified Molecular Diagnostics Laboratory in 2012, as next generation sequencing was just entering into the clinical space. Since that time, we have been growing our capability and capacity for high-throughput sequencing in tumors, in order to deliver the highest level of Precision Medicine to our patients at UNMC and in the region. A part of this growth has been working with UNMC oncologists and informaticists, and a company, GenomOncology, to identified ways of incorporating large scale genomic data into the electronic medical record to improve oncology care.

I have also been involved with multiple Precision Medicine committees and projects within the College of American Pathologists, the Association for Molecular Pathology and the American Society for Clinical Pathology.
Research Interests
I have collaborative research interests in molecular diagnostics as it applies to the clinical setting, GI and peritoneal based malignancies, and education in molecular pathology.
Key Manuscripts
Campbell JR, Talmon G, Cushman-Vokoun A, Karlsson D, Scott Campbell W. An Extended SNOMED CT Concept Model for Observations in Molecular Genetics. AMIA Annual Symposium proceedings. AMIA Symposium. 2016 : 352-360. 2016, PMID 28269830

Antonia R. Sepulveda; Stanley R. Hamilton; Carmen J. Allegra; Wayne Grody; Allison M Cushman-Vokoun; William K. Funkhouser; Scott E. Kopetz; Christopher Lieu; Noralane M. Lindor; Bruce D. Minsky; Federico A. Monzon; Daniel J. Sargent; Veena M. Singh; Joseph Willis; Jennifer Clark; Carol Colasacco; R. Bryan Rumble; Robyn Temple-Smolkin; Christina B. Ventura; Jan A. Nowak. Molecular biomarkers for the evaluation of colorectal cancer: Guideline from The American Society for Clinical Pathology, College of American Pathologists, Association for Molecular Pathology, and the American Society of Clinical Oncology. J Clin Oncol. 35 : 1453-1496. 2017, PMID: 28350513

Campbell WS, Carter AB, Cushman-Vokoun AM, Greiner TC, Dash RC, Routbort M, de Baca ME, Campbell JR. A Model Information Management Plan for Molecular Pathology Sequence Data Using Standards: From Sequencer to Electronic Health Record. J Mol Diagn. 21: 408-417. 2019

Foster JM, Patel A, Zhang C, Shostrom V, Brown K, Cushman-Vokoun AM. Investigating the utility of extended mutation analysis in gastrointestinal peritoneal metastasis. J Surg Oncol 2020 Jul 13.doi:10.1002/jso.26114. Online ahead of print. PMID: 32662065
Cushman-Vokoun AM, Voelkerding KV, Fung MK, Nowak JA, Thorson JA, Duncan HL, Kalicanin T, Anderson MW, Yohe S. A Primer on CAR-T Therapy: What Does It Mean for Pathologists?: A Summary Guidance From the College of American Pathologists CAR-T Workgroup. Arch Pathol Lab Med. 2020 Nov 25. doi: 10.5858/arpa.2019-0632-CP. Epub ahead of print. PMID: 33237994.

Chunmeng Zhang MD, Benjamin D. Plambeck BS, Margaret E. Craig BS, Alexander Tu BA, Ryan J Mikus BS, Valerie Shostrom MS, Sean P. McDermott BS, Ikponmwosa Igbinigie BS, Krista Brown MBA, MPH, Allison CushmanVokoun MD, PhD, Jason M. Foster MD. Exploring the prognostic and therapeutic utility of expanded mutation profiling in appendix peritoneal metastasis managed with CRS/HIPEC. J Surg Oncol. 2021; 1 11. https://doi.org/10.1002/jso.26439

Cushman-Vokoun AM et al., Laboratory and clinical implications of incidental and secondary germline findings during tumor testing. Arch Pathol Lab Med., March 26, 2021. PMID: 33769456