Legislative Reports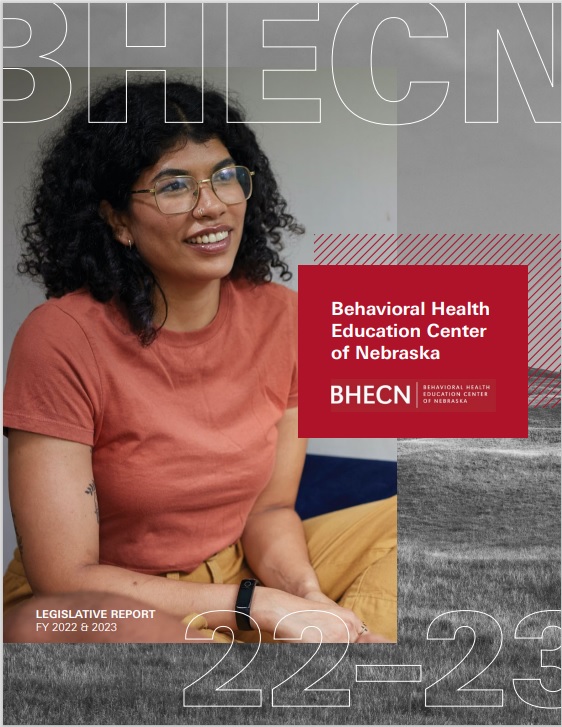 From one-of-a-kind workforce research to powerful mentoring programs to strategic allocation of federal pandemic relief dollars, the 2022-2023 BHECN Legislative Report highlights key steps the organization took in the past two years to strengthen Nebraska's behavioral health workforce. 
BHECN was created by the Nebraska Legislature in 2009 and housed at the University of Nebraska Medical Center. It was charged with helping recruit, train and retain behavioral health workers.
Efforts like those highlighted in the most recent report are especially important at this time as the COVID-19 pandemic has exacerbated behavioral health challenges that existed before its onset as well created new issues, said BHECN Director Marley Doyle, MD.
"BHECN's work to grow and support our state's behavioral health workforce has never been more important," Dr. Doyle said. "The state is facing a critical shortage of licensed behavioral health workers at a time when the need for behavioral health care is higher than it has ever been."
The report – which BHECN produces every two years -- features stories about:
Innovative mentoring and training programs to support college students going into behavioral health careers;
BHECN's workforce research and how it helps drive programs the organization implements to recruit, train and retain behavioral health workers;
The landmark opportunity the state has to improve behavioral health thanks to the Legislature's choice to have BHECN disseminate $25.5 million in American Rescue Plan Act Dollars (ARPA) to organizations and providers around the state;
BHECN's efforts to ensure the behavioral health workforce is reflective of and responsive to the diverse needs, backgrounds and experiences of Nebraskans; and
How the work BHECN does is a model for other states looking to address their own workforce challenges.
"The Nebraska Legislature over the years has showed tremendous foresight and wisdom in creating and supporting BHECN to address key behavioral health needs as this has positioned us to help meet this pivotal moment where more people understand just how important mental and behavioral health care is to our society," Dr. Doyle said. "We are excited to highlight the important work our team is doing to help strengthen our state's behavioral health workforce and help improve lives for Nebraskans." 
Previous Legislative Reports