Students Rallied to Serve the Community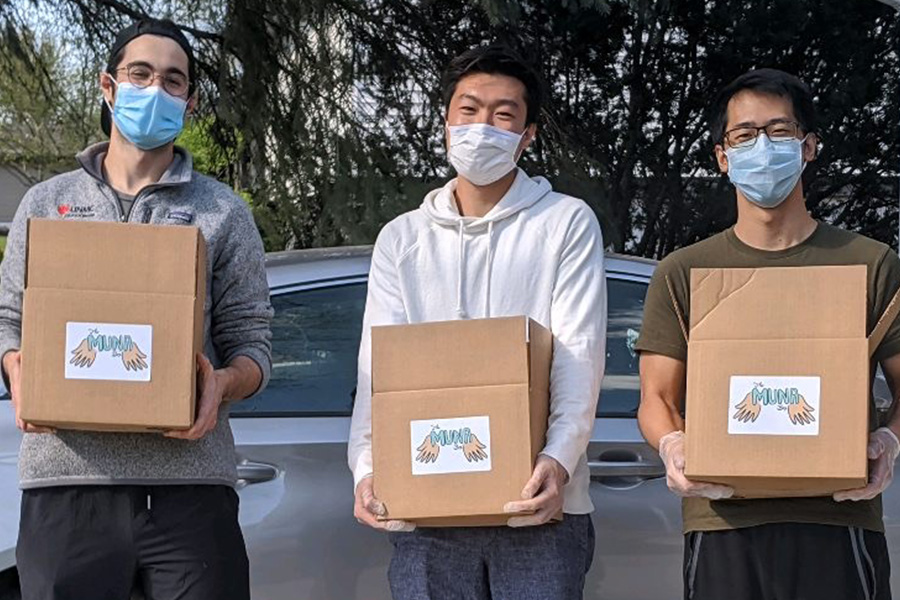 UNMC students engaged with the community in numerous ways during the pandemic.
UNMC students — led by medical student Seif Nasir — distributed boxes of donated food and toiletry staples to refugee and immigrant populations in Nebraska through the MUNA Box Project. MUNA stands for "Medical students United with Neighbors across America," but Nasir, who is Palestinian-American, noted that, in Arabic, the word "muna" means pantry, adding a second layer of meaning to the name.
Additionally, when masks were in short supply, students organized a citywide mask-making and distribution project with hundreds of volunteers. The effort generated 45,000 cloth masks as well as multi-language COVID-19 educational materials.
Students distributed most of the masks to families receiving meal assistance through the Omaha Public Schools. They also were provided to Nebraska Sen. Tony Vargas, who helped distribute them to his South Omaha constituents. His father died of COVID-19 in spring 2020.
"It was a great community benefit — to be able to get free, cloth masks that were sterilized at UNMC," said Tammy Yarmon, director of nutrition services for OPS. "It demonstrated that people cared; it said, 'we care about you and your safety.'"
During spring 2020, in response to community needs, UNMC medical student Stacie Skaff and her fellow students organized a drive to raise money to purchase personal hygiene products for women living in shelters and those living in poverty.
The students, along with the American Medical Women's Association, raised $1,200 and purchased 14,000 menstrual products to share with Embrace the Nations, which serves refugee populations, the Women's Center for Advancement and the Siena Francis House.
"When we get product donations from the community, we're overwhelmed," said Jory Johnston, annual fund associate at the Women's Center for Advancement. "We are excited and so are our clients who need them."