Violence Prevention for At-Risk Youths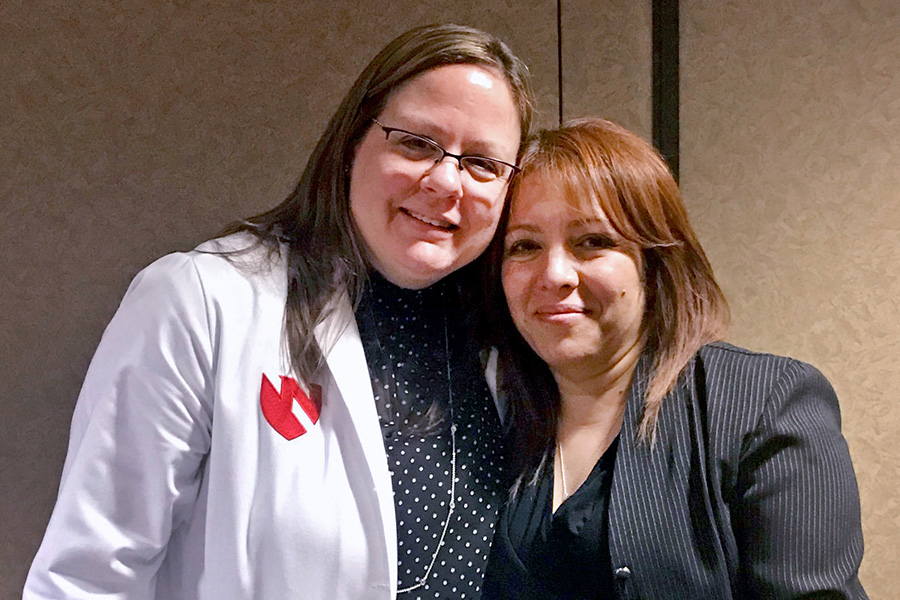 How can an academic medical center connect with youths on the dangers of violence and risk for injury? 
In truth that kind of trust, at least initially, only comes through credible messengers, said Charity Evans, MD, associate professor of surgery: "somebody who has lived that life," and cares to use that experience to create change. 
Dusk to Dawn: A Hospital Based Youth Violence Prevention Program, which UNMC and Nebraska Medicine conduct in partnership with YouTurn, the Omaha Police Department and Boys & Girls Clubs of the Midlands, has a credible messenger in Roberto Gonzalez.
Gonzalez was humble, but troubled, his mother Raquel Salinas said. "He was very forgiving. He was kind of like the glue of the home."
He died too soon, at age 20, in 2015, shot on a Thursday morning at 24th and P streets in Omaha.
He was taken to the same hospital where he was born, Nebraska Medicine. There, doctors and others desperately tried to save his life. They couldn't.
At every Dusk to Dawn meeting, Dr. Evans stands in the emergency trauma bay where Roberto died, and tells participants, youths at risk of violence themselves, the story of Roberto's life. And, of his death. She illustrates what the bullets did to his body, and all of the medical procedures that were tried, but were not enough.
At every meeting, Roberto's mom, Raquel Salinas, listens to it all over again. The pain is still fresh, six years later. But she is there, each time.
"If my son could save at least one child, one of those kids," she said, "I would do it all day long."
She is there to tell them that this is real, that Roberto mattered. That he still matters, if he can help one of them.
The trauma bay is only the beginning of the program. From there, the kids are met by other credible messengers, who lead discussions that hopefully can change lives. Roberto's mom, Raquel, always attends these, too.
"I look around to see who the kids were, the ages. You can kind of pick them out, the kids who are troubled," she said, "they don't want to let us in."
"Most conversations with youth have that sense of security that has to be established," agreed Jermaine Jones, chief career navigation officer at Boys & Girls Club of the Midlands. "As the conversation goes on, the youth have that sense of, OK this is a secure place, a place I can have that kind of conversation."
Jones has seen the impact those conversations can have.
"It can be life changing," he said. "It's an opportunity for youth to have a platform to get feelings off their chest of their own personal experiences and connect with folks that have had similar experiences."
He continued, "They can talk about issues that they are thinking and feeling, questions. Questions about police relations, questions about community relations. Questions and thoughts around gangs, drug use and violence. A lot of these conversations do not go on in the schools."
To date, 765 kids have gone through the program; 66% have lost a friend or family member to violence; 48% would like to talk more about their experiences, and how they can better handle them.
Some of these kids are going through things much of Omaha knows nothing about.
But the credible messengers do.
Jones has seen the kids that he works with take something from the sessions, and want more.
"A lot of our kids that have gone through it the first time have requested to go back and do it again," he said.
"I wish this program was here when he was alive," Roberto's mom said. "I see my son in a lot of them. Troubled. Sometimes thinking they don't have anybody they can trust. It's scary and it's sad at the same time."
Dr. Evans, with Ashley Farrens, trauma program coordinator, created Dusk to Dawn in 2017. But it has been the community partners, and the credible messengers, including Gonzalez and his mother, that have made it work. Stewart Giddings of YouTurn, Ken Kanger, Beto Gonzales and Terrance Mackey, of OPD, play key roles.
Jones, of the Boys & Girls Club, marvels that D2D has become "a bridge between a lot of programs."
"She put those puzzles together," Jones said of Dr. Evans. "She figured out a way to see from her professional side of things, how it connects to the community."
Roberto's mom, Raquel Salinas, agreed. "Whatever journey she wants to take, I would follow," she said.