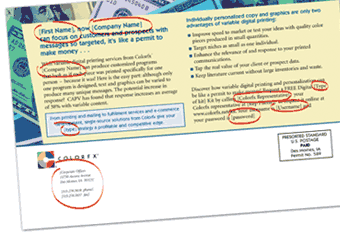 Variable Data Printing or VDP (also known as Variable Information Printing, or VIP) is a form of on-demand printing in which elements such as text, graphics and images may be changed from one printed piece to the next without stopping or slowing down the press, using information from a database or external file. VDP enables the mass customization of documents via digital print technology, as opposed to the 'mass-production' of a single document using offset lithography. Instead of producing 10,000 static copies of a single document, variable data printing could print 10,000 unique documents with customized messages for each customer. The returns for variable printing vary from double the normal return at the basic level to 10-15 times the return for fully variable jobs. This naturally depends on content and the relevancy of that content, but the technique presents an effective tool for increasing return on investment on mailings and marketing campaigns. 
There are several levels of variable printing. The most basic level involves changing the salutation or name on each copy. More complicated variable data printing uses 'versioning', where there may be differing amounts of customization for different markets, with text and images changing for groups of addressees based upon which segment of the market is being addressed. Finally there is full variability printing, where the text and images can be altered for each individual addressee. All three types of variable data printing begin with a basic design that indicates which sections can be altered and a database of information that fills in the changeable fields.  
While UNMC Printing & Mail Services has offered VDP for several years, the demand for it has grown and we have expanded our capabilities. Our new state-of-the-art, award winning software streamlines the process and allows us to better integrate the data into not only mail information but also into your design. UNMC Printing & Mail Services is now making all types of VDP available. If you can imagine it, we can do it!