Benjamin Greenfield, MPS, CCP, LP
Adjunct Assistant Professor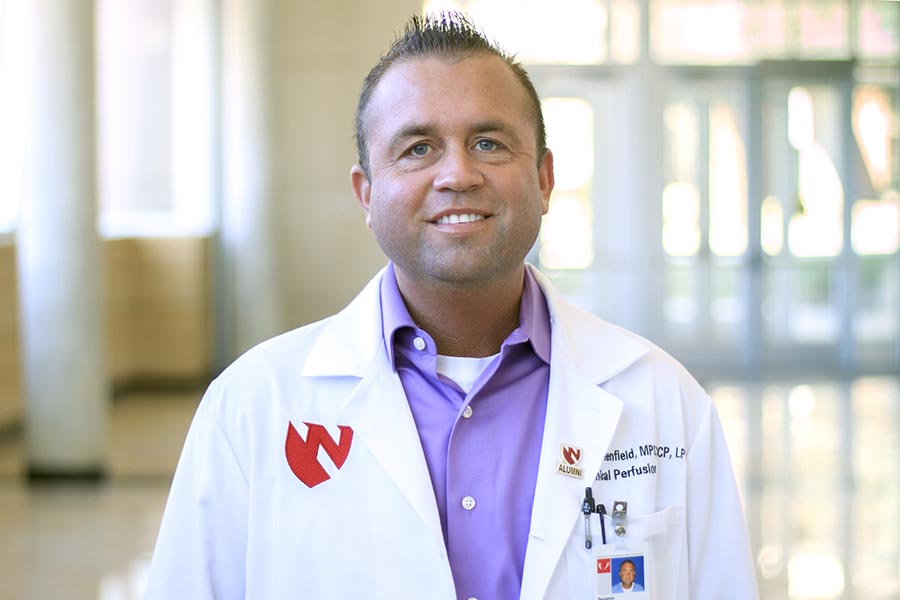 Following his formal perfusion training, Ben worked as a perfusionist at the Nebraska Heart Hospital and St. Elizabeth Hospital in Lincoln, Nebraska. Ben has served as the Director of Operations for Heme Perfusion, the Director of Recruitment for Perfusion.com and is currently the Director of Recruitment for Epic Cardiovascular. In Ben's time as a perfusionist, he has performed over 4000 heart surgeries and over 3000 orthopedic and neurosurgeries.
Ten years after graduation (2013), Ben was named UNMC's most distinguished alumnus. Then, In April 2017, Ben was awarded the Excellence in Teaching award by the UNMC College of Medicine.
Ben has lobbied in the Nebraska Unicameral and currently sits as the government liaison for Perfusion in the Nebraska legislature. In 2008, as the second President of the newly formed Nebraska Perfusion Society, he helped to write the licensure law for perfusion for the state of Nebraska. Ben has most recently been added to the State of Nebraska Board of Medicine and Surgery as a representative who will help oversee new licensure proposals governing several health care specialties including radiation assistants and surgical first assistants.
Ben is a published author in both breast cancer research (UNMC, gap junction intra-cellular communication) as well as in Perfusion (UNMC) for his work using pharmacological agents and surface modifications on biocompatibility of the extra-corporeal circuit. He has spoken to audiences across the country about medicine, changing perfusion technology, and integration of a multidisciplinary approach to cardiac surgery. Ben is an active alumnus at NWU on pre-health panels and even giving the past four keynote presentations for Wesleyan's pre-health admissions banquets.
Ben currently resides in Roca, Nebraska and is married to his wife Tarah. The couple has two children, Addison (16) and Evan (15). In his spare time Ben spends time as a guest speaker on dealing with adversity and maintaining a positive attitude. He also enjoys outdoor activities such as hunting and fishing as well as playing the guitar, ukulele, and singing in a band aptly named SynkopE.
Education
Masters in Perfusion Science with Emphasis in Health Care Management, University of Nebraska Medical Center, 2003
BS, Biology with Professional Minor in Chemistry, Nebraska Wesleyan University, 2001
Clinical Perfusion Program
Department of Medical Sciences
University of Nebraska Medical Center
984144 Nebraska Medical Center
Omaha, NE 68198-4144