Patricia A. Hageman, PT, PhD, FAPTA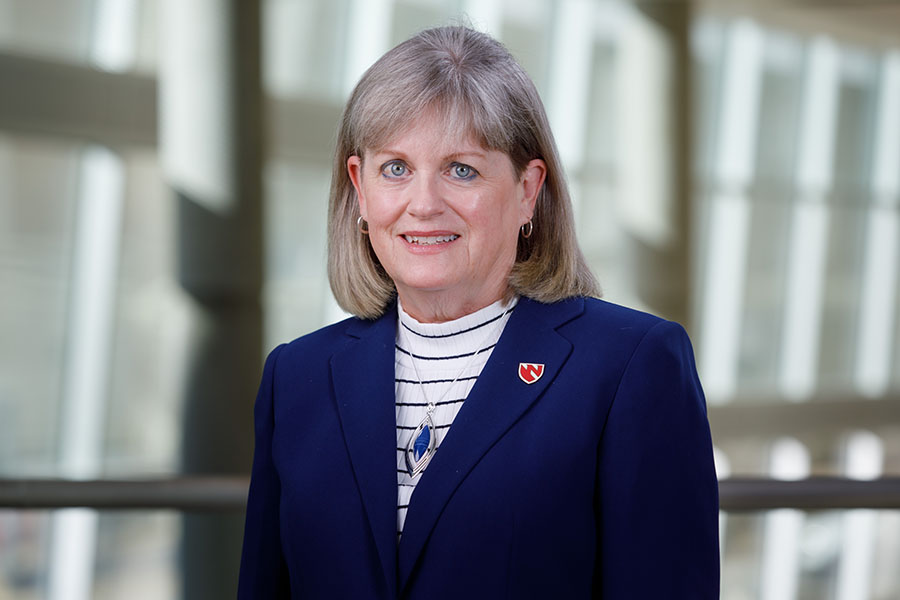 Dr. Hageman is a Professor, a national leader in advancing health care education in physical therapy, and a researcher/advocate for promoting physical activity among midlife and older adults from rural communities. Her primary teaching interests focus on practice management skills in physical therapy education.
Dr. Hageman has held leadership roles in PT education for more than 37 years. As former director of the University of Nebraska Medical Center's physical therapy program (1989-2008), she led successful efforts to advance the program from a bachelor's to a master's degree (implemented 1989), and to the professional doctor of physical therapy degree (implemented 2001).
Dr. Hageman's service includes national roles in the American Physical Therapy Association and educational consulting to physical therapy programs. Appointed by the U.S. Department of Health and Human Services Secretary to an external advisory committee at the U.S. Health Resources and Services Administration (HRSA), she provided advocacy to the U.S. Congress related to enhancing rural workforce development. Dr. Hageman's scholarly work, supported by National Institutes of Health funding as Co-Investigator since 2001, uses mHealth / eHealth delivery of behavior change interventions for promoting healthy eating and activity among rural women and men.
Education
PhD, Medical Sciences Interdepartmental Area, University of Nebraska Medical Center, 1994
MS, Health, Physical Education and Recreation, University of Nebraska at Omaha, 1985
BS, Physical Therapy, University of Nebraska Medical Center, 1979
Research Interests
Physical Activity
Behavior change interventions to increase physical activity
Health promotion using eHealth/mHealth
Enhancing fitness to reduce risk of disease / disability
Grant Support
2017-2022
Co-Investigator, Engaging Rural Men with Mobile Technologies for Weight Loss. A Randomized Controlled Trial, funded by NIH/NINR R15NR017522 (Eisenhauer C, PI)
2010-2016
Co-Investigator, Web-based Weight Loss & Weight Maintenance Intervention for Older Rural Women, funded by NIH/NINR R01 NR010589, 2010-2016 (Pullen CH – PI)
2001-2012
Co-Investigator, Promoting Healthy Eating and Activity in Rural Women, Renewal Title: Modifying Lifestyle in Prehypertensive Older Rural Women, funded by NIH/NINR, RO1 NR004861, 2001-2012, (Pullen CH- PI)
Honors and Awards
2018 Cardiovascular & Pulmonary Poster Research Award, Section for Cardiovascular and Pulmonary, American Physical Therapy Association (APTA)
2016 Catherine Worthingham Fellow, American Physical Therapy Association
2013-2019 Inaugural Recipient, The Karen Linder Distinguished Professorship for Women's Health, CAHP, UNMC, Omaha, NE
2012 UNMC Distinguished Scientist Award, University of Nebraska Medical Center, Omaha, NE
2011 Outstanding Service to the Allied Health Professions Award, SAHP, UNMC, Omaha, NE
2011, 2002, 1996 Outstanding Researcher Award, SAHP, UNMC, Omaha, NE
2008 Inaugural Physical Therapy Chapter-Distinguished Alumni Award, UNMC Physical Therapy Chapter Alumni Association, UNMC, Omaha, NE
2006 University-Wide Departmental Teaching Award, University of Nebraska
2006 Achievement in Education Award, Nebraska Physical Therapy Association
2002 Hollie Bethel Distinguished Alumni Award, College of Education, UNO, Omaha, NE
1999 ME Sacksteder Award for Outstanding Contributions to the Advancement of Physical Therapy, NPTA
1989 Teacher of the Year Award, SAHP, UNMC, Omaha, NE
Physical Therapy Program
Department of Health and Rehabilitation Sciences
University of Nebraska Medical Center 
984420 Nebraska Medical Center
Omaha, NE 68198-4420