Wellness Innovation Clinical Research Lab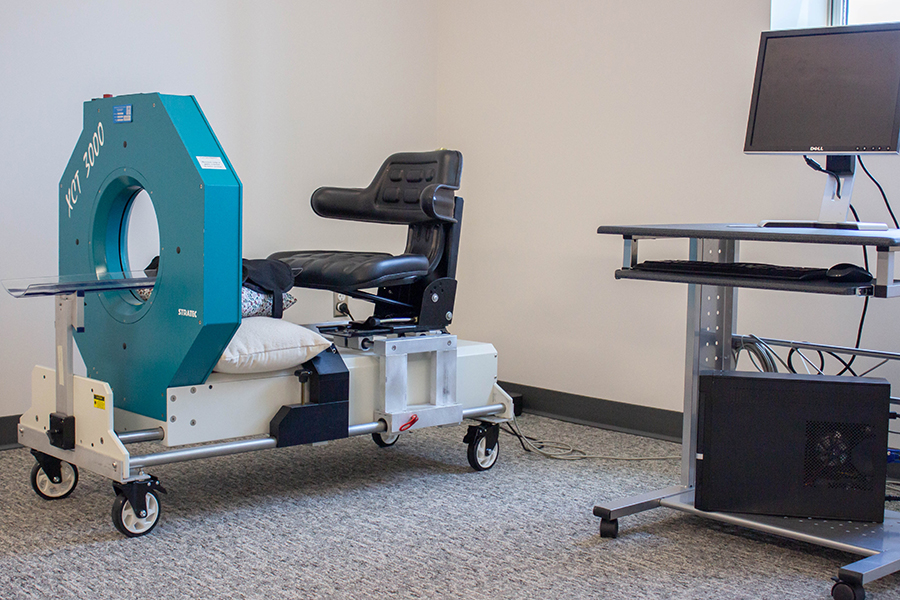 The 3,000-square-feet remodeled laboratory is located on the lower level of the Student Life Center and will be open for use to researchers from colleges and institutes across UNMC.
The lab provides researchers with the capacity to conduct imaging, biomechanical, metabolic, and nutritional assessments in conducting innovative, team-based clinical research aimed at the primary prevention of chronic diseases, as well as secondary prevention to improve the quality of life in managing these diseases using nutrition and physical activity interventions.
The Wellness Innovation Clinical Research Lab at UNMC has multiple resources for assessment of mobility and body composition.
Imaging
Dual energy x-ray absorptiometry (DXA) has the capacity to measure bone density and fat/lean mass.
Metabolic/Aerobic Fitness Assessment
Cardiorespiratory capacity testing with treadmill-based system (TrackMaster 428CP)
ParvoMedics TrueOne 2400 metabolic measurement system
WelchAllyn Q-Stress Cardiac Stress Electrocardiogram system
Biomechanics Assessment of Movement
Motion capture system
Embedded force platforms
Eelectromyography analysis system
Portable balance/gait analysis device
Muscle Strength and Function Assessment
Isokinetic muscle testing
Maximum concentric and eccentric muscle force generation
Applicable to extremity strength testing
Functional muscle testing
Example to the left is the timed chair stand test
Source: Scientific Reports (Sci Rep) ISSN 2045-2322 (online)