Medical Nutrition
Help a patient on their health journey one bite at a time.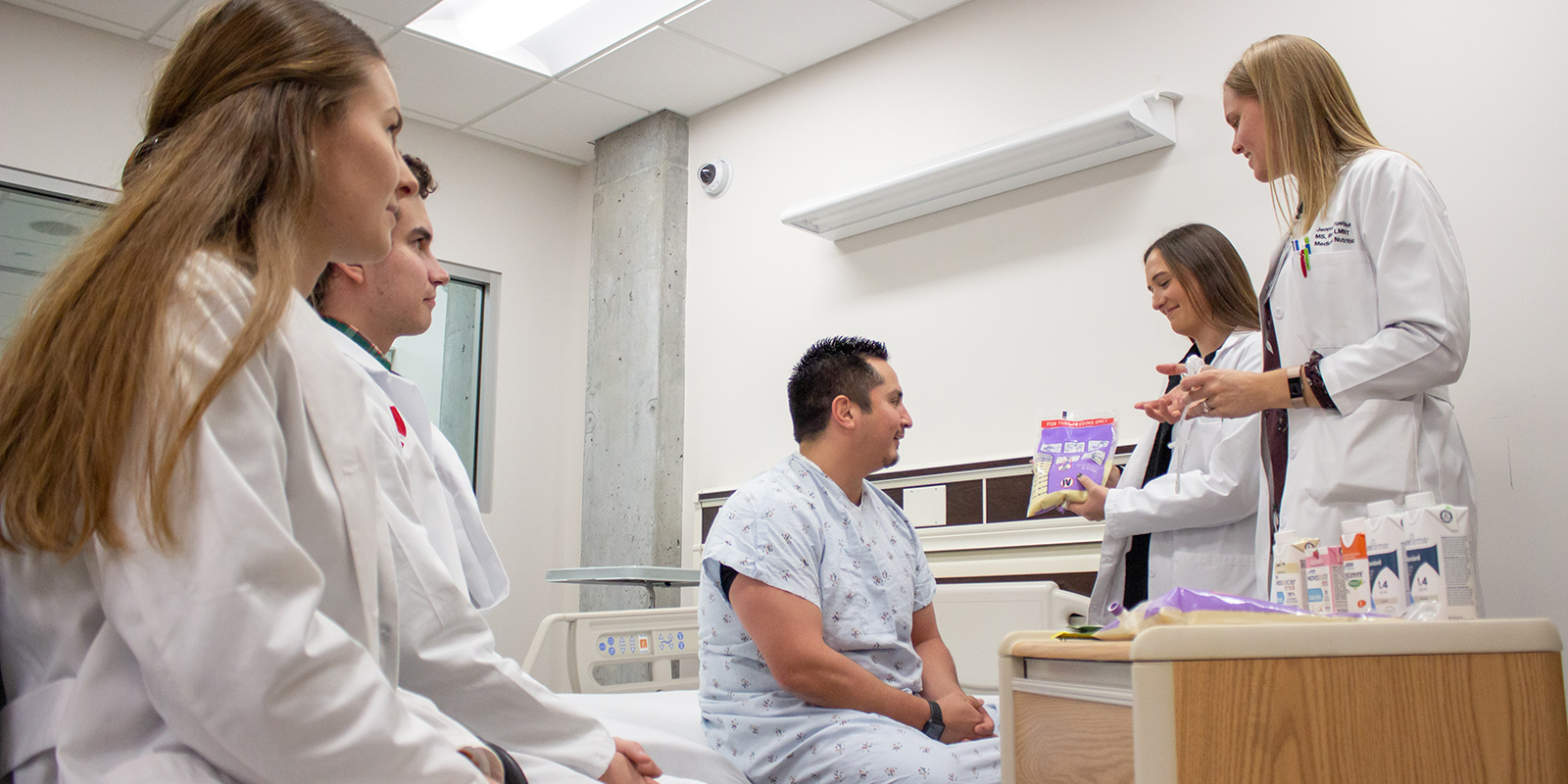 Why Study Medical Nutrition?
For everyone, what you eat is a complex, personal and cultural experience, and when you join the Medical Nutrition profession, you have the fun and challenging task of joining together a person's relationship with food with their nutritional needs. Registered Dietitian Nutritionists (RDNs) are food and nutrition experts who use their knowledge of nutrition science to help improve the lives of individuals and the communities they live in. RDNs assess a patient's nutrition history, biochemical make-up, and medical tests, and with that information make decisions to help their client progress towards and reach their health goals.
As an RDN, you will blend scientific research, nutrition, behavioral science, and social science to promote health, prevent disease, and shape the nutrition choices of healthy and sick people. Whether you choose to work in a hospital, clinic, research facility public health agency, sports nutrition program, or in food-service management, the opportunity and ability to intervene and change people's everyday lives for the better is all yours. What is a Registered Dietitian (RD) or Registered Dietitian Nutritionist (RDN)?
Why Study Medical Nutrition at UNMC?
Accelerated Master's Degree
When you study at UNMC, you take part in an innovative, accelerated master's degree program, completing over 1,500 hours of supervised learning experiences over the course of four contiguous semesters, or a little under 1.5 years. Upon completion of the program, you become eligible to take the national registration examination for dietitians administered by the Commission on Dietetic Registration.
Mission & Goals
Highest Standards
With a low ratio of students to faculty, you will receive a full-time, dedicated environment to where curriculum skills and knowledge are curated to the highest accredited standards. Since the program's first active year in 2019, all Medical Nutrition graduates have found careers within 12 months of completion.
Outcome Data
Duration
1.5 years (4 semesters)
Location
Kearney and Omaha
What to Expect
The program includes 50 semester credit hours of didactic and clinical coursework, which include approximately 1560 hours of supervised learning experiences. Additional program information, including course descriptions.
Overview & Degree Requirements
Outstanding Faculty
Our caring faculty are excellent educators and researchers. They are excited to share their knowledge and expertise with each new cohort of students.
Faculty
Accreditation Council for Education in Nutrition and Dietetics Academy of Nutrition and Dietetics 120 South Riverside Plaza, Suite 2190 Chicago, IL 60606-6995 Phone: 1-800-877-1600 ext 5400 | Email: ACEND@eatright.org
ACEND webpage
Transforming Lives through Food and Nutrition
What do registered dietitian nutritionists do? As food and nutrition experts, they are transforming the lives of Americans with professional nutrition advice tailored for each individual, family and community.