About the Truhlsens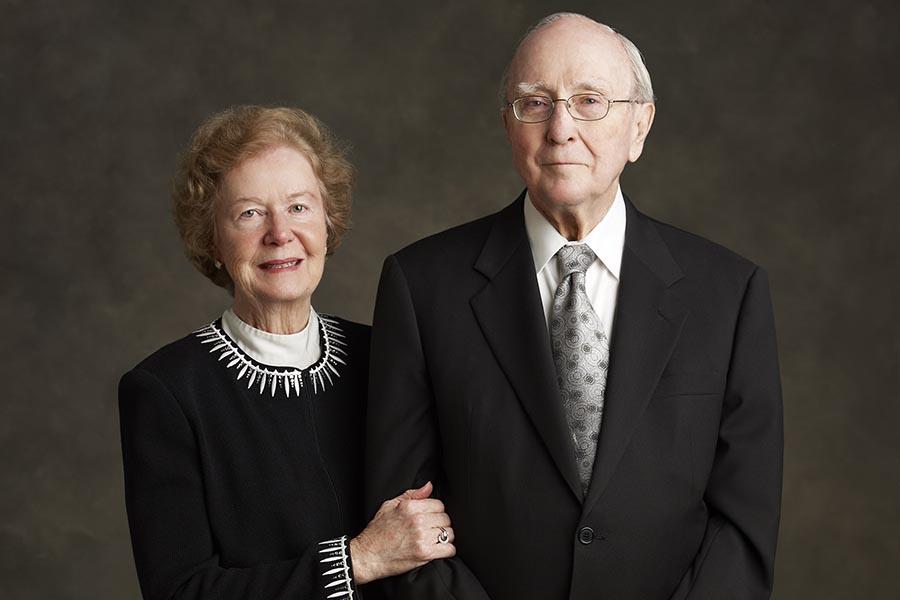 The Truhlsen Campus Events Center, located on the first floor of the Michael F. Sorrell Center for Health Science Education on UNMC's campus, provides gathering and meeting space for both the campus and community at-large. The Sorrell Center opened in June 2008 and provides a state-of-the-art environment for future physicians to receive their education and furthers UNMC's vision of becoming a world-class academic health sciences center.
Named after the late Dorothy and Stanley M. Truhlsen, MD, the Truhlsen Campus Events Center is a tribute to the philanthropic couple who learned early on the importance of giving back to the community. Dr. Truhlsen is a legendary ophthalmologist and graduate of UNMC.
The couple's gifts have provided support for numerous UNMC projects including the Truhlsen Eye Research Laboratories at the Durham Research Center, the skywalk connection between the Truhlsen Eye Institute and the Lauritzen Outpatient Center & Fritch Surgery Center, the Dr. Edwin G. & Dorothy Balbach Davis Global Center, which is home to the Interprofessional Experiential Center for Enduring Learning (iEXCEL), and the Wigton Heritage Center.
An emeritus professor and former chairman of UNMC's department of ophthalmology, Dr. Truhlsen graduated from UNMC in 1944 and completed residencies at Albany Hospital in New York and Barnes Hospital in St. Louis.
A private practice physician, he joined UNMC's ophthalmology department in 1951, and served on the UNMC faculty until 1990. He was interim chairman of the department of ophthalmology in 1989-90, was named emeritus clinical professor of ophthalmology in 1993, and received UNMC's Distinguished Service to Medicine Award in 2003.
The Herman, Neb., native is a past president of the College of Medicine's Alumni Association and served as president of the American Academy of Ophthalmology (AAO) in 1983 and the American Ophthalmological Society (AOS) in 1996.
During Dr. Truhlsen's tenure as president of the AAO, he participated in the academy's launch of the National Eye Care Program, which brought together 7,000 volunteer ophthalmologists nationwide who provided, at no cost, care for the elderly in need.
In 2001, Dr. Truhlsen received the Lucien Howe Medal from the AOS, the oldest ophthalmic organization in the United States. The Howe Medal is considered one of the most prestigious awards in ophthalmology and is the only award given by the AOS. It is awarded in recognition of "conspicuous services as a researcher or a teacher during long years of devotion" and for contributions to ophthalmology.
A native of Fairfield, Iowa, Dorothy Truhlsen died Nov. 6, 2021, at age 92. Dr. Truhlsen died Dec. 23, 2021, at age 101. The couple will be remembered for their kindness and positivity, generous spirit and radiant smiles.