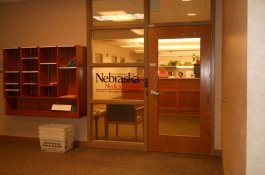 Staff: 
Ken Hansen, Associate Vice-Chancellor of Facilities Management & Planning
Dale Miller, Manager, Financial Services, 402-559-6949
Accounting, For Billing Questions contact Diana Rome, 402-559-5302
Secretarial/Clerical
Trouble Call Center, 402-559-4050
Primary Mission: 
Direct all budgetary, accounting, personnel and other business related functions for Facilities Management and Planning. The Administration Division accounts for State, revolving and federal and other State allocations. 
Facilities Administration is also responsible for accounting and reporting functions for all capital construction projects.
Facilities Management & Planning Warehouse supports the campus shops with supplies and materials for in-house construction and renovation projects.