Level 4 Exhibits
University Hospital's Construction and History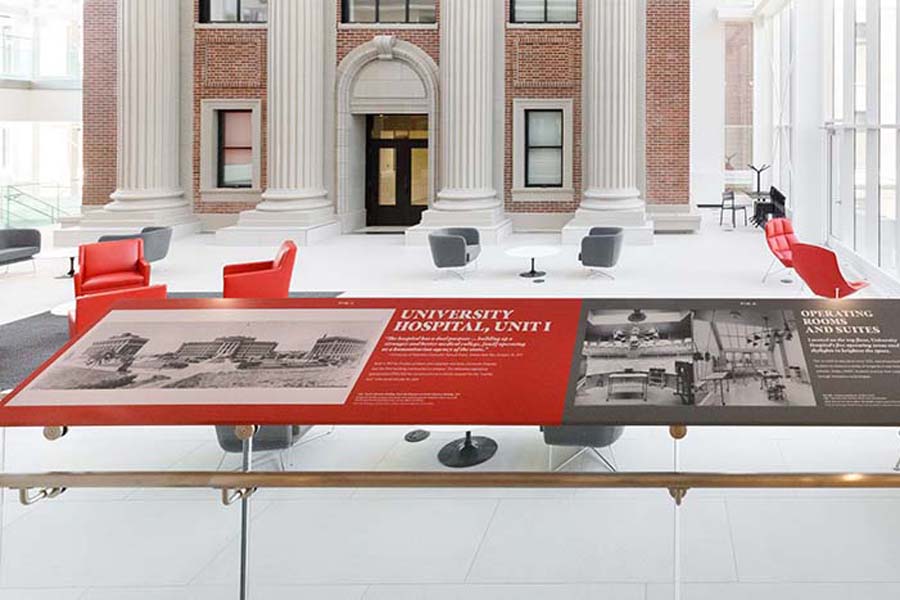 Built in 1917, University Hospital had "a dual purpose... building up a stronger and better medical college, [and] operating as a humanitarian agency of the state." Explore what the hospital had to offer patients and their families, and the medical students attending the University of Nebraska College of Medicine. Get up close to see the detail of this majestic building, now restored and preserved.
Legacies of Healing – The Wigton and Swift Families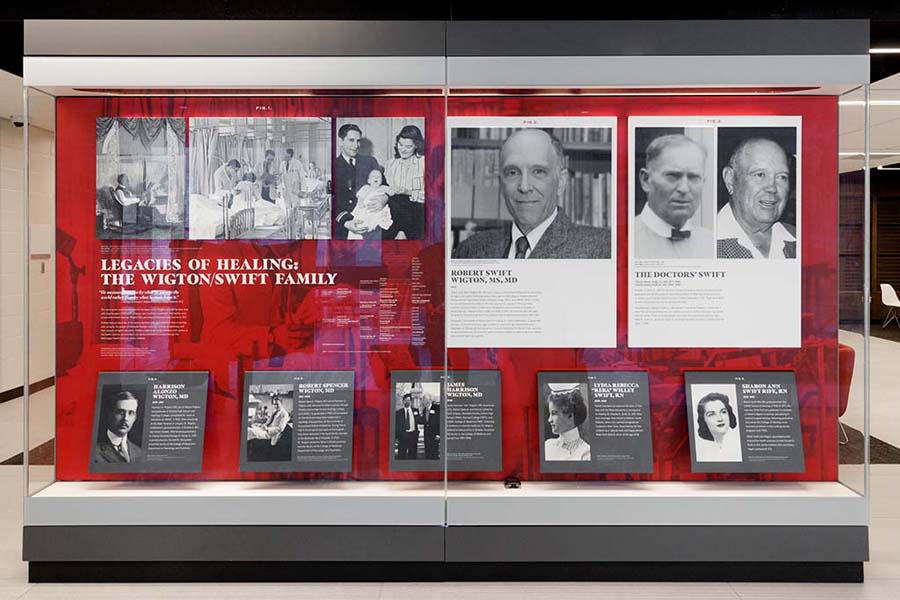 UNMC is proud of the many families who have dedicated generations of service to caring for the health of Nebraskans. The Wigton and Swift families, joined by marriage, have both an educational legacy and a healing legacy. Beginning in 1905, members of both families were educated at UNMC and then entered private practice in Omaha and other Nebraska communities. Many have served and continue to serve as faculty members at UNMC.
Early anatomists in the College of Medicine and Rural Practitioners Across Nebraska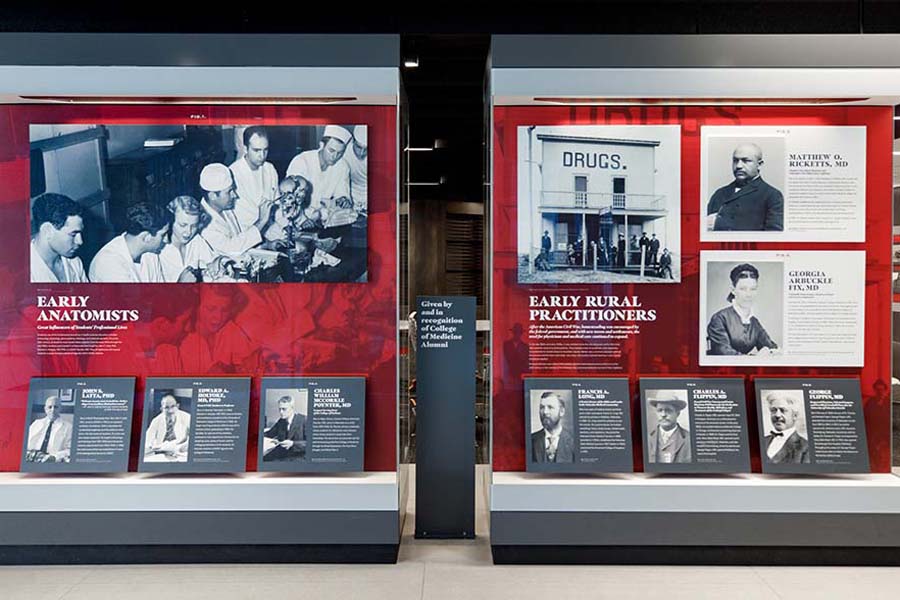 Given by and in recognition of College of Medicine Alumni
All students beginning their careers at UNMC in the early 20th century passed through the anatomy classes of Drs. John Latta, Ed Holyoke, and C.W.M. Poynter. Explore their careers and some of the ways they both frightened and inspired generations of physicians.
Hardy and adventurous, the early rural physicians of Nebraska pioneered the role of family doctors or general practitioners. Physicians braved the hardships of rural Nebraska to practice medicine. Read stories of ingenuity, innovation, and the breaking of many social barriers undertaken by these physicians in western Nebraska towns.
Native Healers: Susan La Flesche Picotte, MD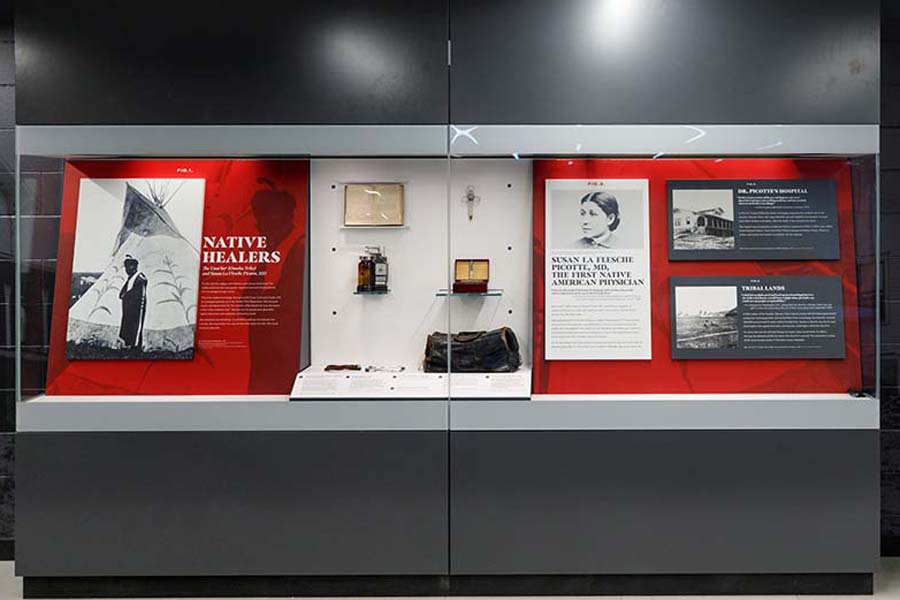 She was Umonhon (Omaha Tribe). She was a woman. She was the first Native American to receive a medical degree. Dr. Susan La Flesche Picotte dedicated her life to the health and welfare of the Umonhon. In 1913, she opened a hospital in Walthill, Nebraska that served both the tribe as well as the white population of neighboring Bancroft, Nebraska. See artifacts owned by Dr. Picotte, explore her life and legacy of healing, and learn about the efforts to preserve and restore the hospital she established.
Medical Education During World War II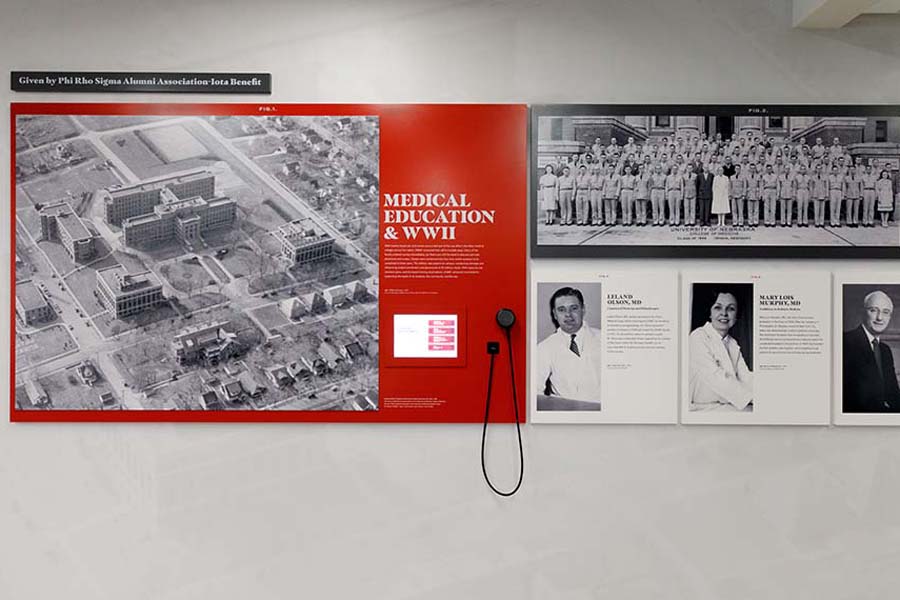 Given by Phi Rho Sigma Alumni Association-Iota Benefit
Imagine squeezing four years of medical school into three while serving in the US Army and trying to have a "normal" student life. That was the reality for students studying at UNMC during World War II. Learn about the Class of 1944, the many changes they faced, and the impact of their alumni through this exhibit.
UNMC's Growth and Global Impact Interactive Screens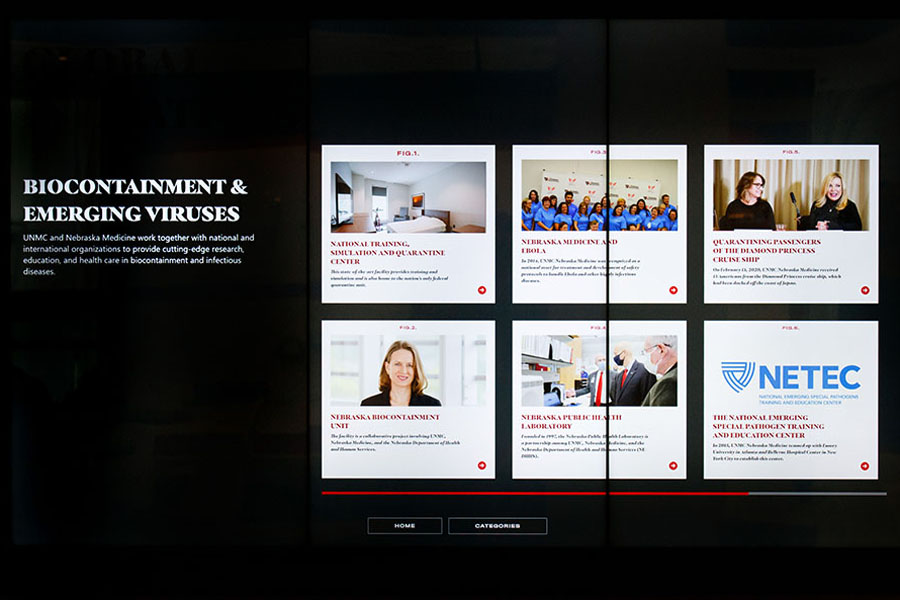 Since 1881, innovation and excellence have been two of UNMC's cornerstone values. This interactive screen allows users to explore a timeline of the university's many achievements, read profiles of its distinguished education, research, and scientific award winners, and see the latest updates about UNMC's impact on research and healthcare around the world.

This content is also available in the Wittson Hall, Level 3 corridor, from 42nd Street to the Wigton Heritage Center welcome desk.
The Department of Psychiatry and the Nebraska Psychiatric Institute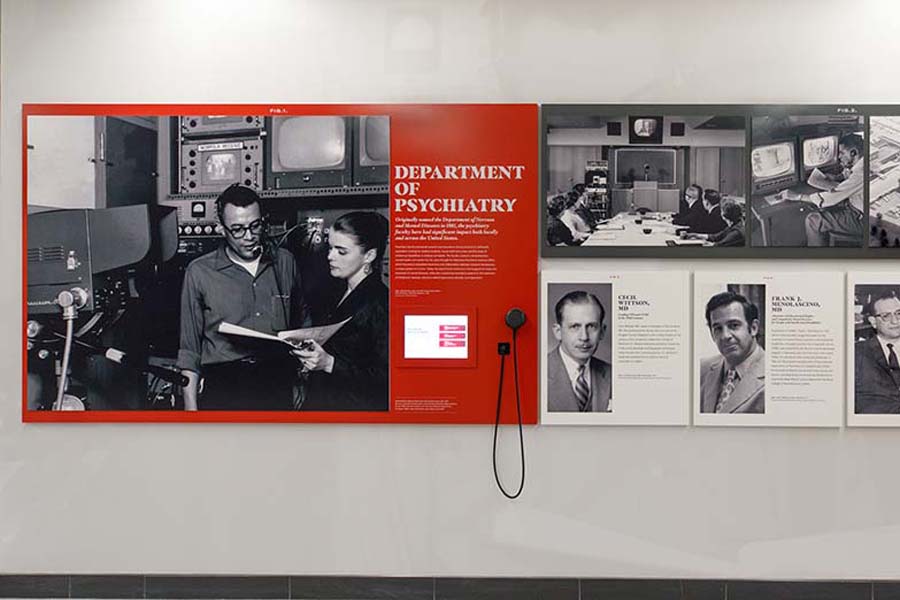 In recognition of Bernice M. Hetzner, Director, McGoogan Library, (1948-1973)
Responsible for the pioneering clinical research and psychiatric patient care for the state, the Nebraska Psychiatric Institute opened in 1947 and received its own building in 1955. Hear about this formative institution from some of its founding physicians, including Cecil Wittson, MD, first director and founding Chancellor of UNMC, and Reba Benschoter, PhD, pioneer of biomedical communications and two-way closed-circuit television instruction across Nebraska.
UNMC's College of Dentistry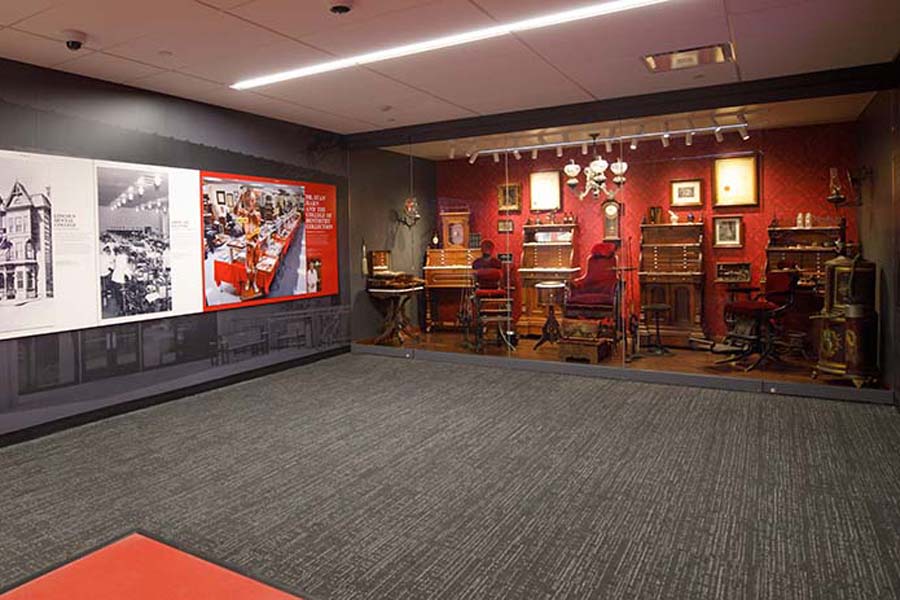 Stanton D. Harn, PhD, Dental Gallery
Curated by Stanton D. Harn, PhD, and designed to include decorative elements typical of the late-1880s dental office, this exhibit transports visitors into a time before the electric drill and novocaine anesthetics. Examine over 100 individual artifacts drawn from the collection of UNMC's Dental Museum via an interactive screen and learn about the evolution of UNMC's College of Dentistry.
UNMC's College of Nursing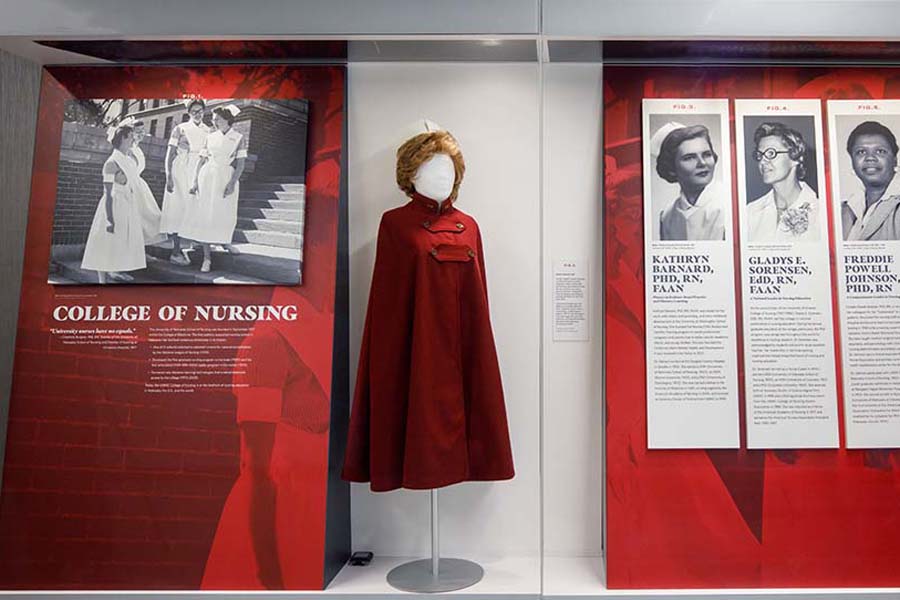 In Memory of Edward A. Holyoke, MD, PhD, and Edward A. (Ted) Holyoke Jr., MD, Given by Sharon Bonham Holyoke, RN, MSN
Opened in 1917 as the first publicly supported nursing school in Nebraska, UNMC's College of Nursing has produced several pioneering graduates who have impacted the profession across the nation. Highlighting four of these former students—Dorothy Patach (1944), Gladys Sorensen (1945), Freddie Powell Johnson (1952), and Kathryn Barnard (1960)—this exhibit examines their professions and passions, and highlights artifacts drawn from UNMC's College of Nursing Museum.
Marion E. Alberts, MD, and a History of Infant Feeding Devices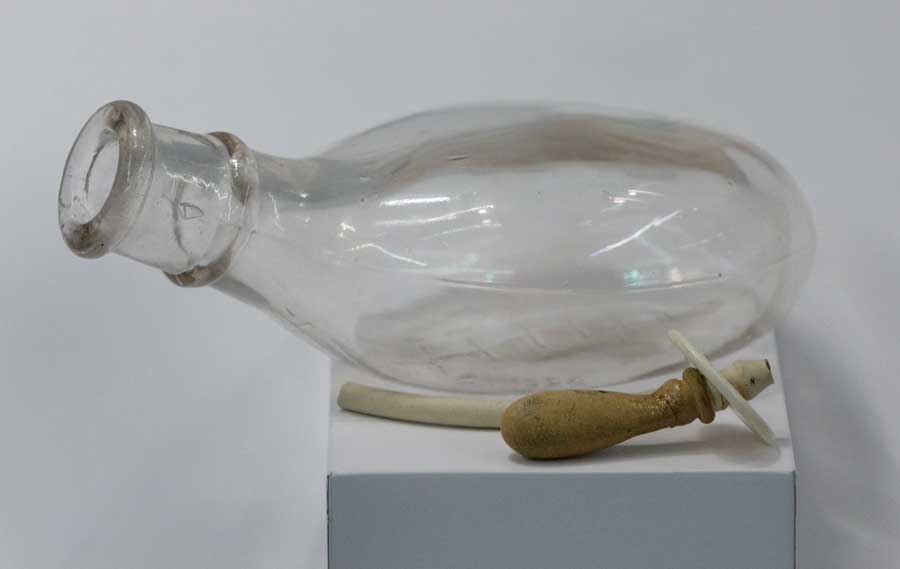 A pediatrician by training, Dr. Alberts' passion for caring for children inspired his extensive collection of infant feeders, rattles, and teethers. Encompassing over 200 artifacts ranging in date from ancient Rome to the Victorian era, the Alberts collection contains a lifetime of research and materials related to infant care. This exhibit highlights a number of unique pieces drawn from his collection, including the infamous "Murder Bottle" that contributed to the high infant mortality rates of the late Victorian era.
Nebraska in World War I and Base Hospital 49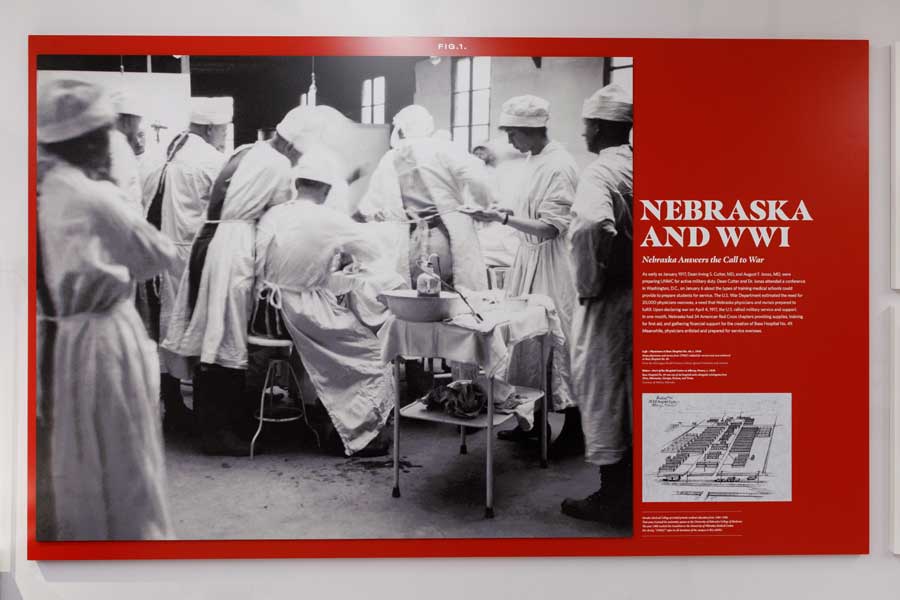 During World War I, physicians and nurses from Nebraska staffed Base Hospital No. 49 in Allerey, France. One of 50 base hospitals organized in conjunction with the American Red Cross, No. 49 was the least funded but had the best survival record for patients. Physicians and nurses handled serious surgical cases, influenza and pneumonia, psychiatric patients, and ear/nose/throat cases. This exhibit will explore the impact of Base Hospital No. 49 on the war effort, and the lessons learned by the Nebraska physicians and nurses stationed there.
Historic Teaching Tools in Health Sciences Education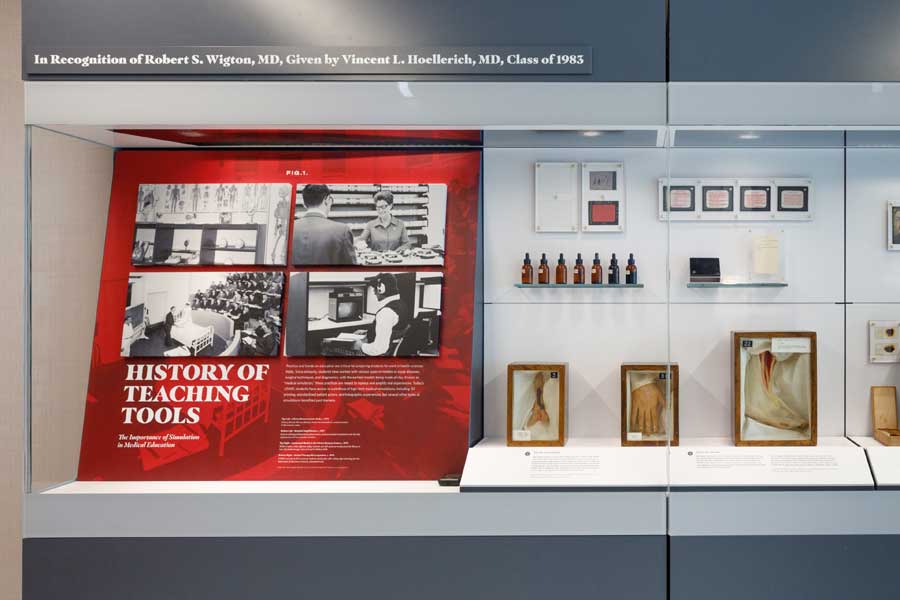 In Recognition of Robert S. Wigton, MD, Given by Vincent L. Hoellerich, MD, Class of 1983
Before there were overhead projectors, computers, and the internet, health sciences educators used a variety of media to show their students examples of disease states and anatomical profiles. Moulages, life-like models made of painted wax on plaster, and stereoscope cards, microscope and lantern slides, were all used to illustrate what students would encounter in the clinic. Learn about the educational experiences of students through several artifacts drawn from the McGoogan Health Sciences Library's Special Collections and Archives.
Together in Health: The College of Allied Health Professions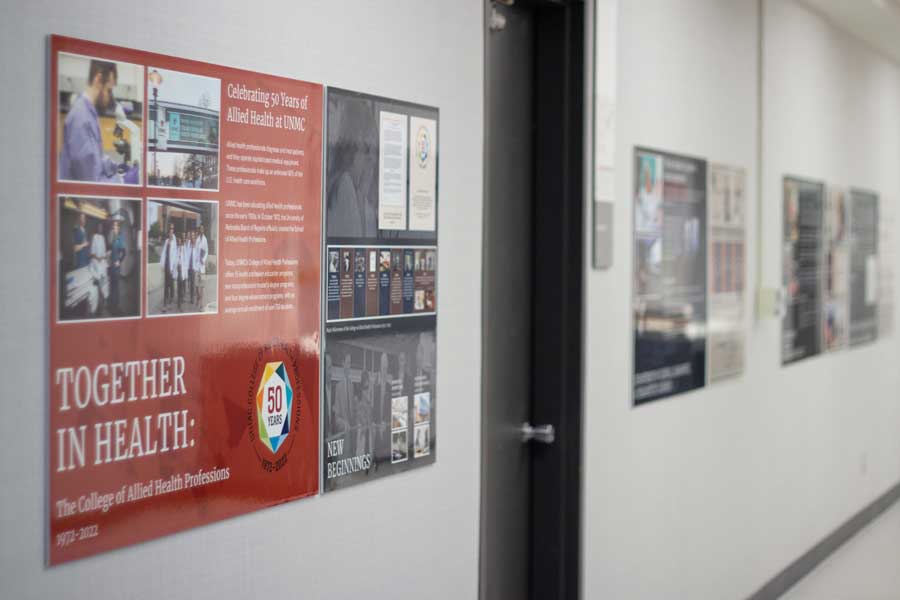 UNMC has been educating allied health professionals since the early 1930s. Today, the college offers 15 health profession education programs, two interprofessional master's degree programs, and four degree-advancement programs, with an average of annual enrollment of over 750 students. This anniversary exhibition is currently on display on Level 4 of Wittson Hall, near the Bennett/Sorrell walkway. A companion exhibit can be viewed online.
Graduate Studies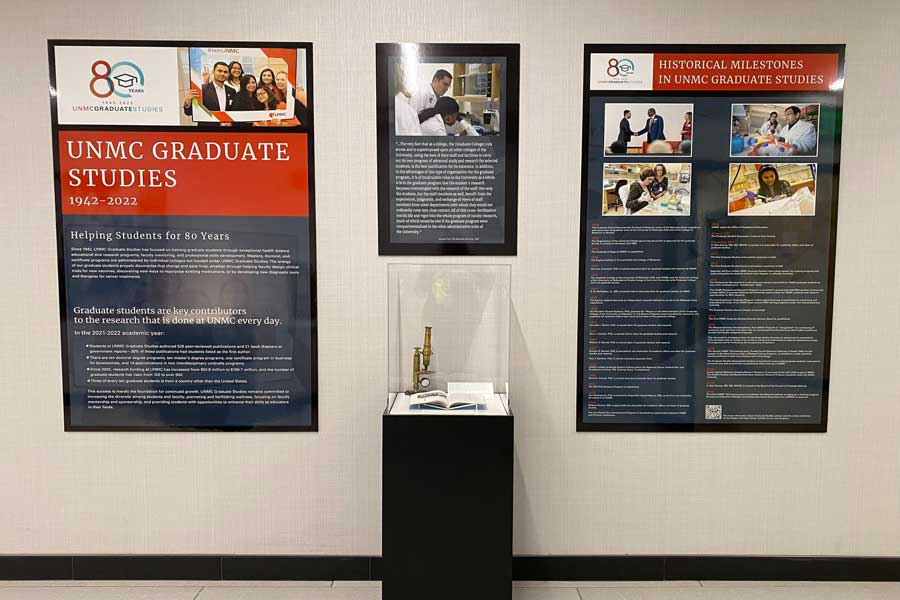 Since 1942, UNMC Graduate Studies has focused on training graduate students through exceptional health science educational and research programs, faculty mentoring, and professional skills development. Masters, doctoral, and certificate programs are administered by individual colleges, and graduate students are key contributors to the research that is done at UNMC every day. This anniversary exhibition is currently on display on Level 4 of Wittson Hall, near the Bennett/Sorrell walkway. A companion exhibit can be viewed online.
Biopreparedness in Nebraska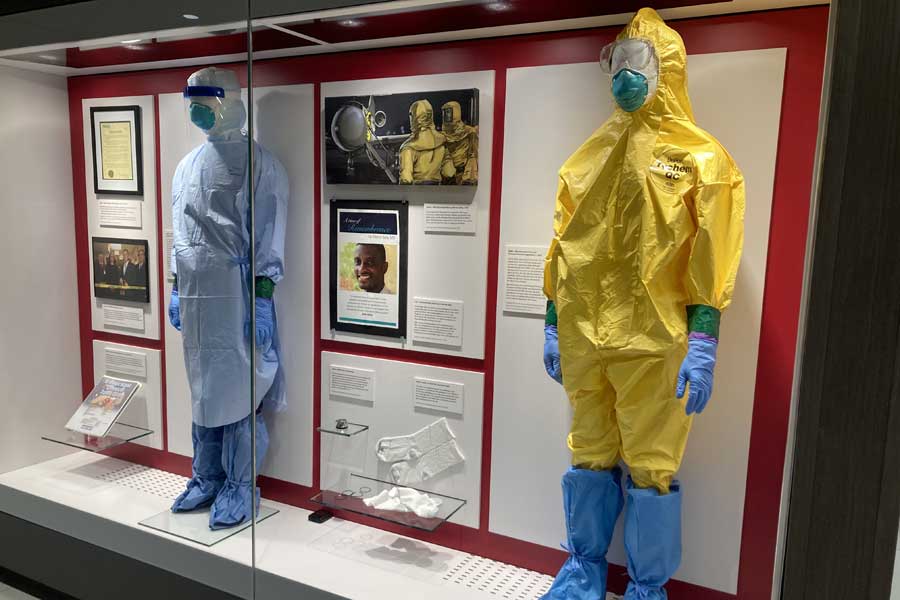 The terrorist attacks on September 11, 2001, and the anthrax attacks that followed, forever changed the biopreparedness landscape in the United States. The federal government poured funding into the states to improve health care infrastructures in the event of future disasters.

Faculty and staff at UNMC and Nebraska Medicine took this opportunity to develop cutting-edge research, educational resources, and health care practices. Much of this work was spurred by a team under the guidance of UNMC epidemiologist Philip Smith, MD, who foresaw the needs of Nebraska, the United States, and the world. In honor of Dr. Smith and the Nebraska Biocontainment Unit team, this exhibit explores the history of biopreparedness in Nebraska as well as UNMC and Nebraska Medicine's global leadership in the field.