Level 5 Exhibits
American College of Surgeons Rare Book Gallery
The Leon S. McGoogan Health Sciences Library Rare Book Collection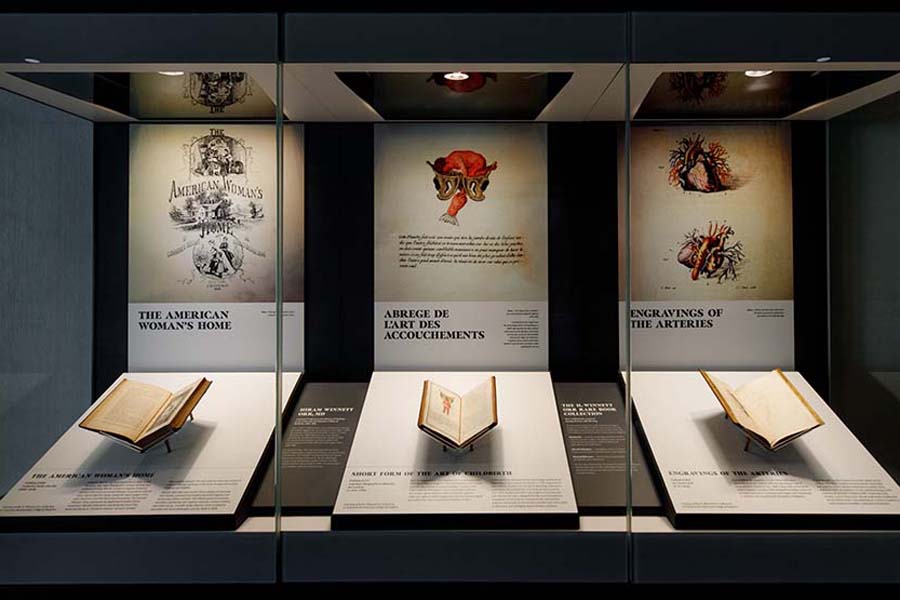 The McGoogan Health Sciences Library's Rare Book collection encompasses a variety of health sciences disciplines including midwifery and obstetrics, history of disability, infant feeding, watershed works, anatomy, alternative medicine, and surgery. Materials range from a medical manuscript written during the 1300s by Albertus Magnus to collections compiled by modern physicians. McGoogan Library is home to the Charles F. Moon collection of obstetrical works, the Leon S. McGoogan collection in obstetrics, and the H. Winnett Orr rare book collection on loan from the American College of Surgeons.
The H. Winnett Orr, MD, Rare Book Collection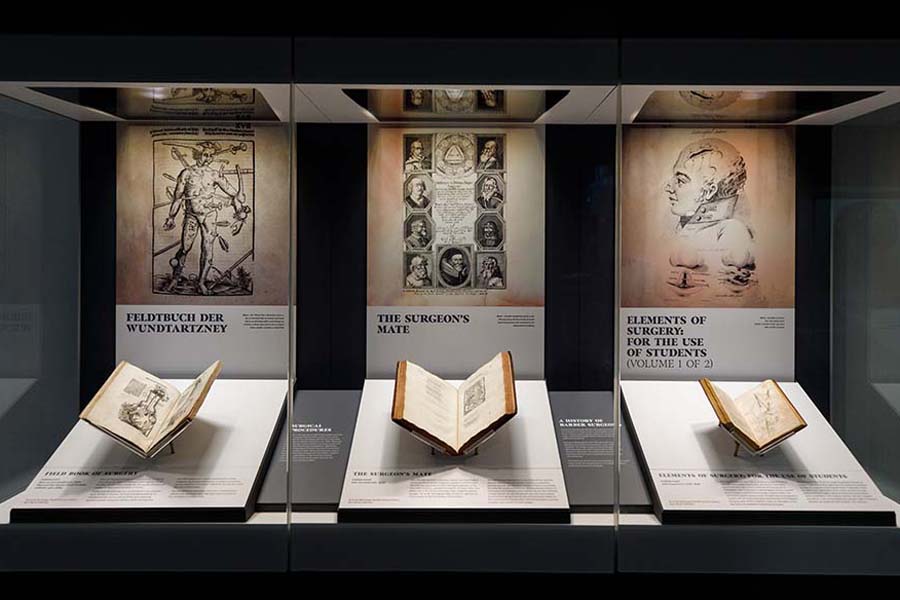 Hiram Winnett Orr served as an assistant professor in the History of Medicine at the University of Nebraska College of Medicine from 1910–1916. Practicing medicine and orthopedic surgery in Lincoln, Nebraska from 1899–1956, he was instrumental in establishing the Nebraska Orthopedic Hospital in 1905. During World War I, Dr. Orr was stationed with the Army Medical Department in England and France where he devised the "Orr Method" for treating bone and wound infections and compound fractures. He also developed techniques using skeletal pins, plaster of Paris, and other immobilizing devices.

In the 1930s, Dr. Orr donated his rare book collection to the American College of Surgeons (ACS). Established in 1913, the ACS is a surgical society dedicated to promoting the highest standards of surgical care through education of, and advocacy for, its fellows and their patients, and to safeguarding standards of care in an optimal and ethical practice environment. In 1974, the collection was transferred to the McGoogan Health Sciences Library on permanent loan.
Rare Book Gallery Interactive Screen
An interactive screen is available in the rare book gallery for visitors to see the colorfully detailed illustrations inside the books on display. There are also some fun facts about each book, its author, illustrator, or time period.
Excellence in Leadership Interactive Screen
UNMC is proud of its legacy of excellence in leadership, faculty research and student success. This interactive screen allows users to explore profiles of past and current leadership, and to see the illustrious community members awarded the annual J.G. Elliott award for their significant contributions to medicine and health programs for the State of Nebraska and UNMC.