Diagnostic Medical Sonography
See with sound. Be the first to change a patient's life.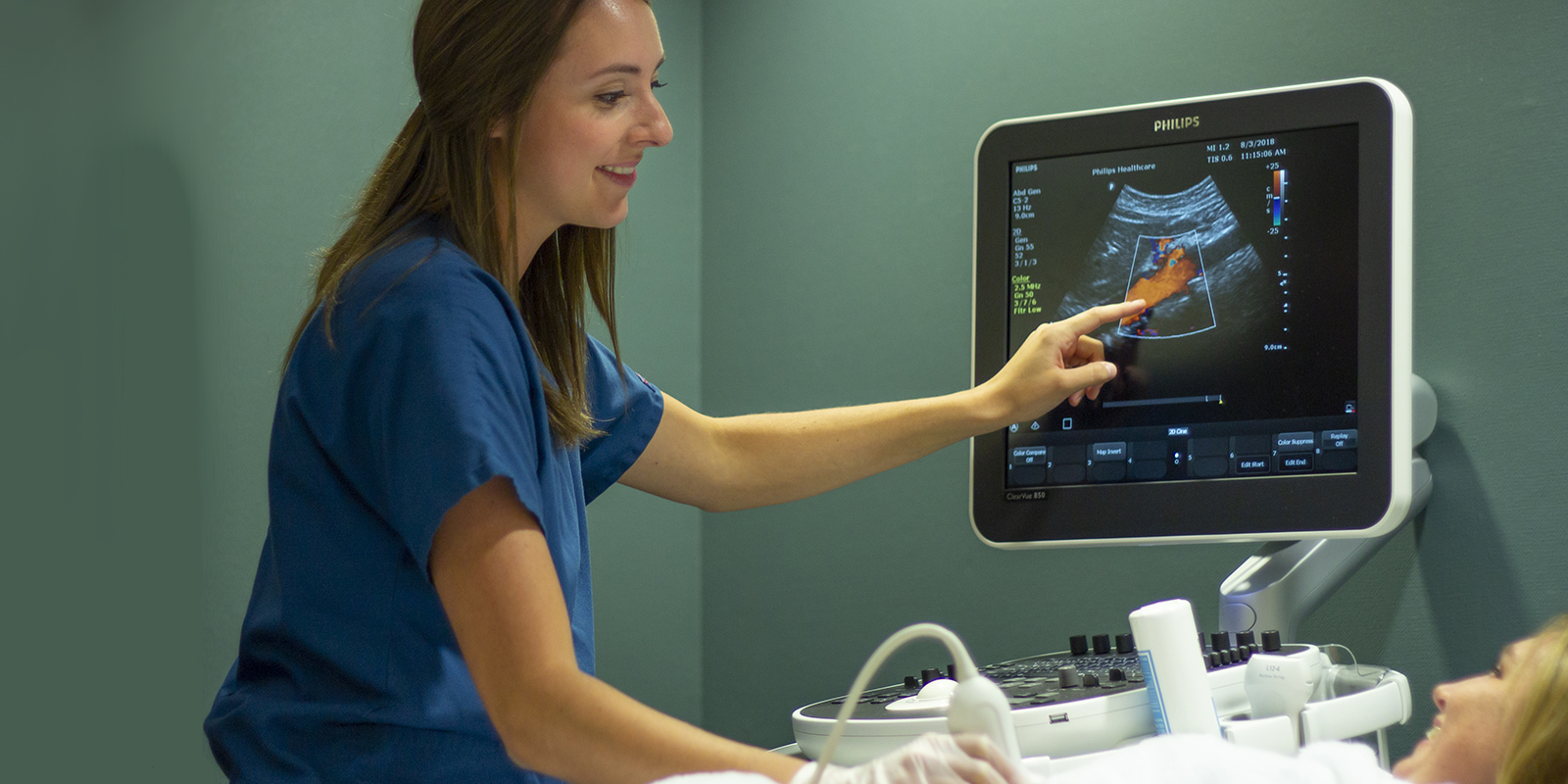 Why Study Diagnostic Medical Sonography?
Diagnostic Medical Sonography (DMS), or ultrasound, uses sound waves to look at a patient's body structures. It is the responsibility of the Sonographer to use their knowledge of human anatomy and ultrasound imaging equipment to create images which are then interpreted by a physician. Whether a patient is expecting a child or seeking diagnostic answers, sonographers must work closely and compassionately with them. With the increased use of ultrasound in medicine, increased career opportunities are waiting for you at the end of your program. What is a sonographer?
Why Study Diagnostic Medical Sonography at UNMC?
Expertise and Quality
Courses are taught by faculty with expertise in sonography and sonography education with a commitment to excellence. We have quality clinical sites that provide abundant scanning opportunities and a wide variety of exams. Our graduates have high rates of success on credentialing exams and employment.
Track and Location Choices
When you enter the program you have the choice between a General Track specializing in abdominal and OB/GYN ultrasound, or a Cardiovascular Track specializing in the adult heart and circulatory system. You will have the choice of three locations: Omaha, Neb., Kearney, Neb., and Lebanon, Ore.
Program Locations
Bachelor's Degree & Degree Advancement
Here at UNMC, we offer the only 12-month sonography program in the Midwest that awards a bachelor's degree or a post-baccalaureate certificate. For qualified sonographers wanting to advance their degree, UNMC also offers an online Bachelor's in Medical Imaging and Therapeutic Sciences degree.
Imaging Degree Advancement Option
A CAAHEP accredited, 12-month program that awards a bachelor's degree or post-baccalaureate certificate, and the opportunity to be multi-credentialed in sonography and radiography.
Mission & Goals
Duration
12 months (3 semesters)
Start Date
Fall semester begins in August
A Comprehensive Curriculum
All Tracks are designed to include approximately 10 hours of classroom education and 30 hours clinical education per week. The comprehensive, competency-based curriculum offers the student a variety of learning opportunities and clinical experiences to prepare them for a career as a Diagnostic Medical Sonographer.
What to Expect
Each specialty track is 12-months in length consisting of lectures, labs, and over 1000 hours of supervised clinical instruction. A comprehensive knowledge base and clinical competency are achieved through a plan of study that focuses on increasing proficiency under the guidance of qualified faculty.
Our Faculty
Early Acceptance Pipeline
Although you don't need to be a graduate of UNMC's Radiography program in order to be admitted, UNMC does offer a Medical Imaging & Therapeutic Sciences Early Acceptance Pipeline for students accepted to the UNMC Radiography program that know the DMS program is their end goal.
Early Acceptance Program
Careers and Outcomes
Students completing the sonography program at UNMC will acquire the scanning skill necessary to practice as an entry-level sonographer. They can go on to careers in clinics, hospitals, research institutes, educational facilities, equipment application and sales.
Outcome Data
Job Opportunities
Graduates of the UNMC Sonography program are highly recruited by local, regional, and national employers. Career opportunities available to sonographers include: clinics, hospitals, research institutes, educational facilities, or equipment application and sales.
Related Programs
Many graduates of the program continue their education in one of the online master's degree programs offered by the College of Allied Health Professions designed with the working health professional in mind.