Dry Needling Level 1 - Foundations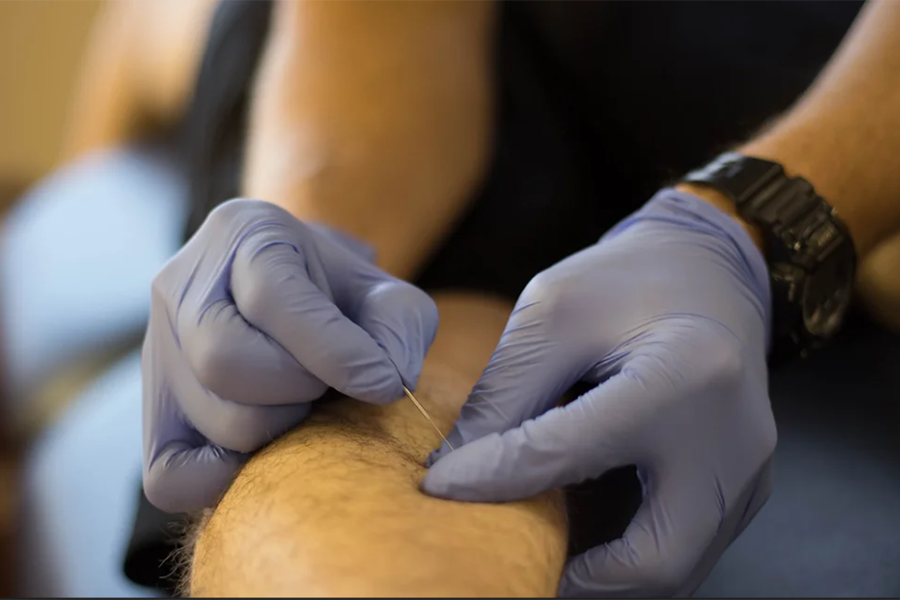 Presented by: Laeth Hamil, PT, DPT, DNPro and Taylor Bushnell, PT, DPT, DNPro of Dry Needling Pro

UNMC's Division of Physical Therapy Education will hold this 2-day continuing education event September 23-24, 2023 in the Bennett Hall Lab (Room 4016) on the University of Nebraska Medical Center Campus, Omaha, NE.
The September course is FULL, but you may sign up for the wait list:
Speaker Bios
Dr. Laeth Hamil graduated from Kansas University Medical Center in 2017. He has been practicing in the Kansas City area since his graduation, and is currently the clinic director at KC Rehab Physical Therapy and Sports Medicine in Liberty Missouri. His practice has a sports and manual therapy focus and has been utilizing dry needling for several year. Laeth has a passion for complex cases and working with people who have failed other conservative treatments. In treating those cases he has found that using a multifaceted approach including manual therapy, exercise progression and Dry needling is much more efficient at improving his patients function than a single system of thought. In addition to treating complex patients Laeth has a passion for teaching. He takes on multiple clinical students and teaches dry needling to help develop practitioners skill bases. He partnered with Taylor in 2019 to expand the teaching offerings of Dry Needling Pro.

Dr. Taylor Bushnell graduated from the University of St. Augustine in 2009. Since then he has practiced in Boston, Ma, Eugene Or, and St. Louis Mo. He has been utilizing dry needling in his practice since 2011, working with average orthopedic patients to elite level professional athletes. He is passionate about treating patients and teaching effective dry needling skills to all practitioners. Taylor pairs dry needling with other manual therapy, strength training and postural training. Taylor currently is the clinic director at Peak Sport and Spine - The Grove in St Louis, and is the owner of Momentum Lab PT a cash-based PT practice and the owner and creator of Dry Needling Pro.
Course Description
Learn the foundations and techniques for safe and effective dry needling. This course contains lower and upper extremity and spine dry needling. You will learn about safe handling of needles and proper blood borne pathogen management. At the end of this course, you will be able to take these skills directly into the clinic to add to your interventions.
To take this course you must be licensed as a PT, MD, DO, DC, ATC, LAC, PA, NP, or a DPT student in their final year. Please check with your state practice act in your respective field to know if you are able to dry needle.
This course has been approved for 27 CEU hours through
CEU locker
.
Course Objectives
Learn the theory behind dry needling and differences from traditional acupuncture
Understand the basic physiology of trigger points
Understand common trigger point referral patterns and how they differ from radicular patterns
Demonstrate and understand dry needling safety, including:

Understand emergency preparedness for adverse dry needling effects

Physiological (shock, vasovagal)
Psychological (claustrophobia, anxiety, agitation)

Understand precautions related to:

blood thinners
clots
pregnancy
surgical sites, etc

Learn contraindications to dry needling related to:

wounds
infections
blood thinners
pacemakers/defibrillators

Demonstrate proper PPE utilization and safe blood borne pathogen precautions
Demonstrate safe needle insertion and show proper needle redirection
Demonstrate proper hygiene and needle site sterility

Learn basic upper extremity, lower extremity, and spine dry needling application including:

Learn anatomical landmarks, borders, origin and insertion, referral patterns
Demonstrate safe patient positioning
Demonstrate needle direction and depth for a given muscle
Demonstrate proper palpation and trigger point identification
Demonstrate differentiation of active vs latent trigger points
Understand choosing proper needle size for each muscle
Demonstrate safe pistoning techniques taught in level 1
Course Schedule
Day 1
7:30-8:15 Introduction and Pre-Test
8:15-8:30 Needling, Safety and Handling
8:45-9:15 Deltoid
9:15-9:45 Biceps, Triceps, Anconeus
9:45-10:15 Infraspinatus, Subscap
10:15-10:45 Teres Major/Minor, Lats
10:45-11:30 Wrist and Elbow extensors
11:30-12:30 Upper Trap, SCM
12:30-1:30 LUNCH
1:30-2:30 Cervical Paraspinals
2:30-3:30 Pec Major (Pinch grip only)
3:30-4:30 QL/Paraspinals/Psoas
4:30-5:30 Case Study 1
Day 2
7:30-8:30 Review from First day
8:30-9:30 Obliques, Rec Abd, Iliacus
9:30-10:30 Gluteus Maximus/Medius/Minimus/TFL
10:30-11:30 Quads/Hamstrings
11:30-12:30 Adductors
12:30-1:30 LUNCH
1:30-2:30 Gastrocnemius/Soleus/Peroneals
2:30-3:30 Tib Anterior/Quadratus Plantae
3:30-4:30 Review and Case Study 2
4:30-5:30 Post Test and Certificates
Course Fee for September Course
| | | |
| --- | --- | --- |
| Audience | Early Bird | After Aug 31 |
| UNMC alumni and CIs | $650 | $700 |
| Public | $850 | $900 |
Cancellation/Refund Policy for September course:
100% if cancelled 2 weeks in advance (by September 8).
50% if cancelled up to 2 days prior to the course.
No refund if cancelled the day before the course.