Physical Therapy
Advance health and improve lives as a movement expert.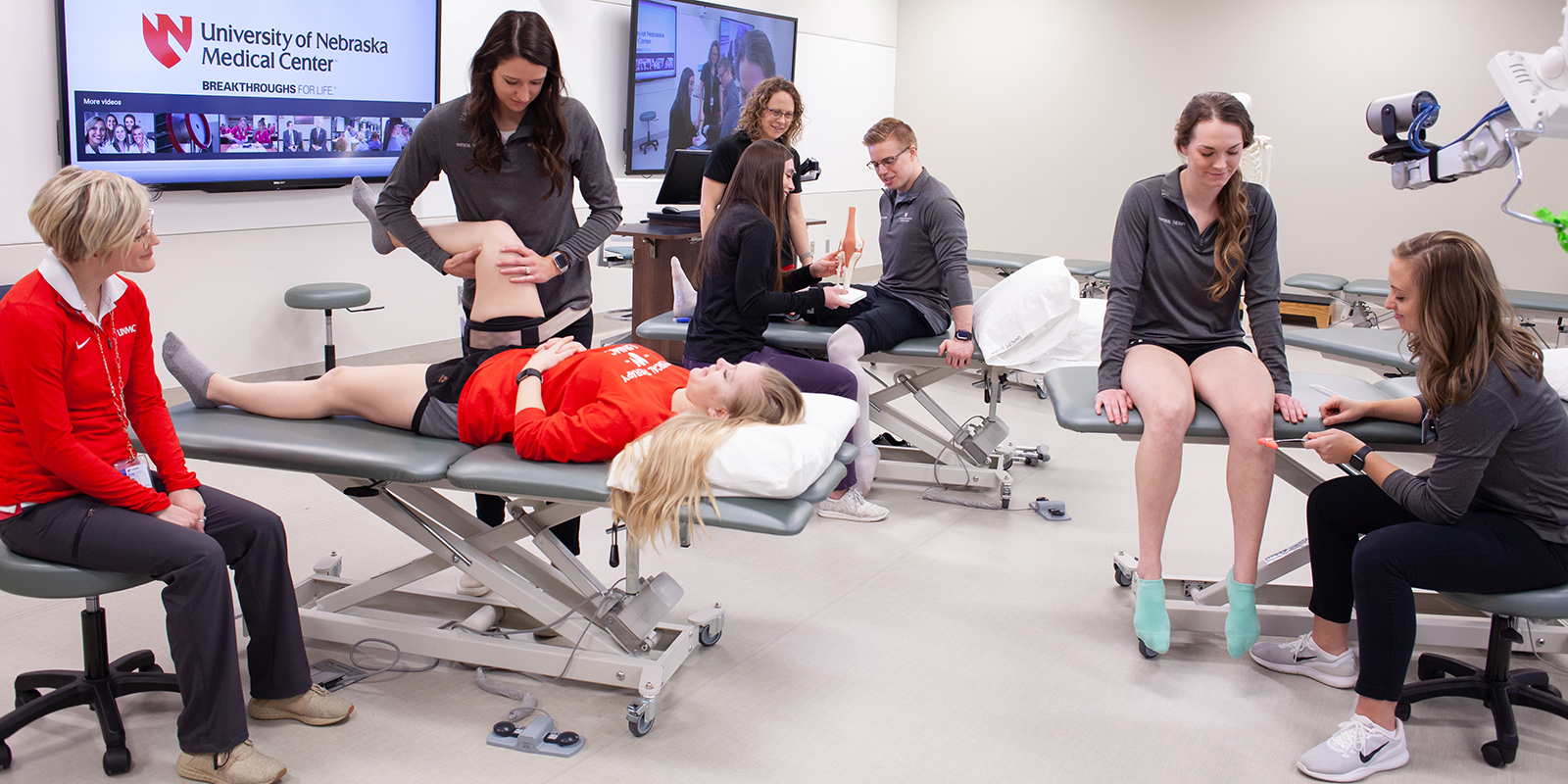 Why Study Physical Therapy?
Physical therapy is ranked by U.S. News & World Report as one of the best jobs in the health care sector. It's easy to see why. As a physical therapist, you'll impact people's lives in meaningful ways, from helping them regain movement to managing pain. Physical therapists work with people for extended periods of time, enabling them to develop rewarding relationships with their patients.
With a doctor of physical therapy (DPT) degree, you'll have the option to assess and treat patients across the lifespan from children to adults to older adults; in a variety of settings such as hospitals, outpatient and home; and in a range of practice areas including neurology, sports, orthopedics and oncology. The DPT is the official entry-level degree for the profession.
What is a physical therapist?
Why Study Physical Therapy at UNMC?
Our faculty are experienced clinicians and researchers who bring their expertise to the classroom and lab. You'll get real-world, hands-on experience in a supportive community of health professionals.
Hands-on Learning
Learning opportunities include lecture-laboratory courses, seminars, independent study opportunities, interprofessional learning experiences, simulated clinical patient care and supervised clinical care, including an acute-setting experience early in the curriculum.
There are service learning and leadership opportunities that emphasize outreach to underserved populations and advocacy for the healthcare needs of society, including Physical Therapy LEND Traineeship, Nebraska Area Health Education Scholars Program, Pro-Bono clinics, and Special Olympics & Young Athletes Program
PT Student Research at UNMC
Two physical therapy students talk about their research opportunities at the University of Nebraska Medical Center. Opportunities exist for students to actively participate in research including joining a faculty member's team or a summer research elective course.
Duration
3 years (8 semesters)
Location
Kearney and Omaha
Start Date
Annually in the Fall
What to Expect
You'll study topics including anatomy, physiology, neuromuscular PT, musculoskeletal PT, cardiopulmonary PT, integumentary PT, psychosocial aspects of healthcare, orthotics and prosthetics, physical agents, imaging, health promotion and health policy, research and critical inquiry, and practice management.
Overview & Degree Requirements
Holistic Review
At UNMC, we value well-rounded, unique individuals and strive to create a diverse learning community. We perform a holistic review of all applications, considering both academic and non-academic experiences. Enrollment in the program is limited and competitive.
Clinical education courses are an integral part of the DPT curriculum. These courses allow you to apply the knowledge, skills and abilities learned in the classroom to patients in the clinical setting under the supervision of a licensed physical therapist. Through clinical education experiences, students gain the necessary depth and breadth for preparation to practice as an entry-level physical therapist.
The mission of the Physical Therapy Program is to advance health for all by optimizing movement through education, research and service...
Accreditation
The Global Health Opportunities Program (GHOP) in Physical Therapy is an umbrella for different international trainees from physical therapy students to physical therapy practitioners.
From service learning opportunities to job placement, we've got you covered. Find links to the SUNAPTA Career Fair, job postings for graduates, and more information about life as a DPT student at UNMC.
Outcomes
Graduates of the program are eligible to sit for the National Physical Therapy Exam, administered by the Federation of State Boards of Physical Therapy, recognized as part of licensure in the state(s) in which they wish to practice.
DPT student outcomes reflect 2-year averages:
Employment rate: 100% (Class of 2022-2023)
Graduation rate: 99% (Class of 2022-2023)
Licensure exam - first time pass rate: 82% (Class of 2022-2023)
Licensure exam - ultimate pass rate: 97% (Class of 2022-2023)
Careers
Physical therapists are in high demand. The Bureau of Labor Statistics predicts employment of physical therapists will grow 18% from 2019 to 2029. In that period, an estimated 47,000 jobs are predicted to open up. The need for physical therapists is expected to remain strong as the U.S. population ages and the demand for physical therapy services grows.

Although many physical therapists practice in hospitals, more than 80% practice in other settings.
Job Opportunities
Hospitals
Outpatient Clinics
Rehabilitation Centers
Doctors Offices
Sport and Fitness Facilities
Nursing Facilities
Universities
Home Health Care Services
Research Settings
Related Programs
More than DPT Education. Check out the post-professional residency, dual enrollment degree or continuing education opportunities.