Clinical Perfusion
Be a patient's heart and lungs. Be a part of an open-heart surgical team. Be a clinical perfusionist.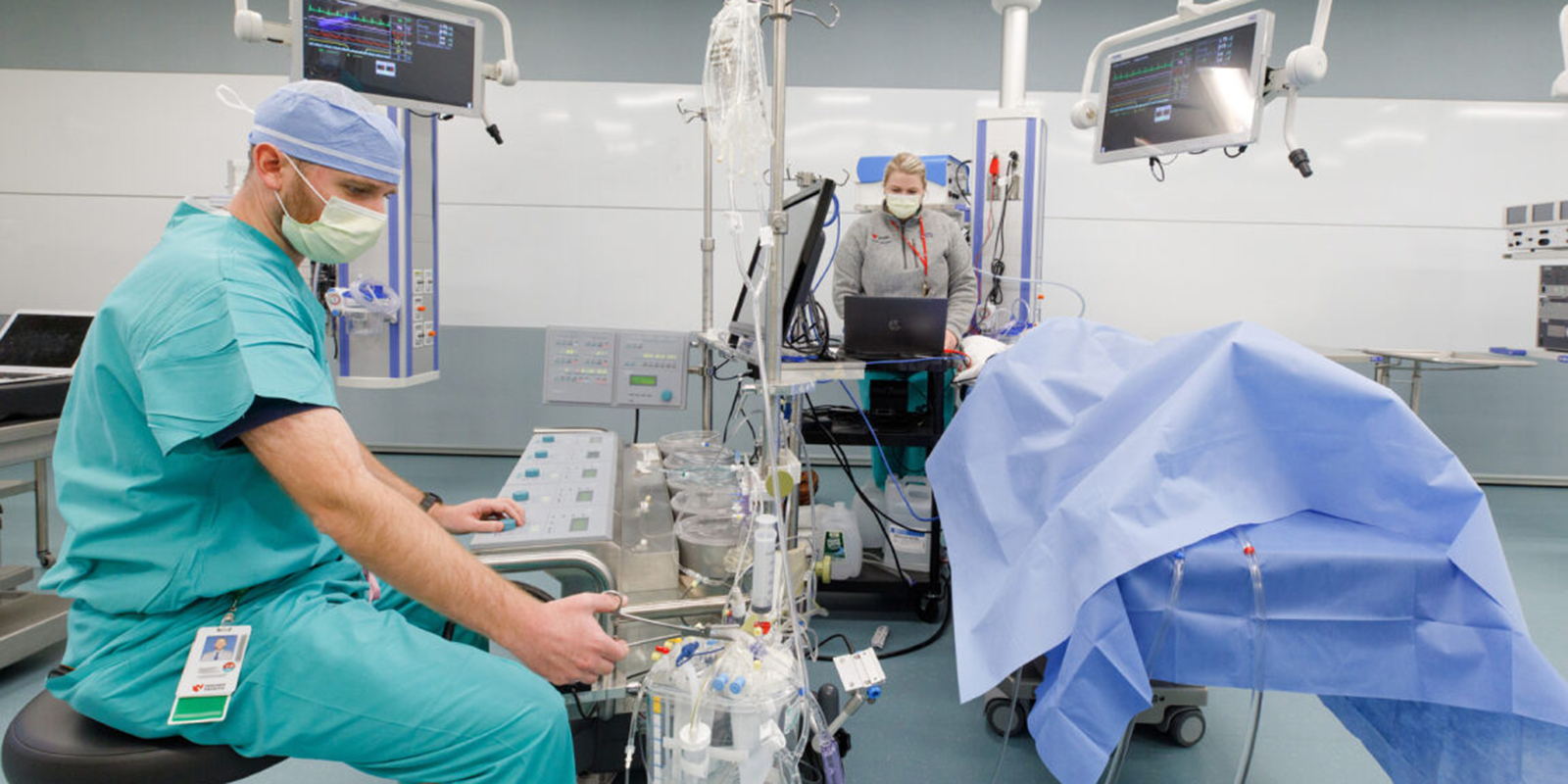 Why Study Clinical Perfusion?
Clinical perfusion is one of the top-paying professions in the allied health sector, and for good reason. Perfusionists must operate complicated machinery that pumps blood throughout the body during open-heart surgery, and work with surgical and emergency teams to keep a patient alive.
This profession is high-risk, high-reward, and in high demand as advances in cardiovascular medicine continue to develop in healthcare. What is a clinical perfusionist?
Why Study Clinical Perfusion at UNMC?
Small Class Size
In our Master of Perfusion Science program, class size is kept small so students may have direct contact with their professors at any point in their program. You will work with certified clinical perfusionists, practicing with perfusion equipment in both simulations and lab experiences.
Real World Experience
You'll take your new skills and knowledge to our world-renowned clinical affiliate, Nebraska Medicine, to have real world applications starting in the second week of our program.
Accreditation
Beneficial Interactions
You'll have beneficial interactions with the 2nd-year perfusion students, and our Degree Advancement Option students - actively practicing perfusionists who are simultaneously enrolled in our program to attain an advanced educational degree. Degree Advancement Option
Degree Advancement Option
Clinical Rotations
You will complete three semesters of intense didactic training followed by written, oral, and case simulator competencies. These competencies prepare you for four clinical rotations at affiliate sites throughout the United States where you will master your clinical skills with the help of a Certified Clinical Perfusionist.
Affiliate Sites
Duration
21 months (5 semesters)
Start Date
Fall semester begins in August
Quality Education and Preparation
We are dedicated to providing a quality education experience to students pursuing a career in the field of extracorporeal circulation. Our ultimate goal is to prepare individuals to provide the highest level of patient care achievable.
Degree Requirements
Great Outcomes
Our grads have a history of high performance on the board exam. We use innovative simulations, labs, and supervised clinical instruction by some of the region's most highly qualified faculty who practice at various clinical sites performing open-heart surgery.
Outcomes
Careers
Perfusionists work in hospital settings and most are employed either by hospitals, individual surgeons, surgical groups, or private health care corporations. Common careers include:
Staff Perfusionist
Chief Perfusionist
Locums Perfusionist
Perfusion Clinical Instructor
Perfusion Faculty Member
Perfusion Researcher
Perfusion Program Director
Employers
Comprehensive Care Services, Pontiac, MI
KUMed, Kansas City, KA
Nebraska Medicine, Omaha, NE
Peak Perfusion, Colorado Springs, CO
PDC (Perfusion.Com), Florida
Saint Lukes Hospital, Kansas City, MO
SpecialtyCare, Nashville, TN
University of Minnesota
University of Wisconsin
VCU (Virginia Commonwealth University)
Dual MBA Degree
Jointly pursue education in business with an MPS/MBA. A dual degree gives you a competitive edge while saving time and money.