Magnetic Resonance Imaging
How can magnetic fields and radio waves change a patient's life? Find out through MRI.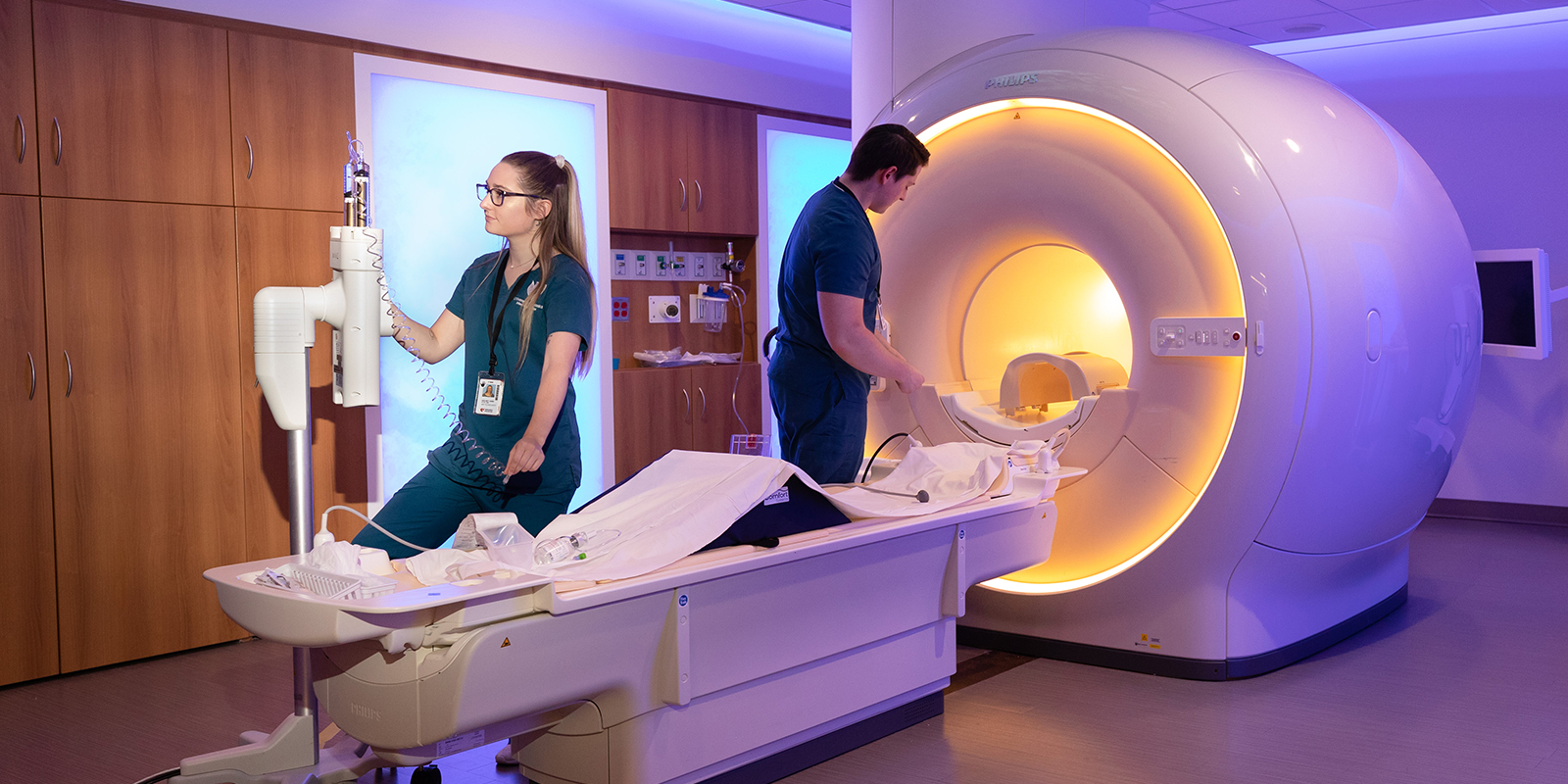 Why Study Magnetic Resonance Imaging?
Do you want to work in a hospital setting working with both patients and innovative technology every day? Magnetic resonance imaging technologists take diagnostic images of the human body using strong magnetic fields and radio waves. The result are pictures that depict any part of the body, without using radiation or intrusive means.
As a MRI technologist, you will require a working knowledge of anatomy, computer expertise, safety procedures and protocol, and also developed communication skills with doctors and those in your care. If a hospital or clinic is not your desired career setting however, there are opportunities available as well in research institutions, educational facilities, or equipment sales. What is a magnetic resonance imaging technologist?
Why Study Magnetic Resonance Imaging at UNMC?
Experienced Faculty
A small student-to-faculty ratio affords focused learning, access to innovative teaching and learning methods and over 900 clinical hours where you learn to properly operate equipment alongside practicing MRI technologists and health professionals.
Accreditation & Program Effectiveness Data
Bachelor's Degree or Post-Bac Certificate
Earn a bachelor's degree or a post-baccalaureate certificate in 9-months. The program is offered to anyone who is certified in radiography and registered as a radiologic technologist (RT) with the American Registry of Radiologic Technologists (ARRT) and has completed the 32 hours of specified college prerequisites.
Although you don't need to be a graduate of UNMC's Radiography program in order to be admitted, UNMC does offer a Medical Imaging & Therapeutic Sciences Early Acceptance Pipeline for students applying to the Radiography program who know entering the MRI program is their end goal.
UNMC also offers an online Imaging Sciences Degree Advancement Option for qualified MRI technologists seeking higher education in the medical imaging and therapeutic science profession.
Duration
9 months (2 semesters)
Start Date
Fall semester begins in August
Regardless of campus location, all students enroll in the same program curriculum culminating in a Bachelor of Science Degree in Medical Imaging and Therapeutic Sciences or Post-Baccalaureate Professional Certificate in Magnetic Resonance Imaging from UNMC.
We are mission-driven to provide a premier educational environment that prepares competent entry-level professionals who demonstrate the highest quality of patient-centered care, safety, and service.
Overview & Degree Requirements
Careers and Outcomes
Career opportunities available to MRI technologists include:
clinics

hospitals

research institutes

educational facilities

traveling or

mobile units
Graduates have also gone into equipment application and sales. 
Related Programs
Many graduates of the program continue their education in one of the online master's degree programs offered by the College of Allied Health Professions designed with the working health professional in mind.