Nominations open for BHECN annual awards – Due Nov. 7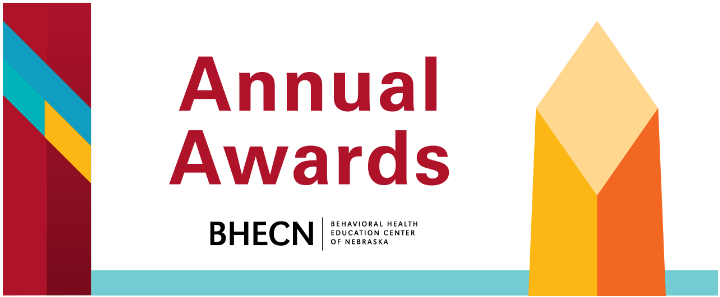 You are invited to submit nominations for the 2023 BHECN's Annual Awards. The awards recognize people who have made significant contributions towards improving behavioral health for people living in Nebraska.
There are three award categories: two categories recognize students, trainees, or professionals. The third category recognizes individuals or people who live with mental illness.
2023 Ambassador Award
The Ambassador Award recognizes the outstanding efforts of an individual student or professional to reach out to other students/providers in building the future behavioral health care workforce across the state of Nebraska.

Criteria
Focus on rural and/or underserved populations

Demonstrated commitment to practice in Nebraska
Activities related to workforce recruitment and mentoring activities
Commitment/recognition of multidisciplinary approach to behavioral health
Past recipients:
Marin Broucek, MD, and Nate Bruce, DO.
Melissa O'Dell, MD, and Tara Sjuts, PhD.
Anitra Warrior, PhD, and Catherine Jones-Hazledine, PhD.
Kristen Hembree, PhD, and Nancy Foster, PhD.
Shanna Rosentrater, LMHP and Ciera Afrank
Carrie Howton, Ph.D., LIMHP and Kim Hill, PhD, LP, NCSP
Narayana M. Koduri, MD
Access the Ambassador Award nomination form.
2023 Champion Award
The Champion Award recognizes outstanding service and outreach to the behavioral health community by a student, trainee, or health care professional. (BHECN started giving out this award in 2020.)

Criteria
Ongoing service to the behavioral health community in Nebraska
Impact on education and awareness of behavioral health issues in the broader community
Ongoing consumer focus beyond the needs of self/loved one(s)
Scope of impact/sustainability of actions
Past recipients:
Ann Young, PMHNP, APRN and Chelsea S. Turner
Celeste Akers
Access the Champion Award nomination form.
2023 Courage Award
The Courage Award recognizes outstanding service and outreach to the community by a consumer of behavioral health services or a family member.

Criteria
Ongoing service to the behavioral health community in Nebraska
Impact on education and awareness of behavioral health issues in the broader community
Ongoing consumer focus beyond the needs of self/loved one
Scope or impact/sustainability of actions
Past recipients:
Kristi Barth
Amie Nelson
Robert Donlan
Jennifer Alquicira
Havalynn Russell and Marion Perry-Burse
Mary E. Angus