In order to provide information to emergency response personnel about hazards present in laboratories, each laboratory on campus should have a current lab sign posted at the corridor door leading into the laboratory room/space.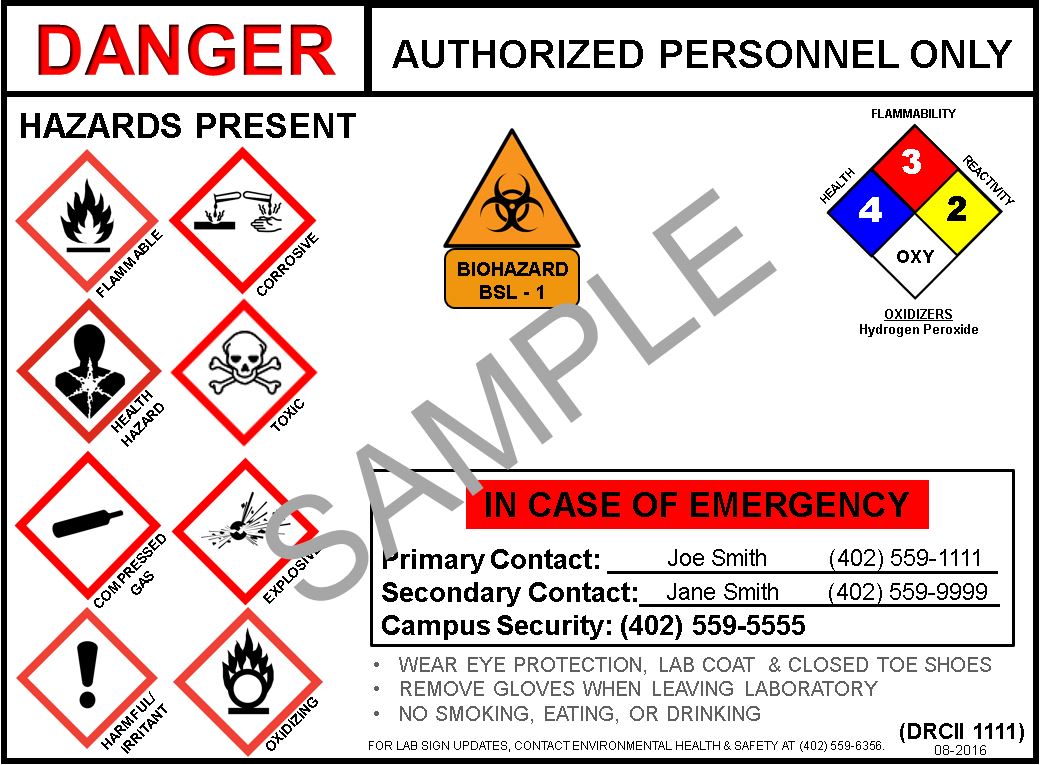 To request a lab sign please complete the appropriate Laboratory Sign Worksheet, linked below.  The Lab Safety Sign Worksheet is an Adobe Acrobat PDF Fillable form. UNMC laboratories should complete the UNMC Lab Sign Worksheet.  Nebraska Medicine laboratories should complete the Nebraska Medicine Laboratory Sign Worksheet
On page 2 of the worksheet, you will be required to submit a chemical inventory.  For additional information, please visit the Chemical Inventories web page.
Please note:  When completing the laboratory sign worksheet, the primary and secondary contacts listed should be knowledgeable about the contents of the laboratory room/space. Emergency response personnel may ask that we contact individuals listed on lab signs for more specific information during emergencies. 
It is understood that some laboratory spaces on campus will be shared by more than one researcher. A lab sign worksheet should be submitted by each researcher using a shared room, or one combined worksheet with information of all individuals who are sharing the room. When there is more than one worksheet and chemical inventory submitted for the shared area, the information will be combined to develop a single sign which reflects all of the hazards. 
Once the worksheet is completed it should be returned to the EHS Office.  One worksheet will need to be completed for each laboratory room/space.  It is recommended that you rename the file when you save it and keep a copy as a backup before submitting a copy to EHS, Zip 5480 or via email to EHS.
                          Please contact Kelly Johnson if you have any questions regarding lab signs.