Linda M. Love, EdD
Director, Faculty Development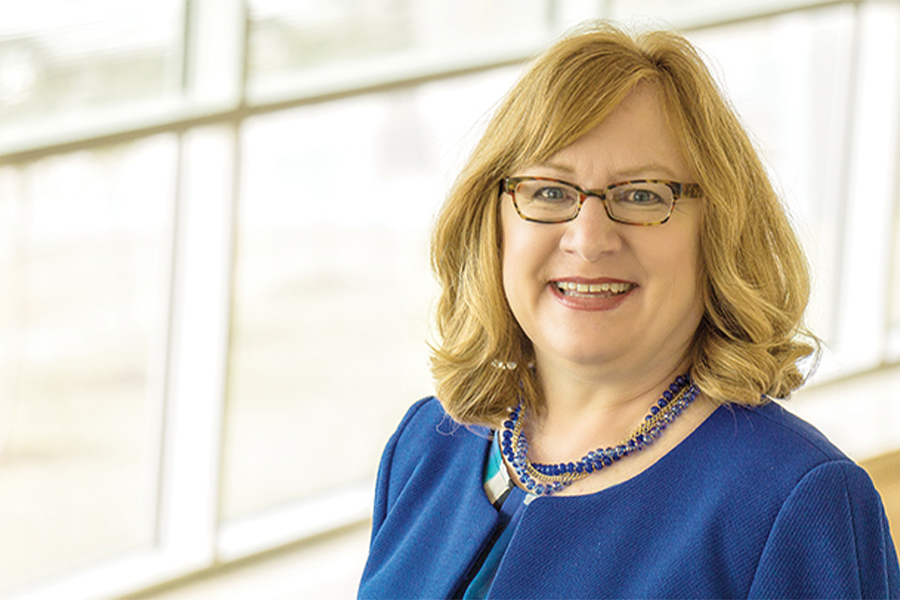 Overview
Linda M. Love holds a doctorate in Adult Learning and Higher Education Administration from the University of South Dakota. As a lifelong learner, she has enjoyed sharing and contrasting what it was like to be a student as the digital age advanced, and challenging faculty to rethink modern-day teaching approaches. She claims it is imperative that higher education reinvent itself with both better in-person and online educational experiences that are focused on connections with learners.
Dr. Love became a champion of experiential learning after noting that many talented faculty missed the mark when attempting to shift their presentation or teaching style following didactic training alone. She co-directs the F.A.S.T. (Focused, Accelerated Strategies for Teaching) program, an intensive, immersive program designed to help faculty examine and develop better teaching in an interactive, experiential, and interprofessional environment along with other invested faculty and campus experts. 
Dr. Love is passionate about helping faculty teach better in the classroom, at the bedside, or on the national stage. She directs an immersive 9-hour course centered on coaching faculty on how to improve their presentation and expert presence.
Dr. Love teaches Leadership in Health Professions Education online in the Health Professions Teaching & Technology graduate program. For more than a dozen years, Linda has been co-director for UNMC's leadership development programs, which have developed over 200 leaders embedded throughout UNMC and Nebraska Medicine. Dr. Love is a certified executive and certified strengths coach and believes aiming and aligning strengths with academic medicine's needs is the secret to both organizational and career success—a win-win. Dr. Love has a special interest in developing and coaching women, minorities, and junior faculty to help them reach their full potential.
Dr. Love believes it is essential for Nebraska's vitality and future, to foster diversity in leadership, teams, and ideas. As part of a vibrant UNMC academic community, she contends that we are responsible for leading in patient care, research, education, and service, not for only the people who look and think like us, but actively seeking relationships with those who don't. Dr. Love champions WE STRIVE, an organization that advances equity for all, and is an ally of UNMC's LGBT+ Mentoring Group which is aimed at similar outcomes.
Linda and her husband, Don are native Nebraskans and have three adult daughters, all involved in health care across the US. 
Education
2015: EdD in Adult Learning and Higher Education Administration, University of South Dakota, Vermillion, SD
2009: MA in Education Administration and Adult Learning, University of South Dakota, Vermillion, SD
Training & Certifications
Certified Executive Coach

Certified Gallup Strengths Coach

AAMC Unconscious Bias, AAMC/Cook Ross

Certified Trainer: Change Style Indicator (CSI), Discovery Learning, Inc.

Certified Trainer: Influence Style Indicator (ISI), Discovery Learning, Inc.

Certified Program Planner (CPP)

Myers-Briggs Type Indicator Training
Leadership
2018—2019:  National Community of Practice on Coaching in Academic Medicine, Co-Director

2018—2019:  AAMC Group on Faculty Affairs & Group on Women in Medicine and Science                   

Conference Planning Committee

2016 – present: Career Development and Engagement Committee (CDEC), UNMC, Chair
2016 – present: Performance Improvement in Teaching series (PITs), UNMC, Co-Director
2016 – present: LGBTQ+ Mentoring Group, UNMC, Member
2015 – present: Women's Mentorship Group, UNMC, Member
2015 – present: Well-being Coordinating Council, UNMC, Member
2015: Interprofessional Academy of Educators Advisory Council, UNMC, Member
2014 – present: E-Learning Steering Committee, UNMC, Member
2013 – present: Educational Development Institute (EDI), UNMC, Member
2013 – present: Interprofessional Leadership for Excellence and Academic Development (iLEAD), UNMC, Co-Director
2004 – 2013: The Administrative Colloquium, UNMC, Co-Director
Selected Honors & Awards
Interprofessional Academy of Educators Scholar
Two-time UNMC Silver U Award winner for excellence
Research Interests
Leadership Efficacy: Examining Readiness of Health Science Faculty (PI)
Assessment of UNMC Faculty Efficacy and Development Needs (PI)
Characteristics of Innovators in Health Science Education (PI)
Performance Improvement in Teaching: A Qualitative Study of Faculty Motivation for Advancing Teaching Skill in Contemporary Health Science Education (PI)
iLEAD: Developing the Next Generation of Interprofessional Leaders
Threats to Professional Identity in a Changing Curriculum: A Qualitative Study

Coaching in Faculty Development and Faculty Affairs
Selected Publications & Presentations
Love, LM & Blusys M. (Eds.), THRIVE: Success strategies for the modern-day faculty member Omaha, NE: Office of Faculty Development, University of Nebraska Medical Center. Retrieved from https://www.unmc.edu/facdev
Chou S, Bell D, Flores L, Strong S, Love LM. "I Thought You Wanted to Practice Real Medicine": Dealing with Microaggressions in Medical Education Workshop: Association of Directors of Medical Student Education in Psychiatry (ADMSEP) Annual Meeting, Portland, ME, June, 2019
Hurtubise L, Marcdante K, & Love LM. Developing Medical Educators:  Using a Questioning Strategy to Explore Implicit Bias  AAMC Central Group on Educational Affairs Annual Meeting, Grand Rapids, MI, April 2019
Love LM. The Good and the Bad of Fast Brain Thinking: The Impact of Unconscious Bias Invited Presentation: American Association of University Women, Nebraska Chapter, March 2019
Gupta S, Hurtubise L, & Love LM (2019) Best Practices in Inclusivity in Academic Medicine: Practicalities at the Heart of the Matter. SIGM Forum 42(6).
Love LM, Anderson MC, & Haggar FL (2019). Strategically integrating instructional designers in medical education. Academic Medicine, 94(1):146.
Love LM, Haggar FL McBrien SB,  Buzalko RJ, Hartman TL, Shope RJ, & Dallaghan GLB  (2018). Supporting the Professional Identity of Medical Science Educators: Understanding Faculty Motivations for Quality Improvement in Teaching. Medical Science Educator, 28(4), 655-665.
Love LM, Liu HY. Strategic Investment in Coaching Teams. Association of American Medical Colleges Group on Faculty Affairs (GFA) Professional Development Conference, July 28-30, 2017, Austin, TX.
Love LM, Hartman T. Power Presentations: Six Secrets of Speaking So People Remember You and Your Message in a Digital Age. Multiple workshops and presentations locally and regionally, 2014 - 2017
Hurtubise L, Love LM, Brown D, Bailey J. Aiming for high impact faculty development resources. Association of American Medical Colleges Central Group on Educational Affairs (CGEA) March 30-32, 2017 Chicago, IL
Liu HY, Love LM, Thorndyke, LE. The Clerkship Director's Practical Guide to Faculty Development in the Guidebook for Clerkship Directors for the Alliance for Clinical Education (5th Ed.), 2017.
Love LM, Anderson M, Haggar F, Moore, P "We Need an Instructional Designer!" Six essential questions You Should Ask Before, During, and After You Hire" Workshop for Association of American Medical Colleges Central Group on Educational Affairs (CGEA) March 30-32, 2017 Chicago, IL
Liu HY, Love LM, Loue S, Hoffman-Longtin K, Power C, Pollart S. Hobson-Rohrer W. Active learning on center stage: theatre as a tool for medical education. Emerging Solutions session, Association of American Medical Colleges (AAMC) Learn Serve Lead Professional Development Conference, November 14, 2016, Seattle, WA.
Love LM, Chatterjee A, Boerner SK, Liu HY, Reuter S, Uthe C. Accessing investments in faculty vitality through interprofessional leadership development. Innovation, Research, and Diversity (INRoAD) session, Association of American Medical Colleges Group on Faculty Affairs (GFA) Professional Development Conference, July 14-16, 2016, Vancouver, BC, Canada.
Moore P, Love LM, Plantegenest G, Rohlfsen C. "I tried that and it didn't work!" Moving beyond barriers and leveraging resources to drive educational innovation. Association of American Medical Colleges Central Group on Educational Affairs (CGEA), Podium Presentation, April 6-8, 2016, Ann Arbor, MI
Love LM, Haggar F. Performance Improvement in Teaching Series: Seven research-based practices for teaching. Professional development intensive, June 20-24, 2016, Omaha, NE
Love LM, Beck-Dallaghan GL, Lough, S. Six shocking teaching strategies that banish boredom and ignite learning. University of Nebraska Innovation in Pedagogy and Technology Symposium, May 10 , 2016, Lincoln, NE
Professional Affiliations
AAMC Group on Faculty Affairs (GFA)
AAMC Central Group on Educational Affairs (CGEA)
AAMC Group on Women in Medicine and Science (GWIMS)
American Association of University Women (AAUW)
American Society for Training and Development – Nebraska Chapter (ASTD)
Golden Key International Honor Society
International Association for Medical Science Educators (IAMSE)
Midwest Regional Consortium for Faculty Development