Dong Wang, PhD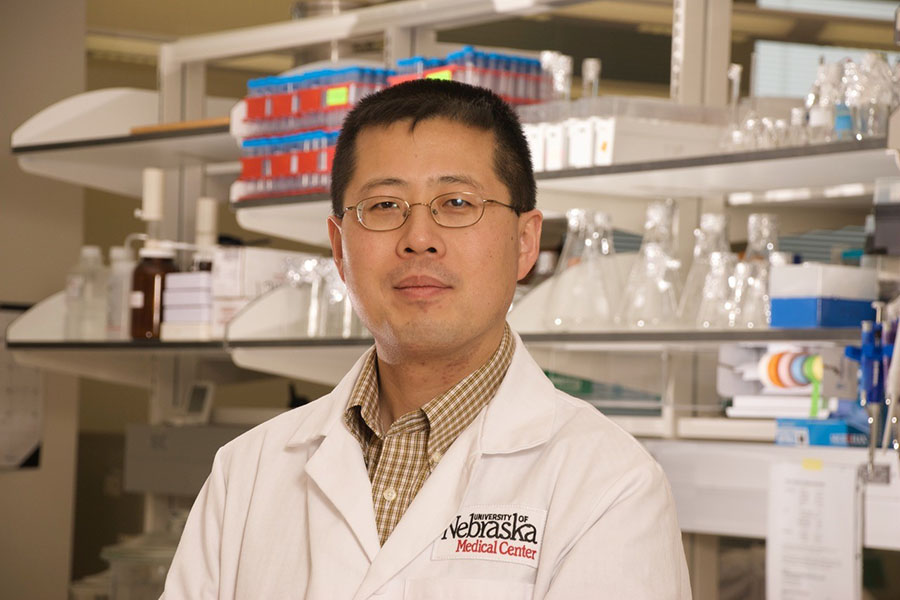 Dr. Dong Wang was born and raised in Beijing, China.  He received his PhD in polymer chemistry and physics from Peking University in 1998 under the mentorship of the late Professor Xin-de Feng, the founding father of polymer chemistry education in China.  He then joined Professor Jindřich Kopeček's laboratory at University of Utah for his postdoctoral training in pharmaceutical chemistry. After the appointment as a research assistant professor at Utah for 2 years, Dr. Wang joined UNMC early in 2005 as a tenure-track assistant professor and was promoted to associate professor with tenure in 2008. In 2014, he was promoted to the rank of full professor. Dr. Wang's research primarily focuses prodrug and nanomedicine development for inflammatory, musculoskeletal and craniofacial diseases. He has published more than 100 peer-reviewed manuscripts and numerous conference abstracts. As the lead inventor, Dr. Wang has over 110 patents and patent applications, some of which have been licensed to the industry for further development and commercialization.  He is also the co-founder of three start-up biotech companies focusing on translation and commercialization of drug candidates originated from his laboratory.
Research Activities/Interests
Macromolecular therapies for inflammatory diseases.
Dentrotropic therapies for oral and craniofacial diseases.
Targeted therapies for musculoskeletal diseases.
Click chemistry for drug delivery and nanomedicine.
Biocompatible polymers for biomedical applications.
Prodrug design.
Teaching Activities
Dr. Wang lectures in Introduction to Pharmaceutical Sciences (PHSC550) and Pharmaceutical Sciences I (PHSC570) in the professional program. At graduate level, he teaches in the Quantitative Pharmaceutical Sciences (PHSC845), Physical Pharmacy (PHSC885) and Nanoimaging and Bioimaging (PHSC848). In addition, he coordinates and teaches in Innovative Drug Delivery Systems (PHSC 851) and Pharmaceutical Chemistry for Drug Delivery and Nanomedicine (PHSC 852)
Division
College of Pharmacy Department of Pharmaceutical Sciences
University of Nebraska Medical Center
986125 Nebraska Medical Center
Omaha, NE 68198-6125
Lab Site
402-559-1323 (Lab)