Dr. Dennis and Ann Ross Lobby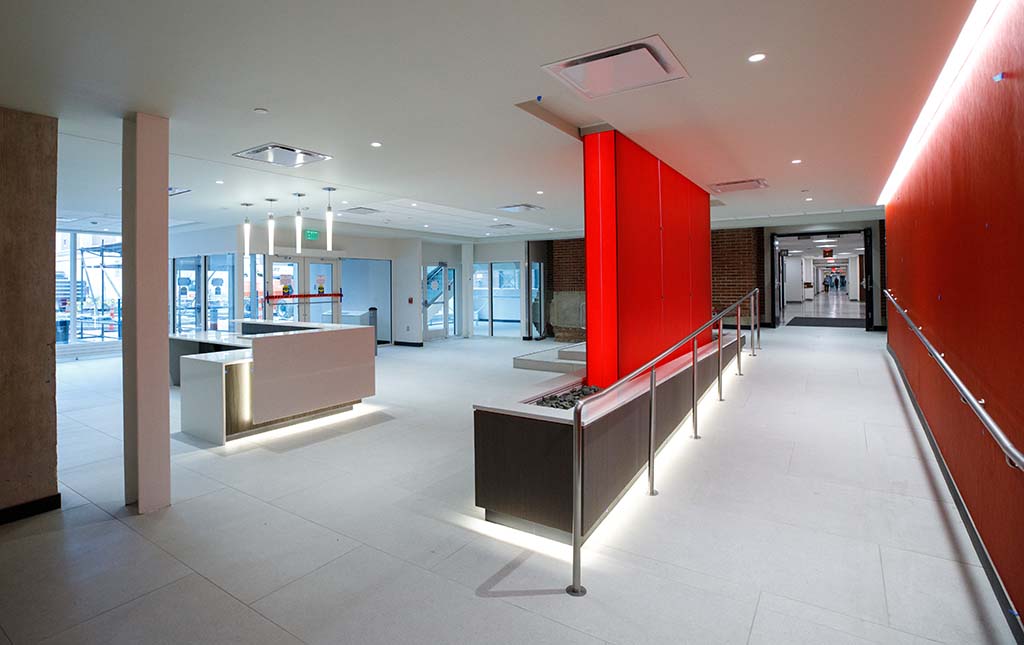 Visitors to the Wigton Heritage Center will enter via the Dr. Dennis and Ann Ross Lobby. Located on the third floor at the south end of the building, the Ross Lobby showcases the historic bricks from the Omaha Medical College and façade of University Tower. The lobby is also the starting point for tours. Dr. Dennis Ross is a 1973 alumnus of the College of Medicine. Ann Ross is a 1971 alumna of the College of Nursing.
Dr. Leland and Dorothy Olson Atrium
The heart of the Wigton Heritage Center, the atrium is the main gathering space for campus, visitors, and alumni. It is a connection between UNMC's past and present with the iconic columns and historic façade of the original University Hospital. The atrium offers a space for study, gatherings, lectures, and delegations of visitors. A video wall, 16 feet wide and 9 feet tall, offers a high-level technology experience with multiple camera and microphone options. Dr. Leland Olson was a 1944 alumnus of the College of Medicine. Dorothy Olson was a 1967 alumna of the College of Nursing.
John A. Aita, M.D. Family Balcony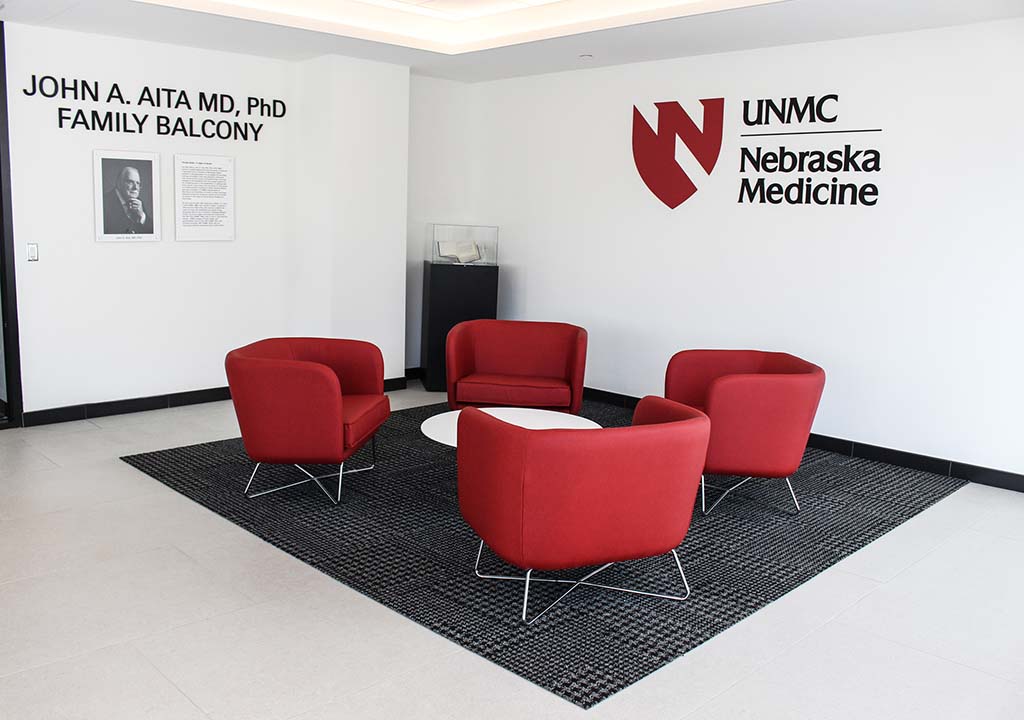 The fifth-floor balcony area provides a unique view of University Tower, Northwall Plaza, and other campus buildings. The space includes a MultiTaction video wall, 162 inches wide and 48 inches tall. Dr. John A. Aita was a long-time faculty member in the Departments of Neurosurgery and Psychiatry. His son, Dr. John F. Aita is a 1968 alumnus of the College of Medicine. Dr. John F. Aita's wife, Dr. Virginia Aita, is a 1995 alumna of the Graduate College and is an emeritus faculty member of the College of Public Health. Drs. John F. and Virginia Aita's two children are also alumni of the College of Medicine with Dr. John S. Aita in 2001 and Dr. Christine Tompkins in 2013.
William H. Northwall, M.D. Plaza
This beautifully manicured space is the ideal setting for conversations, fellowship, and engagement. The highlight of the plaza is Convergence, a sculpture by the Jenny Sabin Studio. Dr. Northwall is a 1967 alumnus of the College of Medicine.
Jenny Sabin Studio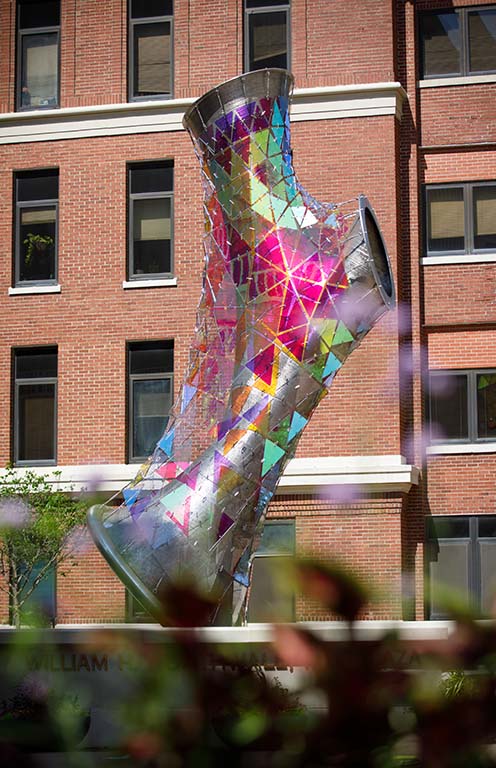 Convergence, 2021
Dichroic film, polycarbonate, monocoque mesh, PTFE fibers
Purchased in accordance with Nebraska's 1% for Art Program

Located in the Northwall Plaza

Convergence is a process or state of coming together, where flows and currents meet and evolve together in a shared environment. The sculpture Convergence serves as the outdoor threshold to the campus welcome center, facilitating an ideal setting for conversations, fellowship and engagement by students and faculty. Using the most advanced methods and innovations in digital and robotic fabrication and integration of timeless and contextually sensitive materials that interact with the sun and human perception, Convergence is at once inspirational and forward-looking. Convergence celebrates the thriving, vibrant, and rich heritage of excellence of the University of Nebraska Medical Center through materialized concepts that embed change, transformation, and contemplation. Convergence celebrates people coming together from around the world.
Exhibits
The Wigton Heritage Center features three floors of exhibits in the adjacent Wittson Hall. Through these exhibits. McGoogan Health Sciences Library's special collections come alive to educate, engage, and enlighten visitors on topics such as prominent women in medicine, a dental office from the 1880s, alumni contributions, and internationally recognized departments. Visitors can view artifacts, rare books, and hear oral histories. Special galleries include the UNMC History Gallery on Level 3 of Wittson Hall, the Stanton D. Harn, Ph.D., Dental Gallery on Level 4 of Wittson Hall, and the American College of Surgeons Rare Book Gallery on Level 5 of Wittson Hall.
Dunkin'
Grab a cup of coffee and a snack while enjoying lounge seating surrounded by exhibits from McGoogan Health Sciences Library's special collections.
South Plaza

The main entrance of the Wigton Heritage Center features a sculpture by Jun Kaneko.
Jun Kaneko
Dango, 2017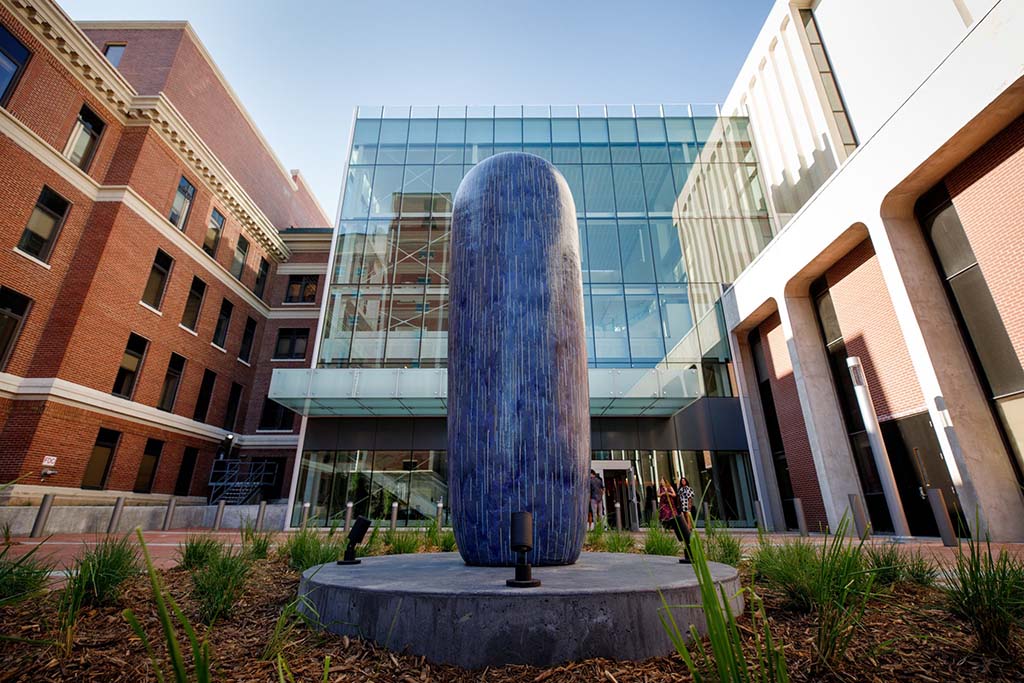 Jun Kaneko is an internationally renowned artist who is highly respected in both the contemporary art and ceramic fields. Born in Nagoya, Japan in 1942, Kaneko came to the United States in 1963 and became drawn to sculptural ceramics. He has lived and worked in Omaha, Nebraska since 1986. Known for his large-scale hand-built clay sculptures that challenge the limits of ceramics, Kaneko's approach to art is an adventure in scale. His Dango is a simple form (dango is the Japanese word for dumpling). The soft, edgeless shape of this monolith gives it a human, approachable quality. The painterly handling of the surface with its layers of blue glaze becomes a canvas in the round, capturing Kaneko's attraction to intuitive patterning and astonishing colors.